I often get asked How to get started with your Home Decorating project. One of the key elements to decorating "success" is staying organized. So today I want to share with you How to Create a Home Decorating Project Binder.
Now I know that success means different things to each of us. I believe the most important element to a successful decorating project is that you feel joyful, pleased and proud when you are in the space.
We decorate rooms to create feelings. They might be feelings of safety and security, or perhaps to inspire creative energy or a calm sense of serenity, the possibilities are infinite.
And once a space is done (or close to it, because is any room ever truly done?!), you should feel those feelings in there. If you don't, then it's not done yet.
But beyond that, I also want the project to have:
moved along at a good pace,
be on (or close to) budget,
and to help me feel confident to tackle another future decorating goal!
Why Create a Home Decorating Project Binder?
A Home Decorating Project Binder really helps me to hit these goals – because as anyone who has tackled a decorating project knows, there are loads of details. There are lots of decisions that need to be made and kept track of.
There are fun things like fabric swatches, paint colors, pictures of furniture and accessory ideas, and then, depending on the scope of your project, there may also be things like contractor quotes, room dimensions, furniture dimensions, furniture and accessory prices and more numbers to track.
Personally, I don't store numbers in my head very well, so I especially need to have a place to catalog them because while numbers may not come naturally to me, the thrill of saving money sure does, and the best way to stay on budget when home decorating is to track expenses and make wise buying decisions.
Fortunately making a decorating binder is actually fun in my opinion. So, would you like to make one too?
Let's do this!
How to Create a Home Decorating Project Binder
First, decide if you want an electronic binder, actual binder, or both.
Personally, I use a little of both.
There is a lot of online inspiration out there so it's easier now than ever to virtually plan your project.
There are two simple systems that I rely on for creating and organizing my Online Home Decorating Project Binder:
Pinterest
Evernote and/or Google Docs
[dropcaps]1[/dropcaps] Pinterest for Planning a Home Decor Project
I will make a board that is specific to my project. You can make your board public or private, your choice, either way it's nice to have a place to gather your specific ideas. In my 5 Habits of a Budget-Savvy Decorator ebook (which you can get for FREE here) I talk about using Pinterest for inspiration.
But in this case, I'm talking about a different type of board. This is for your actual decorating plans.
I recommend pinning your "finalist" (and maybe a few "semi-finalist") choices here to help keep you focused.
Here's a list of items I often have on my Pinterest Final Home Decorating Plans Board:
My final Paint Color choice(s)
A before or "now" photo of my room
My final inspiration photo or two – try not to clutter this board up with too much "inspiration" – remember this is your FOCUS board.
Any specific furniture or accessory pieces I have in mind for the room
Fabrics that have made the final cut
Artwork ideas, and more…
You can see an example of one of these boards that I made here:  My Bedroom Final Choices Decor Board
[dropcaps]2[/dropcaps] Evernote or Google Docs for Planning a Home Decor Project
While Pinterest is great for many things (and it is!) there are some things like lists that it's just not as good at it. For that, I prefer either Evernote or Google Docs.
The #1 reason that I like these apps is that they go with me wherever I go. I can access them from my phone, tablet, or laptop. Great for when I'm running around (like I usually am!) and see something and need to compare it to my list.
Google Docs for Tracking Home Decorating Budget and Expenses:
If you strictly need to create a spreadsheet to track expenses, then I would recommend you use Google Sheets. It's free and pretty straightforward to use.
To help you get started with this I've created a custom Google Sheet Home Decorating Budget for you to use to track your expenses. I really want you to succeed with your projects so I hope tools like this will help you! Simply click the link and you will be prompted to copy the sheet. Click copy and you're on your way!
Evernote for Tracking Home Decorating Ideas:
When I'm making lists of ideas or contacts I usually find myself logging them into Evernote. It also has a free version so it's another budget-friendly app. Within Evernote, I can create virtual "notebooks" and create notes (all organized within that notebook) that relate to that topic.
And one of the best parts to me is that it is SEARCHABLE! So if I make a note but can't recall where I put it, I can simply enter a search term in the search field and it will bring up every single note where that word appears. So handy!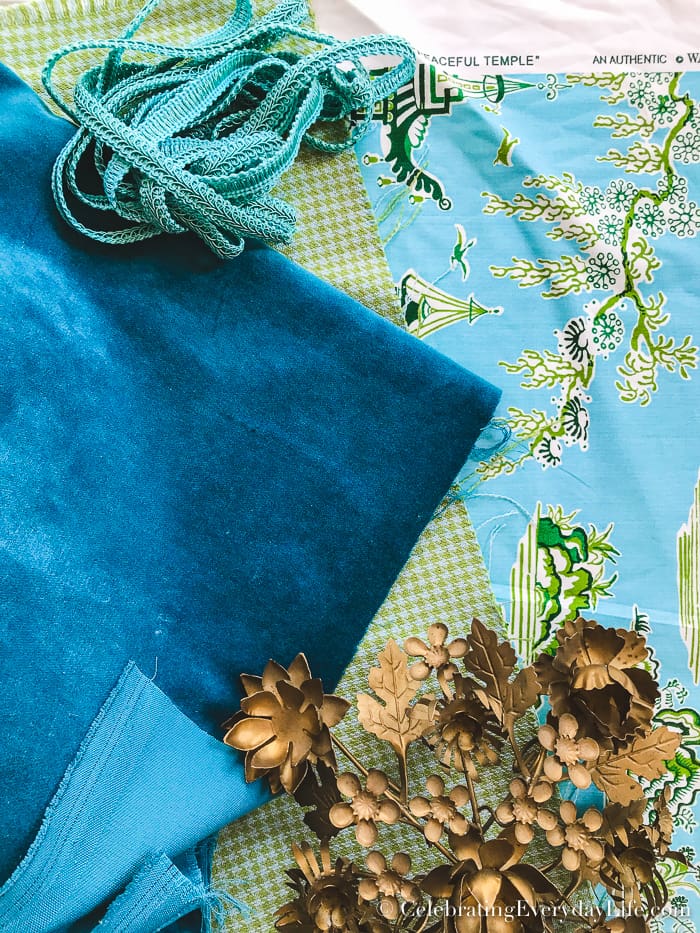 Old-School Home Decorating Project Binder
Now, all of these electronic tools are super-helpful for giving me information and keeping me informed on the go, but ultimately, I'm an old-fashioned girl who just loves having pretty things around me including notebooks/inspiration boxes that are filled with fabric swatches, paint chips, etc… that I can see, touch, and feel!
And to that end, I usually always have an In-Real-Life file too.
I don't bother filling it with an identical copy of ALL the data in my online files, although you certainly could, I just typically don't take the time to do that.
Home Decorating Project Binder vs. Box?
The type of project you are tackling will usually dictate your off-line organizing system. For example, if you are planning a bathroom project and there are going to be a lot of tile samples involved you may want to just go with a box type of system (or at least have a box handy to corral the samples!).
But, if you are doing a bedroom, living room, dining room type of project that doesn't have a lot of big, clunky samples, a binder which you can tote with you is probably going to be great.
What to Put In Your Home Decorating Project Binder
If you are going to be using a binder to keep you on track with your decorating project, here is a list of items and categories that I use and think you'll find helpful:
A binder – You can go with a traditional 3-ring binder or my new personal favorite (Amazon affiliate link) a clear cover discbound binder.
Make It Pretty – Seriously. Decorating is about inspiration – so I like to have it start right off the bat with a cheerful notebook. I've even been known to take simple dollar store binders and wrap them with a pretty gift wrap to give them a little extra zhoosh.If you have a binder with a clear cover then I have a special gift for you. [thrive_2step id='146827′]Here's a pretty cover you can download and print for FREE![/thrive_2step] Just join my mailing list and you'll have access to this and my entire Free Printable Library. sweet![thrive_2step id='146827′][/thrive_2step]
Pockets – They can be open or with a zipper, just as long as there is some type of pouch to include items you don't want to punch holes into.
Dividers – Here's where we get into the organization part of this project. Dividers will help you keep your sections sorted for easy flipping around.


Categories I like to include in my Home Decorating Binder are:


Inspiration Photos – I recommend you don't go too crazy filling this with tons of photos (because the book will get heavy fast!) but definitely have some images here. These are great not only for inspiring you and giving you a goal to work towards but they can also be a great way to convey your ideas to someone you may be collaborating with (a salesperson, contractor, etc…) a picture is worth a thousand words after all!
Swatches/Paint Chips – a pocket right after this first inspiration section is typically a good place to keep these items since you're likely to be referencing them often.
Measurements –  Include your room height and width for all four walls. Also, make note of how many doors and windows there are and include their measurements here too. Even if you think you won't need them, you might be surprised so it's nice to jot them down. You can also include things like floor plans and furniture layouts here if you have them.
Budget + Prices/Quotes – It's always a good idea to set a budget for your project. You can use the sheet I shared with you earlier in this post and print it out and insert it into your notebook here if you like. While you are in the research phase you are likely going to be collecting lots of prices and quotes from various contractors. Keep them all together in this section – it will save you headaches later!
Contact List – If you are doing a big project like a kitchen renovation with several contractors I recommend keeping a list of each persons name and trade.
Timeline – How long do you think this project will take? Create a timeline so that you have benchmarks to track your progress and try to mitigate too many surprises. Give yourself some buffer time because delays happen, plan for them and it won't be so bad. This also helps you plan out which contractor will be coming in at which point so that you stay on track.
EXTRAS – There are always miscellaneous extra items that we end up collecting that may or may not require its own category so usually, I will have an overflow section in the back for these.
And there we have it! Obviously, every project is different so I encourage you to use this How to Create a Home Decorating Project Binder guide as a starting off point, a springboard if you will, to get you going on your soon-to-be amazing Home Decorating project!
Creating a beautiful home takes time and effort but the dividends – the joy of coming home at the end of the day to a home that welcomes you like a warm blanket, filled with so many of your favorite things – is a feeling like few others. So I am delighted to be part of helping you create a haven of your very own!
Happy Decorating!
Join 7,500+ Fans! Get access to ALL of my SVG files + free printables to help you Organize and Celebrate your Everyday Life!
Subscribe (free!) to get my newsletter with updates and tips PLUS get instant access to my entire resource library with all my SVG files, free worksheets, printable art, and more to help you Celebrate Everyday Life! Once subscribed, I will send you a newsletter with details about my new free files each week.