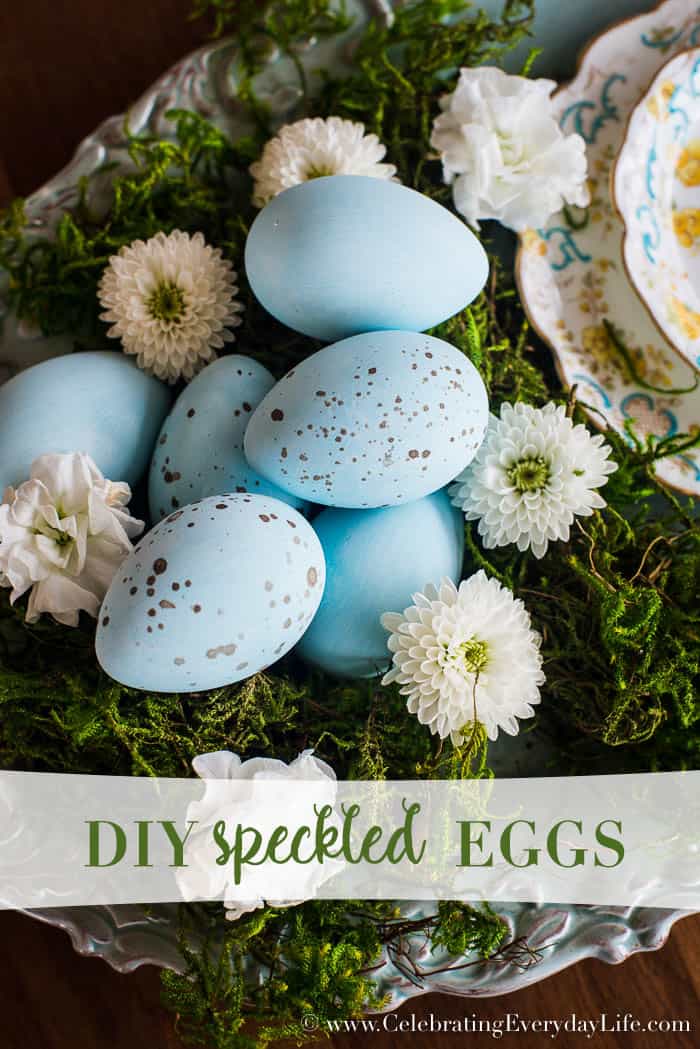 This is turning into Easter egg craft week around here. Today I'm sharing an easy tutorial for how to make your own DIY Speckled Eggs. These are obviously great for Easter decor but honestly, I'm planning to keep them out all Spring – and who knows maybe even longer! They are simple and inexpensive to make and they look darling!
I gathered my ingredients on a recent Wal-Mart run (no, this isn't a sponsored post). Have you worked with these DIY Easter Eggs before? They are seriously the coolest things ever! And at $1.98 for 12, they are super budget-friendly.
Here's what I used:
DIY Easter Eggs
Waverly Chalk Paint in "Pool" and the "Antique Wax"
Brushes
Paper Towel
Paper to protect your work surface
When I say easy, I mean e-a-s-y. These eggs take mere minutes. No boiling, or any of that nonsense. And, because they're fake, they'll last forever! Fun!
OK, so Step 1:
Paint the egg the blue base color. Can I just say how much I love chalk-style paints? They aren't toxic, they wash right off with soap and water, and they get your painting party started, pronto!
By the time I painted the next egg, the first one was almost dry and ready for touchups.
Lightly brush paint over any fingerprint areas and let the eggs dry completely. These only takes a couple of minutes if you are light handed with the paint. Obviously, if you put on heavier coats your dry time will increase.
So here's a quick funny story, I was in the craft aisle picking up the paints (which I love so much since they are less than $5 each by the way!) and my daughter was distracting me with the typical "mommy, can I get this, or this, or this, or this, or this…. it's a never-ending stream of that, especially in the craft area. And who can blame her, I feel the same way! Anyway, I was trying to concentrate and pick out the paints. I thought I was grabbing brown paint only to get home and discover I had grabbed brown antique wax. Really?! Ah, well…
The secret to the "speckle" effect is to put your paint on your brush and lightly flick it over your eggs. Be careful to not have your brush loaded up with too much paint or your spots might get a little too big (ahem).
I decided to give it a try with the wax since I did like the color, so I mixed a bit of antique wax (which is pretty liquidy) with a little bit of water in a small glass jar. I put it on a brush and flicked it on a paper towel a few times to get the color I wanted (and to practice the flicking!).
Once you're comfortable with the flick, start flicking the dark paint onto your eggs. You'll need to wait a few minutes between rotations to allow the drops to dry before your turn your egg. I turned mine three times to cover the whole egg. You can add as many or as few speckles as you like.
Some folks recommend a toothbrush for this part, you just flick the brush with your fingers to "spray" it onto the eggs.
They are perfectly imperfect and I'm quite delighted with the finished project!
They will mix in so nicely with my spring decor!
What do you think? Do you want to give this easy craft a try?
Want to see more creative Easter ideas? Mark your calendars because I will be doing another Facebook LIVE with HomeTalk this Monday, March 27th at 7:00 pm (EST) and the topic will be – Easter Egg crafts!!
Til then, check out these DIY Crochet eggs:
Thank you so much for reading! I hope you enjoyed this easy tutorial for how to make your own DIY Speckled Eggs.
Happy Celebrating!