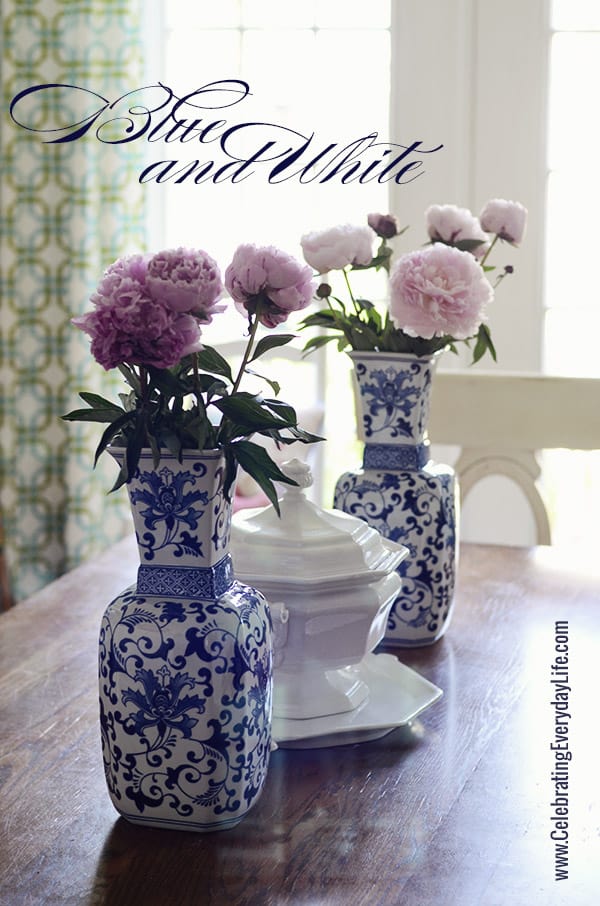 Since finding that pretty set of blue & white china a few weeks ago I've been keeping an eye out for some pretty vases to add to my dining room table to update it for Summer. I've been taking my time with the search mostly because I've had a hard time finding them. I've been surprised that I haven't seen more blue & white in stores – it's such a perfect combination for summer and it's a timeless classic. (Isn't that always the way? When you're looking for something you can't find it, when you aren't… it's everywhere!) As fate would have it, I was in HomeGoods recently looking for something for a design client of mine (yes, I do a bit of design consulting too) when I spied these lovely vases.
I immediately zoomed my cart over and was happy to quickly tuck them into my cart — at $24.99 each, I thought that was a good deal! (Yes, they did have more, by the way!) And now, they are happily presiding on my dining room table alongside my ironstone tureen.
I love the handles and the octagonal shape of this tureen. I don't know what it is about tureens, but I love them and seem to have a growing collection.
Tucked inside my vases are these beautiful fresh pink peonies. I was completely surprised to find fresh peonies at my local Trader Joe's the other day. My peony bushes suffered transplant shock when I planted them this year so finding blooms at the store was a happy moment for me. Plus, it was only $6 for a bouquet of them – yay! Aren't they pretty?
Decorating with traditional blue & white is still a bit new to me and I have to say that I'm loving it right now. I don't know yet if I want to see these vases out on my table year round or not, time will tell I guess, but right now, this look is feeling so fresh and lovely for summer.
:: 2014 Survey Winner ::
I also am delighted to announce that Judy Eller is the winner of the $50 Amazon gift card and the one-year digital subscription to Celebrating Everyday Life with Jennifer Carroll. Congratulations Judy!! You will be receiving details about your prizes in your email soon.
I want to thank everyone who took the time to complete the survey, I was so blessed by the number of responses I received. Thank you, thank you for sharing your thoughts and ideas with me! What a blessing.
Happy Celebrating!
Would you like to receive a preview of my blog posts in your inbox?
I'd love to share them with you! Subscribe here…