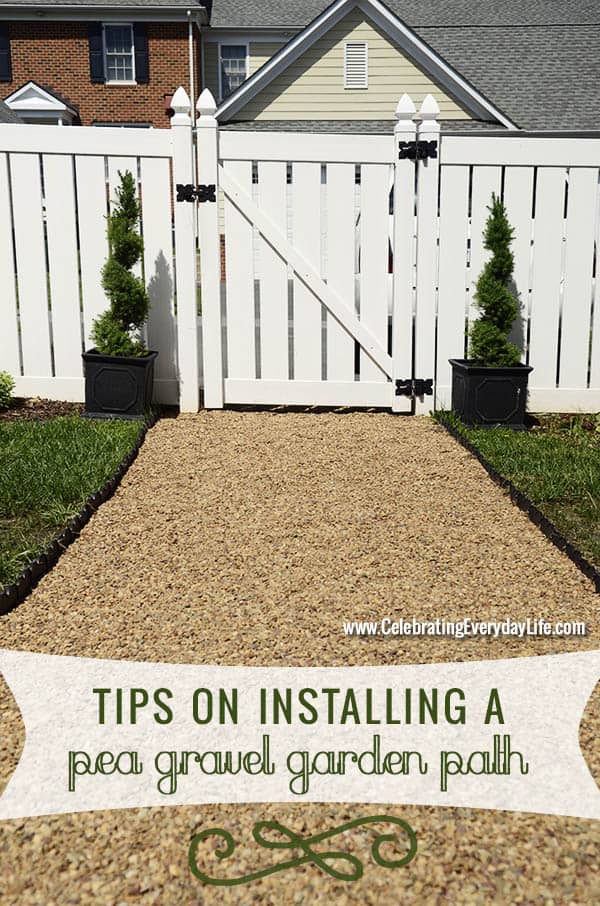 Today I'm participating in the All Things Home "Elements of Summer" tour with some wonderful bloggers! You can explore all the inspiring projects via the links at the bottom of the post. Since I've been working so much in my garden lately I thought I'd share my tips on installing a pea gravel garden path.
My DIY skills have typically run more in the crafting/cooking/sewing arena, not so much the outdoor DIY landscaping arena so I was feeling a little nervous about my ability to do this project but thankfully I was fueled by my angst over my existing garden path to give it a whirl.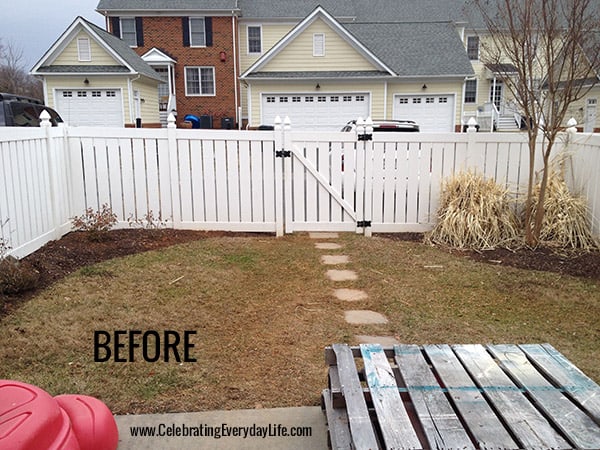 You can see my "before" yard photo above. We have had this little paver path since we moved in and I've always kind of hated it. Mostly because the path the builder had created wasn't a natural flow to the door so I tended to stray off of it, plus the fact that we have terrible drainage here, so whenever it rains the path would get really muddy.
Tip #1:
Determine your path area by thinking about which direction you naturally want to go.
As I mentioned, I continually found myself straying off the "official" path so when planning this new pathway I made sure to include that in the new layout.
While doing my "research", I purposefully went in and out of my gate over and over to be sure I was planning correctly. I discovered that I don't usually open the gate fully when I'm coming and going so I wanted the path wide enough to accommodate me stepping in and out without stepping off the new path.
Because I also wanted to have some symmetry in the yard this meant I needed to make the path extra wide and center it on the gate. Now, when I open the gate I can just step right onto the rocks even if I don't open the gate all the way. hooray!
Tip #2:
Measure your space before you go to the home improvement store.
Even if you're just going "to look", trust me, you'll want to have your measurements with you. So grab your measuring tape and jot down those dimensions before you head out.
Tip #3:
Plan your supplies and then double check your math.
There are lots and lots of beautiful options out there for paths: natural stone, bricks, crushed oyster shells, manmade pavers and rocks.
Fortunately for me, I happen to really love the look of pea gravel.
I say fortunately because it is also a fairly budget-friendly option, especially when you compare it to the pavers – yikes!
But when you are working with things like rocks, be sure you check your math and then double check it. I didn't and ended up having to make a second trip to the store!
Also, here's a quick list of supplies that I used for my project:
Sand
Edging
Landscaping Fabric
Landscape Fabric Pins
Pea Gravel
Shovels (round edge + flat edge)
Rubber Mallet
Scissors
Hose
Tip #4:
Prepare your ground.
Once I had all my supplies (finally!), the first step for me was to remove the pavers (don't worry, I kept them for another part of my yard). I used a shovel to help me pry them up from the ground.
This left me with square-shaped holes in the ground which I decided to fill with sand to make the ground at least fairly level.
It wasn't perfectly level but since I knew I was going to be using rocks which would be a bit forgiving, I decided not to be too persnickety about it.
Tip #5:
Install Edging & Keep Weeds at Bay.

Because I didn't want the rocks rolling around into my grass, I decided to put in edging.
I liked this little black scalloped edging – not only was it budget friendly but it also has a sweet charm to it which I of course liked.
The edging has points on the bottom to help it go into the ground but I found that by making a shallow continuous line in the ground where I wanted the edging to go – made this process go way, way faster.
Once I had the "guide" line marked, then I could just bang the edging into place with the help of a rubber mallet. My little one got really excited about this part and loved trying to bang them into the ground!
Next, I decided to install landscape fabric. Now, you don't have to do this, but, it goes a long, long way towards keeping grass and other weeds from creeping up through the rocks.
It's not a 100% blocker but so far it's doing a 99% job, so I'm happy I didn't skip this step.
You simply unroll the fabric along your path, cut the length you need and then push the landscape pins into the ground to keep the fabric in place. This step takes only a few minutes.
Tip #6:
Pour your Rocks
And finally, you are ready to pour your rocks onto your path!
I recommend starting at the furthest point and working your way back. I had my rocks all out by my car so I started pouring up by the house.
This meant that my trips of carrying the heavy bags got shorter and shorter as I worked, which was a nice feeling as I got progressively more tired.
Tip #7:
Rinse and Enjoy!

The rocks right out of the bag were pretty dusty so my final step was to rinse them and then sit down with a giant glass of iced tea and enjoy my handiwork.
I was honestly surprised and delighted that I was able to do this job on my own and in a single afternoon!
Did you know that I've written a book all about Home Staging?! Yep! I have!
3,2,1: SOLD! A complete 30-day Guide to Help You Stage Your House to Sell FAST!
It's 190 pages of Home Staging AWESOMENESS!
It's filled with everything, and I do mean EVERYTHING, you need to know to stage your home in 30 days and sell it fast!
Click here to read all about it!!
I hope you enjoyed this collection of tips on installing a pea gravel garden path and remember there are lots more fun projects to explore ~ I hope you'll visit the links below:
Monday

Tuesday

Wednesday

Thursday

Friday

Happy Celebrating!
FREE Tips to Sell Your House FAST & for MORE $$$!
Sign up to get my FREE 7-Day Home Staging Jumpstart! Plus, get my newsletter with updates and tips to Celebrate Everyday!