I'm back from Ireland and so excited to share this project with you!!! Recently I met the lovely ladies at Royal Design Studio and was instantly smitten with their gorgeous stencil designs! I haven't done a lot of stenciling before so I was feeling a little bit nervous but after one simple lesson I was on my way to stenciling like a pro, well perhaps not a pro but definitely feeling confident that I could do this! I was so excited when they offered me a stencil of my choice to create a fun project with and best of all, next week you'll be able to win one too! But, I'm getting ahead of myself…
When I first began to look through the Royal Design Studio's awesome online catalog of stencils, I couldn't believe all of the options! It was really, really hard to choose just one for my project (because I want them all!) but also because I wasn't sure what my project would be. So, first I just had fun looking through all the stencils dreaming of the possiblities – painting a wall, a piece of furniture or something else entirely. As you know, I really love creating a beautiful tablescape and the idea of using a stencil design to set a pretty table was intriguing! Knowing what I would use the stencil for made it much easier for me to select just the right one. When I saw this French Bee Trellis stencil from their Damask Wall Stencils collection,  I knew I had found the perfect stencil for my project!
You can read the tutorial on making this runner in this post here. I thought it would be nice to use it in a gold and black color scheme for a timeless look and the brushes and stencil cremes from Royal Design made it so easy! I decided to make a table runner, napkins and even embellish the glassware with the stencil! I will share my how-to's for the runner and napkins a little later this week – so stay tuned for those! Today, I'll give you a tour of the table…
Because the French Bee Trellis pattern is repetitive I wanted the centerpiece to be a bit more understated, I thought this orchid was perfect. Simple & Elegant. Love it!
A simple gold tray with a few gold votive candles was all that was needed to 'round out' the centerpiece.
For the placesetting I used a mix of patterns and materials. First, I used a gold charger to "anchor" everything. Next I laid my black linen napkin and on top of this I added a sweet and feminine cream dinner plate with a soft tone-on-tone floral border. Finally I placed a black and white paper plate (yes, you read right! That's a paper plate!) on top – I thought this toile pattern was a perfect compliment to the classic style of the bee.
This black faux-bamboo flatware is a perfect compliment to the setting with it's touches of gold! This flatware is from Caspari.
I am so pleased with how these napkins turned out!! So easy!!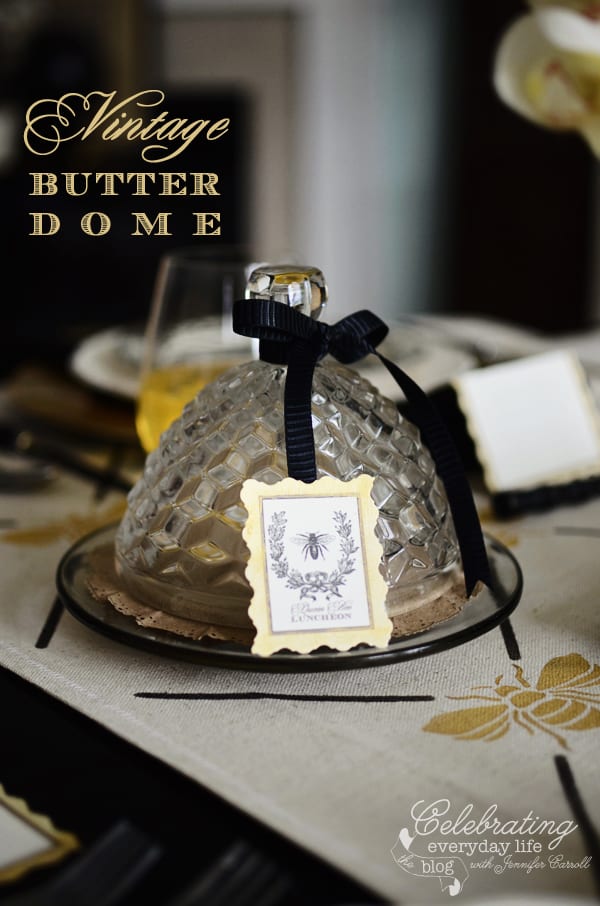 I found this vintage glass butter dome at Greenwood Antiques & Uniques and couldn't believe how perfect it was for this table!! It looks just like a bee skep to me! It now sits on my counter because I can't get over how cute it is!!
Speaking of a bee skep, I found this gorgeous vintage ornate beehive graphic from the Graphics Fairy here. Karen always has the most beautiful images, doesn't she?!
I also used another image from the Graphics Fairy on these menus. It is her French Wreath with Bee clipart. Click here to see it. To embellish all of these papers I used Royal Design Studios 'Bright Gold' Stencil Creme. This stuff is AWESOME! It's slightly translucent on the paper which helped all of the cards to feel a little bit vintage and very elegant.
Click here to read the table runner tutorial. There is also a recipe for wild honey hot cocoa!!
In the meantime, be sure to pop over to the Royal Design Studio site to begin looking through their wonderful collection of stencils and dream up your next project!
I'm linking up with Funky Junk Interiors, Freckled Laundry,  Serenity Now blog, Tatertos & Jello, French Country Cottage, Liz Marie, ShabbyNest, Graphics Fairy, and Savvy Southern Style.
Happy Celebrating!
I was given the stencil materials needed for my DIY project. However, my opinions are entirely my own and I have not been paid to publish positive comments.