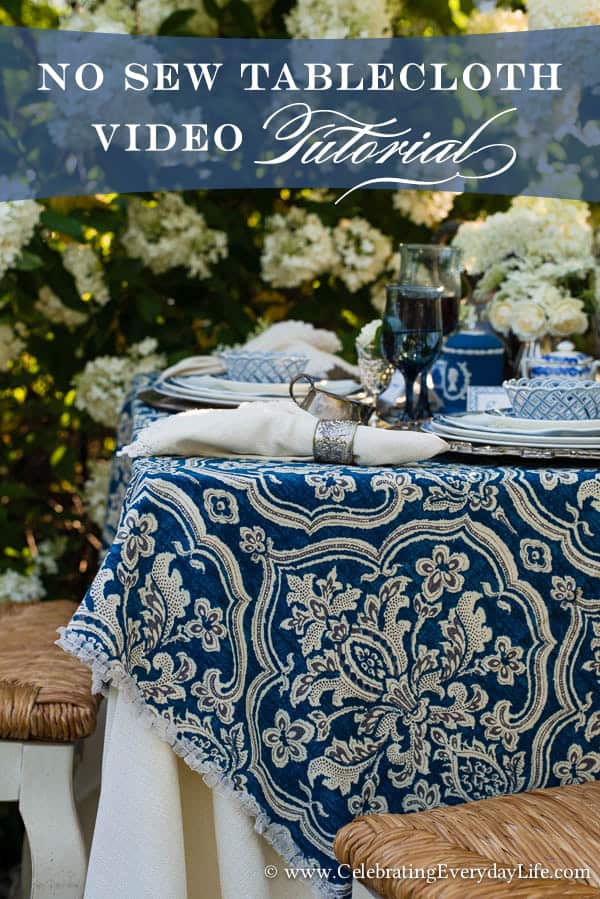 I hope you had a wonderful weekend! Last Friday I shared my Blue & White Garden Tablescape with you (thank you all SO MUCH for your super kind comments by the way!!), and today I'm showing you how I made the Blue and White tablecloth overlay. Best of all, it's a no sew tablecloth, all you need is some fabric, scissors, glue gun and ribbon. And depending on your fabric and ribbon choices this can be a really budget friendly project too. This fabric for example, was a remnant and I paid less than $10 for two yards!!
I really hope you enjoy this tutorial, I know I'm having fun making these videos for you.
If you are having trouble viewing the video, click here to see it on the YouTube website.
So what did you think? Do you feel inspired to make your own? It really is an easy project, I know you can do it! Cutting the fabric really is the hardest/most tedious part. The thing I love most about this is all the possibilities that it opens up. With a good, "standard" tablecloth as a base, think of all the new tablescapes you can create with just a bit of fabric and some ribbon. Oh my, but the possibilities are endless! And, if you ever get tired of it as a tablecloth, you could pretty easily turn the fabric into a pillow, quilting square, or who knows what all, because it's basically still cut yardage.
In case you are curious, the fabric I use here is: Braemore Chalcot Square Delft, and the ribbon I used is from May Arts.
Thank you so much for reading, pinning, sharing, and commenting. Your support really, really means a lot to me, and encourages me to keep bringing you the best content I can. Hugs, and…
Happy Celebrating!