This post contains affiliate links to products that I used for this project and highly recommend.
Today I want to walk you through the steps I followed to create my amazing kitchen transformation in the hopes that it will help you know How to Make Old Cabinets look New with Paint!
Kitchen renovations can be one of the most expensive updates you can ever make in your home and I want to encourage you that even if you can't afford to swing a total HGTV worthy top-to-bottom makeover today, that doesn't mean you can't have a magazine-worthy space in fairly short order.
But there is a catch (there always is, isn't there?) You're going to need to roll up your sleeves and dig in.
Fortunately, I've been there done that and made loads of mistakes which I want to help you avoid so you can get to the end result faster and more efficiently than I did, all without going totally crazy and wanting to completely throw in the towel and cry, a lot!
So if a string-bean budget kitchen renovation is on your radar, then read on dear friend!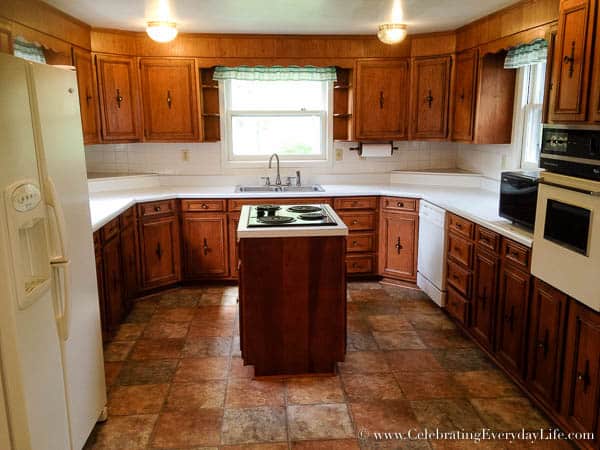 When I first found the house that would come to be known as Hartfield, for me it truly was love at first sight. You see, it's an older home with loads of charm, and yes, while it has some quirks, at its core, it has good bones.
I have lived in so many different styles of homes over the years: old cottages, grand estate homes, small studio apartments, townhouses, and brand-new custom built homes. I've seen it all.
It's crazy when I stop and think about all the places I've lived all over the country. And yet one thing that I love, that I just can't get enough of, is character in a home. Charming details that make it feel special and unique. Most old houses have it in spades while new houses have to have it purposefully built-into it.
How did I know instantly that this was "the one" you might ask? I simply felt it in my gut. The story of how it became mine is nothing short of miraculous and you can read about it here.
One of the very first rooms that I knew I wanted to update was the kitchen. But being a decorator I knew the expense of that and frankly didn't have the 10s of thousands of dollars handy to make my full vision happen. So I began trolling Pinterest and reading every article I could get my hands on and while it was a bumpy road, ultimately I ended up with a kitchen that I honestly love and don't feel in a mad rush to update again.
Let's dive into the specifics, shall we?
How to Make Old Cabinets look New with Paint!
1

Find Your Inspiration
Spend some time looking at kitchen images. What do you like? What do you not like? Both questions are equally important.
Pinterest is my favorite place for this because you can create boards and pin images directly to it. It could be nice to make a Kitchen LOVE board and a Kitchen "don't go there" board.
Knowing what you like and don't like is especially critical if you are working with another person on this project to help you both get on the same page. After all, a picture is worth a thousand words!
I have always loved a white kitchen. Always, always, always. But when I walked through the doors of this house, I was greeted by a pine kitchen. It had woodsy cottage charm to be sure but was a far cry from the light and bright white kitchen of my dreams.
TASK: Hop over to Pinterest and Do Some Research.
Do you know the look you want? Great! You're ready for the next step.
2

Evaluate What You Have To Work With 
My cabinets are solid wood and they were in good condition, but the cabinet doors had a metal design detail and a handle in the middle of each door which really dated them. Honestly, I don't know what era that was – 60's maybe? But it was not the classic, timeless look of my dreams.
I realized I would have to remove this trim and do some patching/hole filling. I wanted my door pulls to be near the corners instead. So I had to factor this into my plans.
TASK: Look at your doors and drawers. Are there physical elements you need to change? Remove/add trim? Move locations of handles and pulls?
3

Create a Budget 
Now that you know what you're going for and you have a clear understanding of what you have to work with, you need to make a budget.
There is some information you need to help you do this:
Measure your kitchen walls with cabinets. Measure each overall wall of cabinets. Mostly this is just to help you determine how much paint you will need. Go ahead and make a note of your overall kitchen dimensions while you're at it. Who knows, you might need that while you're shopping if a new kitchen table or something catches your eye!
Measure your cabinets – height & depth. This is just handy info to have.
Count how many doors and drawers you have.
Measure the depth of the wood on your cabinet doors and drawer fronts. Are you planning to switch out your handles? The width of a cabinet can be a factor in selecting hardware so make a note of this measurement.
If you are replacing the hardware, measure the openings and take a handle with you to the store to compare and make sure the new hardware will either work with your existing holes or be prepared to patch and redrill as necessary.
Got your notes? If you take your measurements to your paint store they will use them to figure out how much paint you need. Easy!
Research drawers and pulls online to find the best deals. There are loads of places to find hardware so I like to let my fingers do the walking. I also recommend ordering a sample to see it in person and decide if you really like it before committing to them. Things look different on computer screens then they do in your kitchen. 🙂
Write up a budget.
I like to use Google Sheets for budgets like this because I can create a line item for each category and then (best of all) I can access this info from any device – my laptop or my phone. Great for on the go updating!!
4

Determine Your Paint Choice
It's time for more research! You need to decide what type of paint you are going to use AND how are you going to apply it.
I read about a million articles. I've done a lot of painting and I know that all paints are not created equal. It's important to know what type of finish you are after and pick a paint that is going to help you get that.
Normally I love chalk paint, but I was leery of going that route here because I wanted this paint to a) stick (chalk paint can sometimes get chippy which is great when you want that look, but that's not what I wanted here) and b) more importantly, I wanted it to be durable and last.
Ultimately I decided to use Benjamin Moore Advance primer + paint (affiliate link). It is a self-leveling paint which means that brush strokes that naturally occur while you are applying the paint will magically go away or level-out as the paint dries. How cool is that?!!
You can read about the color I chose and why here.
Notes on Applying the Paint:
Speaking of brush strokes, you also need to think about how you want to apply the paint. Do you want to brush it, roll it, or spray it? Or a combination of all three?
They all have their pros and cons.
Ultimately I decided to brush-on the paint and primer to all my cabinet bases. You know, the parts of my cabinets that were in my house attached to the wall or floor.
I decided that taping everything (and I do mean everything) off to protect from overspray was not worth the effort. I could be half-done painting by the time I had finished prepping! Plus, we were using the kitchen during this process and the thought of taping/un-taping/re-taping spaces, again and again, gives me a headache.
How Much Paint Do You Need?:
Let me just tell you this now so you can prepare yourself – to do a really good, almost pro-looking job you are going to need to do a primer coat, and then two – yes two– coats of top coat for a really good looking finish.
Just let that info soak in, I know it's probably not what you wanted to hear (it was hard for me to accept, I kept thinking surely I could be happy with one coat, but by the time you do all this work, trust me when I say that the extra time for the final coat will be worth it because you have worked incredibly hard and you want this to last! And at the end, the second coat really doesn't take that much time.
For the actual doors and drawers, I decided to spray those. Yippie! This was fun and FAST!! Like lightening fast! This is the paint sprayer that I have and love, love, love!
I'm seriously now considering painting my own house I love my sprayer that much!! But the secret to the joy of this was that I was able to spray them outside where I could just line them up and go. I didn't have to do all that taping prep that we discussed above.
Just be mindful that overspray is a real thing so plan accordingly where you set up.
TASK: OK, your homework for this step is to do some research and pick your paint brand and your colors. I have a post here to help you pick white cabinet paint colors! Also, determine how you will apply the paint and plan to get those supplies too.
5

Draw A Map
Before you can just unhinge your doors and get painting you have a bit more work to do if you want a really good looking finish. And trust me when I say, you do want a good looking finish. So hang in there with me. OK?
You need to make a map of your kitchen cabinets. It doesn't have to be fancy but you need to number each door and each drawer so that when we begin taking this puzzle apart you can put it all back together again without wanting to burn it all down. Seriously. This is especially critical in an old house where things look like the same size but actually aren't. Trust me.
Find a way to TAG your doors and drawers.

I decided to put a piece of scotch tape on the metal square that was on each door and use a sharpie to write the door number on it. This was the only space that would not be covered in paint because I painted both the inside and outside of my doors.
For the drawers, it was easier. I just wrote a number on the back of the drawer that goes into the slot – you'll never see it and since I wasn't painting around the entire drawer box it didn't matter to me.
Got your map done? Wonderful! We're on our way!
6

Quick Question about Hardware
Are you planning to change the location of your cabinet hardware?
Before you remove your cabinet doors NOW is the perfect time to determine your new hole locations WHILE your cabinets are still in place.
So mark your new hole locations before removing the doors.
Why do I say do this now? Well, especially if you are dealing with older cabinets (but it could be true with newer ones too), cabinets don't always hang perfectly straight so it's good to look at them while they are in place to be sure your knobs will sit evenly with each other on doors that are paired. This isn't such an issue on doors where the knobs aren't side-by-side but if your doors are right by each other this kind of oversight would really stick out.
I recommend marking the new hole locations and drilling them before moving forward.
7

Clean Those Cabinets!
I know, I know, you're ready to paint… but the paint needs a good clean surface to stick to. And old cabinets generally have years of buildup, even if they don't look like it. In the grand scheme of things taking the time to clean these is not that long so please don't skip this step.
I used this to totally clean & degrease mine! It worked like a charm!
I waited for a sunny day and lined them all up in the yard. I used a heavy-duty cleaner because I wanted to only do this once and I was not interested in doing a lot of sanding. (Ha! Little did I know how much sanding was in my future but stay tuned, I'll get to that!)
So, line up your doors and drawers, give them a good scrubbing – following the directions of the cleaner you choose – hose them down making sure ALL of the cleaner has gone – this stuff is powerful and can create a barrier if you don't get it all off, so if in doubt, rinse again! Then allow the cabinets to dry in the good old sunlight!
Give your cabinets a few days to dry. Wet wood and paint do not mix! So allow for drying times.
8

More Prep Work?
If you are not changing the location of any hardware holes then you can skip this step you lucky, lucky DIYer!
If, like me, you need to change the location of some holes then please, please listen up. I thought I knew what I was doing but I was wrong and this is the step that caused me the most heartache and really delayed this whole process. I did it wrong three (3!!) times!! Ugh! It's so simple too – when you do it the RIGHT way which I'm about to tell you. Here goes!
This is the Spackling that I used – it was great!
How to Fill Holes in Cabinets the Right Way!
Use a putty knife to apply the wood filler.
Use the same putty knife to scrape off as much of it as you can while still leaving some around the hole to help it set up.
Leave it alone for a day or so to let it dry.
Use an ELECTRIC HAND SANDER to sand the dried wood putty. I tried sanding by hand 2 different times and I just could not get this finish smooth. Finally, I invested in an electric hand sander for the third go-round and WOW! What a difference. No joke! It was amazing. Totally worth it!
This is the sander I have – I'm now eager to sand everything!
If you use a small amount like I show here, you will be safe. I started here but then kept adding more and didn't sand it smooth which is how I got into trouble and kept having to repeat this process.
Be POSITIVE that the wood is 100% smooth and you cannot detect any spots where the handle or decorative metal finish was. Because trust me, if it's there, it is going to be horribly noticeable once that paint hits it. It will stick out like a sore thumb and you won't be able to take your eyes off it. So sand til it's smooth as silk.
See how easy it can be? No need to fear this step when it's done right, but let me tell you, done wrong and wow, you just have to keep repeating it again and again…
9

Drill Holes for New Hardware
If you didn't do this in step 6 I highly recommend you figure it out and do it now. It's best not to drill through your freshly painted cabinets which could end up chipping your gorgeous new paint. Enough said. Moving on.
10

Let the Painting Begin!
OK, our cabinets are clean and sanded! We are finally ready to begin painting!
Remember you are going to need to do a coat of primer and then two top coats.
I painted primer on my base cabinets first using a brush and then went out and painted my doors and drawers with the sprayer.
Then I repeated this same workflow process with the two top coats.
The actual painting part took relatively no time at all. Like almost all DIY/Craft/Sewing projects, a good quality job is all about how well you do the prep work.
11

Putting It All Back Together
Finally, once everything is dry it's time to put Humpty-dumpty back to together. This is where your map comes in handy.
It all looks different now and you don't want to be measuring and trying to figure out which goes where. It's so nice to just pick up a door or drawer and know right where it belongs 🙂
12

Attach Hardware
Now that your cabinets are back in place it's time to add the decorative details of new hardware! This really is the final flourish and is definitely my favorite part!!
Ta-Da!
We made it! Painting kitchen cabinets is definitely not a simple two-day project it is an investment in your home that can pay off in so many ways. Especially in the joy it brings you to walk into it every day and know that YOU did this!
If you are able to take your time, then I think this is a project that anyone could do. Especially when you've got a guide like this to walk you through!
You can see more photos of the kitchen here and my eat-in breakfast area here!
Have questions? Please ask! I'll do my best to answer them. I'm not a contractor, just a gal on a mission to DIY her home on a budget! 😉
Stay tuned for a future post where I'll be sharing the steps I took to cut out the doors by the sink and add that cool chicken wire detail!
Thank you so much for reading!