Ever since moving to Hartfield, I've been slowly making my way through the house and trying to not rush too quickly to make decorating decisions.
That is one of the most challenging parts of moving to me, being patient and taking the time to get to know the house and how we use it.
I've learned the hard way about rushing into decorating and later regretting it.
Then there's also waiting to work on a space because you are busy working on other spaces… that's maybe the hardest trial of all.
My bedroom is a prime example of this later challenge.
The living room and kitchen were higher on my priority list because these were more public spaces, and I had a clear vision for these rooms. So they were tackled first.
You can see my kitchen before and after here and my living room before and after here.
But now that these spaces are (mostly) done, I really want to decorate my bedroom. This is what it looked like when we moved in.
It honestly hasn't changed much, and I've had enough.
If you've seen my bedroom in the last house, you know how much I love Turquoise or Robin's Egg Blue or whatever you might want to call it.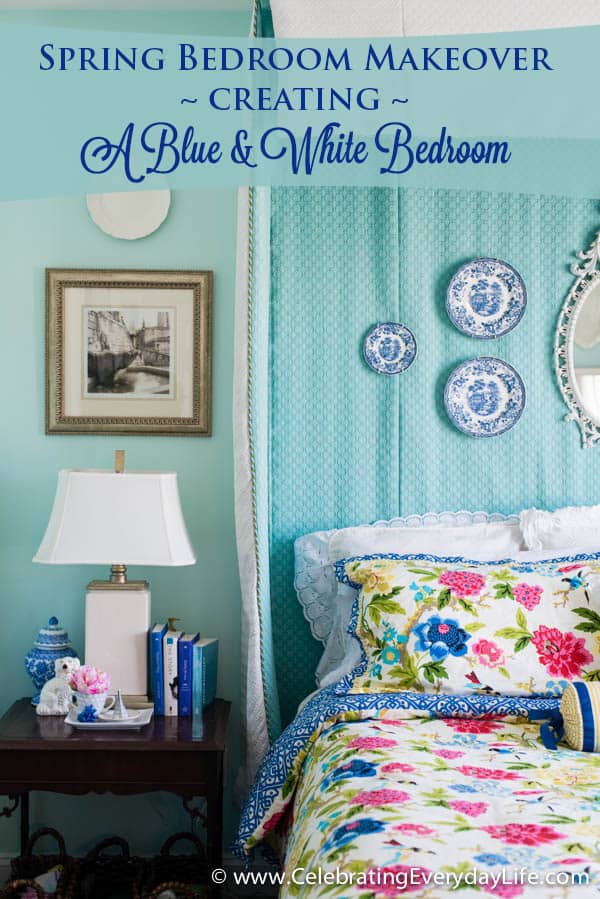 I also had a bright & cheery Spring version of this bedroom, you can see here.
Did you know that blue is scientifically proven to be a more restful color? I briefly considered a pink and white bedroom but as I studied inspiration photos on Pinterest I kept coming back to blue.
Besides, I've had fun using that color scheme in my daughter's room so I've been able to get some of that out of my system. (Photos coming soon of her room!)
So, as I've been planning my room makeover, I thought it would be nice to chat a bit with you about the process of planning your ultimate luxurious bedroom retreat.
How to Plan a Luxurious Blue & White Retreat
1
Get A Vision
Before you dive right into decorating, you need to find your inspiration.
What inspires you?
What are you drawn to?
I highly recommend creating a Pinterest board and Pin the images that most "speak to you." 
Once you have several images pinned, step back and look at them. Make note of what they have in common.
What are the dominant colors? (Example: Blue & White, Pink & Gold, Black & White, etc…)
What is the style? Regency? Farmhouse? Glam? Modern? Cottage? Rustic?
Are there certain elements that particularly stand out to you? A focal point?
2
Make a Plan + Budget
Now that you have inspiration, you can form a game plan.
A good design includes one powerful focal point. For my room that is the wall with the bed on it. I have a beautiful Regency style headboard – it's shape is a little bit like the one in the inspiration picture at the top of this post.
Because of its arched shape I've been really wrestling with what to hang over it.
I've tried some different options but nothing has seemed quite right. I've finally settled on an idea which I'm excited about – but I'll wait to let you know how it goes. Stay tuned!
Once you determine your focal point element – a piece of artwork, wallpaper, fabric, etc… it can help you define the colors for your room.
For me, this fabric "Peaceful Temple" by Waverly dictated the choices I made for the wall color and bed linens.
Set a budget for your project. It doesn't have to be exact but have an idea of what you can spend on this. It will help you make informed decisions in the following phase.
3
Research + Gather Supplies 
The next step is to research and purchase the elements you need. I cannot stress the importance of doing your due-diligence here if you are on a budget like I am.
Craigslist, thrift stores, eBay, Walmart, discount fabric shops, and more are my go-to shops for getting the core elements.
4
Begin the DIY 
And now the work begins.
First, you need to take out everything that isn't staying. Anything that you don't LOVE needs to go.
You want as clean of a slate as possible.
Now, no matter if you have the budget to buy ready-to-go pieces, or hire out painters, etc… this is the point where you begin to see how your plan is coming together.
Don't rush through this process.
For example, take the time to buy paint samples and test the colors on your wall. Seeing paint in your space is an entirely different experience than seeing it on a small chip in a paint store.
It's tempting to skip this, buy your gallon(s) and get going, but take it from someone who paints a lot and has learned the hard way, don't skip this step.
Need some help picking paint? I share 4 Tips on How to Choose Paint Colors for Your Home here.
I've learned to embrace this process because ultimately there is a special JOY in creating unique and beautiful rooms, filled with pieces I love that I've also "improved" – all on a budget – for my home. It's a fun challenge.
As I begin this process in my bedroom, I will be updating you on the projects. So, again, please stay tuned for more!
5
Put It All Together
Now, pull it all together. This is where you begin to see your plan click, or not.
Sometimes, ideas are great in our head but they just don't work in reality and you need to make alterations to help it all come together.
Add and subtract as needed. I highly recommend using enough to achieve the look you want but not overdoing it. Less is more. Less is also easier to keep clean and tidy 🙂
Now, I'm no minimalist, not by a long shot, but I am learning to pare down as much as possible to make it easier to keep my home looking it's best and stay manageable.
So LOVE IT or LOSE IT is my motto!
6
Ta-Da!
After all of this, you will end up with a space you love, that reflects your personality and is a welcoming retreat for you at the end of every day.
How to Plan a Luxurious Blue & White Retreat


I'm excited to be tackling this project and will be keeping you updated.
I'm in Stage 4 right now. Follow me on Facebook and Instagram for behind the scenes sneak peeks during the process. 😉
Are you planning a bedroom makeover soon? I hope these ideas give you some inspiration and advice to help make the process easier!