Today I'm going to show you how to make an easy paper flower rose! Paper flowers like this are an easy craft project and make budget-friendly decor for your home, wedding, party, or as a gift! If you've never made quilled flowers before, you're in for a treat! These rolled paper roses come together quickly and easily so you can make an entire paper flower bouquet in no time.
I love garden roses, which is the style of rose I've chosen for this project. This is a beautiful craft that you can make for yourself as decor for your home or a gift for a loved one. Best of all, this is a fast and simple craft because it is a rolled paper rose pattern. Unlike the Giant DIY Paper Peony Flower I shared recently, which is easy, but time-consuming, this craft comes together in minutes.
The pattern to make this paper flower is available for free to subscribers of my email newsletter. When you subscribe to my weekly newsletter you also get access to my Free Resource Library which has this pattern and many, many other wonderful projects for you to create.
How to Make an EASY DIY Paper Flower Rose Bouquet
There are two ways to cut out your pattern. #1 is to use a Cricut or other paper cutting machine to cut out your flower pieces. I used my Cricut Maker machine to cut out mine.
The second method is for you to download the PDF and cut the petal spiral pattern out with scissors.
I have included both the SVG files and the PDF in my FREE resource library for you to pick the method that is best for you.
If you are using your Cricut machine you will need to download the SVG files, upload them to your design library and have the machine cut them.
Don't have a Cricut? No problem! If you are using the PDF, simply download the PDF from the resource library, cut out the petal patterns and then use that pattern to cut out the petals.
I'm excited to show you how to make this! This post contains some affiliate links for your convenience (which means if you make a purchase after clicking a link I will earn a small commission but it won't cost you a penny more)! Read my full disclosure policy.
Supplies to Make an EASY DIY Paper Flower Rose Bouquet
Watch the full-length tutorial to see me assemble the rose! You can also view it here on my YouTube channel if this video doesn't load.
How to Assemble a Paper Flower Rose
Once you have your paper rose flower spiral cut, the next step is to roll the paper flower. I used a DIY quilling tool to make mine. I'll be sharing a tutorial to make your own soon, so please look for that on the blog very soon.
The quilling tool made it easy to roll the flower. Make sure you start at the outer end of the spiral and not the center point.
To begin, load the edge into your quilling tool and begin to roll.
IMPORTANT TIP: Be careful not to roll too tightly, this was a mistake I made at first and was so frustrated with how my roses were turning out. Then once I held it and rolled it a little bit more gently I was much happier with the process.
When rolling you want to keep your petal at the same place on the stick, try to avoid allowing it to slide up and down.
Because I'm going for a garden rose look, here, I want mine to be a bit looser and flowy and not too tight.
So once I have it all rolled I want to gently cup it in my hand and let it unfurl a bit.
Then I will adjust the blooms a smidge, I don't like it when they're all lined up, I want them staggered slightly.
How to Shape the Petals of a Paper Flower Rose
Once they are in the position that I like, I add a touch of hot glue to the bottom and glue the round base into place.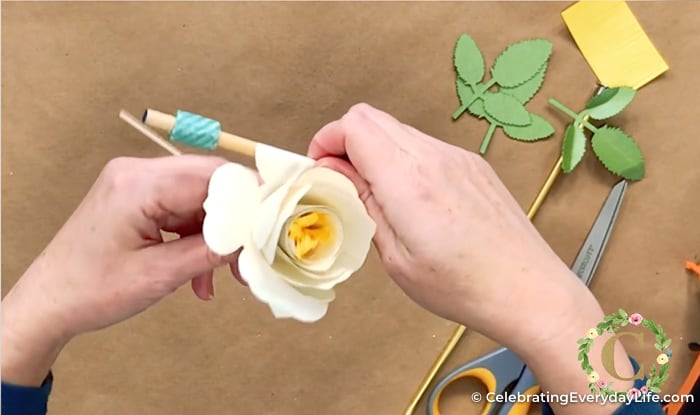 Now, you want to give the petals depth and dimension by curling them. You could use either a pair of scissors or just the base of your quilling tool. The idea is to curl the petals back to help the flower open up more.
Start from the outside and work your way in.
For a stem, you could use a piece of floral wire or a tiny dowel like I'm using here. But first, you need to poke a hole. Anything pointy will work. I used a metal knitting needle.
Simply poke a small hole, add a dot of glue and insert your "stem."
Since my stems won't be seen I'm not bothering to wrap them, but you could wrap these with floral tape if they were going to be seen.
Next, let's add the center section. If you roll your flowers tightly and have a bud center you can skip this, but I wanted that garden rose style and am adding it.
Simply roll, add a dot of hot glue, smush the pieces to give it movement, add a dot of glue, and push into the center. I used an extra dowel to help insert this.
The finishing touch is to add some leaves. Before gluing them on, I recommend bending and scoring them for texture and interest. Once you have added the details you desire, simply add a bit of glue and attach.
Aren't they lovely? And best of all, you get to enjoy the bragging rights since you made it!!
Ta-Da! You have a beautiful garden-style paper rose! Repeat these steps to make as many as you wish. I've created a bouquet in a favorite vase here but these would also be lovely embellishing a wreath, as a project for a wedding, a centerpiece, a hair accessory… and more!
Want More Inspiration?
Check out these other easy and fun crafts you can do to handcraft a life you love!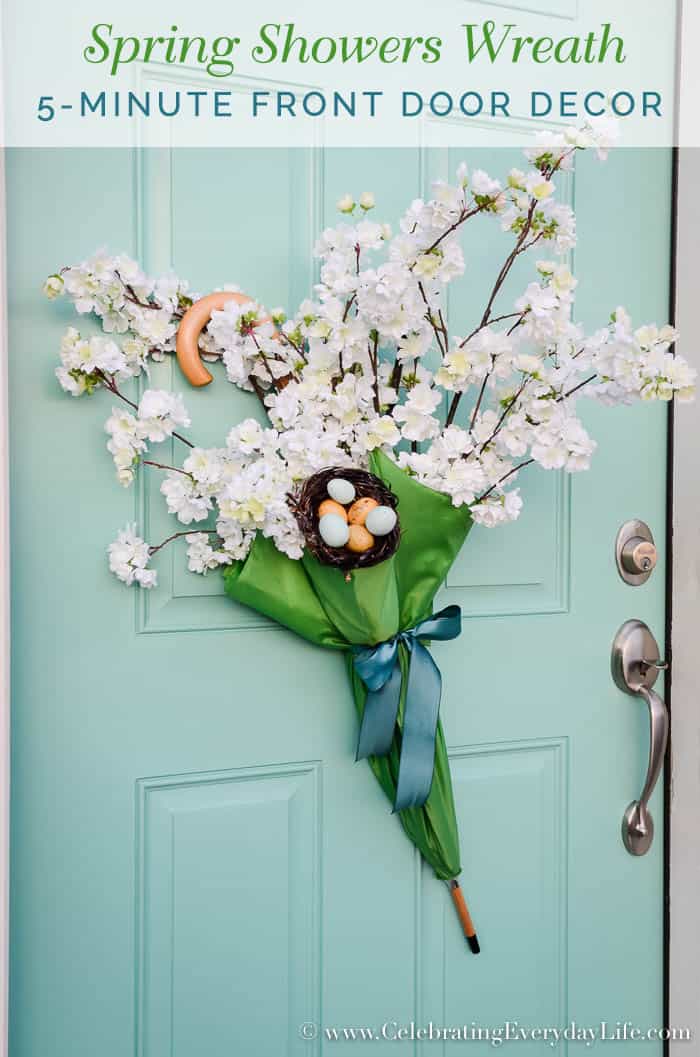 Cherry Blossom Umbrella Wreath
See the simple tutorial for this 5-minute Spring craft here.

How to Make DIY Speckled Eggs
See the tutorial to make your own beautiful eggs.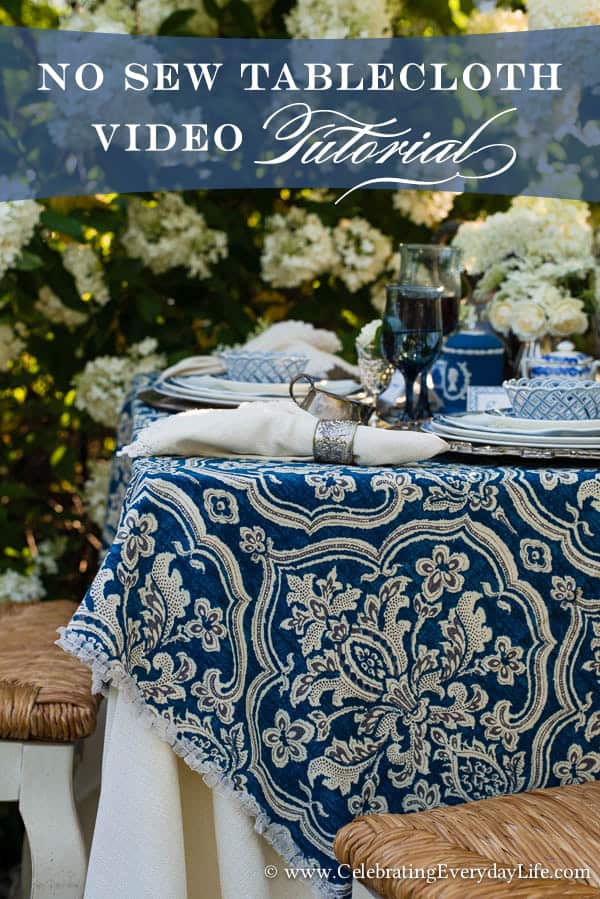 How to Make a No-Sew Tablecloth
See this tutorial to make a beautiful tablecloth without having to sew!
What Can I Create For You?
Is there a craft, decorating DIY, entertaining tip, or something else that you'd like to learn more about? Please leave a comment and let me know! I love hearing from you so that I can make more videos and tutorials that help you!
Thank you so much for watching and please give this video a thumbs up and share it with your friends.
I hope you will be sure to subscribe to get even more ideas and tips for Celebrating Everyday Life!
Happy Celebrating!

Join 6,500+ Fans! Get access to ALL of my SVG files + free printables to help you Organize and Celebrate your Everyday Life!
Subscribe (free!) to get my newsletter with updates and tips PLUS get instant access to my entire resource library with all my SVG files, free worksheets, printable art, and more to help you Celebrate Everyday Life! Once subscribed, I will send you a newsletter with details about my new free files each week.