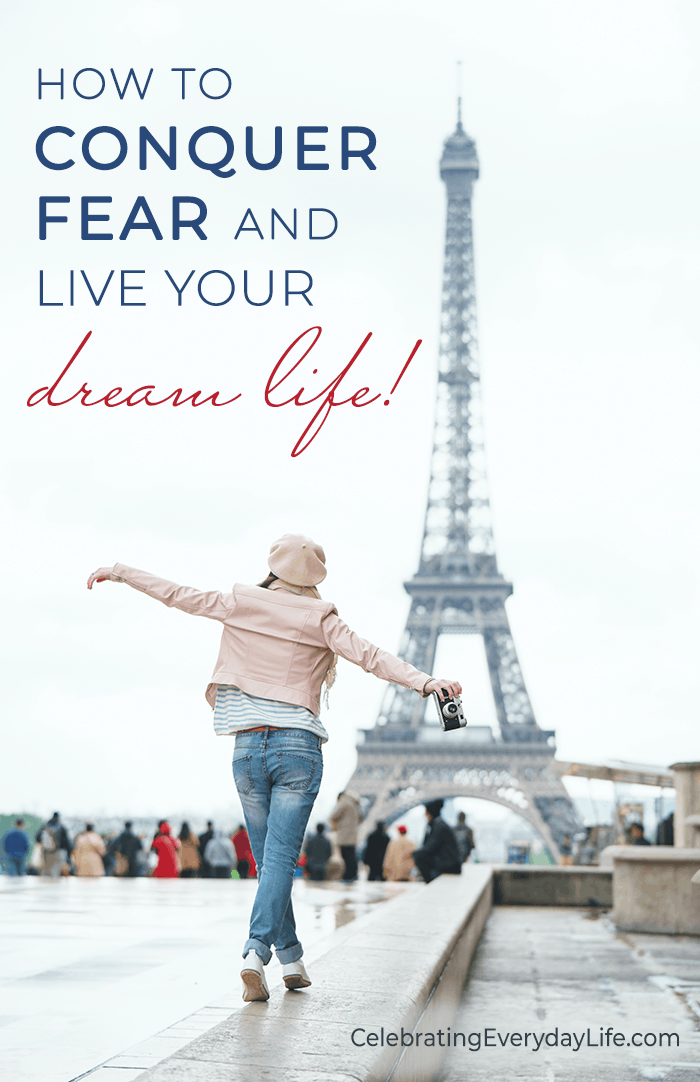 Please note this post contains affiliate links.
The New Year has arrived! During this fresh season, many of us take a moment to reflect on the year that has just ended. For most, we see a mix of hits and misses – goals we achieved and others that were abandoned for one reason or another. Sadly, one of the most common reasons that many of our goals go unreached is fear. If you have aspirations that you have failed to realize, then I hope that this post, How to Conquer Fear and Live Your Dream Life will help!
To get started I think it's important to do a review. I will stop and ask myself:
What were my goals?
What worked out?
What could have been improved upon?
What did I leave undone?
Do you wonder about these same types of things? I hope I'm not alone here! 🙂
While I don't think it's a good idea to obsess about the past, I do think that pausing and looking back can be incredibly beneficial in helping you to move forward and hopefully stop repeating actions that are hindering your progress.
For example, while I took some significant steps forward in some areas, I noticed that there were some places that I did not make as much progress as I had hoped to, and by pausing and being brave enough to dig a little deeper, I was able to see why.
Once you can identify what is holding you back, you are exponentially more likely to break out from that trap and find the victory you are hoping for.
How to Identify What's Holding You Back
If you do not see the progress you desire, I want to encourage you to stop, look, and listen, to your thoughts.
What are you telling yourself?
Try to be honest here. What comes to mind?
Family drama?
Health problems?
Or was it more subtle:
Unknown fears?
Anxiety?
Negative self-talk?
Jealousy?
Or other insecurities?
How I Realized that Fear was Holding Me Back
Last spring I had some big ideas for my blog which I never ended up following through on. As I looked at some of my dreams for this year, I noticed that many of the ideas I had last year were almost identical to the hopes I had for this year. So, why didn't I implement them last year?
I had to "camp" on that question for a little bit. And as I prayed about it, and allowed myself to "feel the feelings," I realized that I let seeds of doubt, inadvertently planted by someone close to me, become an overwhelming fear which I allowed to stop me.
It was a broad mix of fears including fear of me not being able to make enough money to care for my daughter and me, not being enough of an expert, fear of not being able to do a project as well as someone else, fear of putting in all the effort and then no one wanting to read it. I'm sure there were a few other fears, but this was enough for me to realize that FEAR was RUNNING MY DECISIONS and NOT FAITH!
Are You Battling Limiting Beliefs?
Often fears like this are also called Limiting Beliefs. I invite you to take a moment and look at some of your hopes and dreams. Do you, like me, have some limiting beliefs (some "I'm not good enough" types of thoughts) that are holding you back from living your best life?
There is an old acronym for fear that I learned from a pastor years ago, it goes like this:
F – False
E – Evidence
A – Appearing
R – Real
Do you have "false evidence" that "looks real" in your life that is keeping you from the breakthrough you are so desperately seeking?
Face Your Fears and Do It Anyway
Last Fall, I decided that I was tired of second guessing myself all the time, and I found a counselor through a website called Faithful Counseling. They are a faith-based group of licensed, professional therapists.
Having someone who I could be honest with about the fears that I was facing, and hoping to overcome, made a HUGE difference in my life.
I began to accept that fear didn't have to hold me back that I could overcome the limiting beliefs and breakthrough.
That I could be afraid but still follow my dreams anyway!
I also began to understand that fear is often a weapon of satan to keep us from moving forward into the promises that God has for us.
Fear can sometimes INDICATE THAT YOU ARE ON THE RIGHT PATH!
And I realized that happened to me last year. I was on the right path with my ideas, but my enemy didn't want me to have that victory, and I let him rob me of it.
Are you being robbed of your victory? Are you enjoying all that God has for you?
Push Past Your Limiting Beliefs
I encourage you to look at your life. No matter how old you are, what stage of life you are in, stop and consider what do you believe about yourself?
The truth is that if you are still here on this earth, then God has a plan for you.
In Jeremiah 29:11 He tells us: "For I know the plans I have for you," declares the LORD, "plans to prosper you and not to harm you, plans to give you hope and a future."
Do you allow yourself to believe this or have you given up? Have your limiting beliefs discouraged and cheated you from this hope?
Journaling Your Thoughts to Find Freedom
Think of a dream you have or one you used to have but gave up on. Now, think about why you didn't achieve it.
Chances are this will reveal some limiting beliefs that are operating in your mind.
You might find it helpful to write down what comes to mind. Often writing, or journaling can help us sort through the ideas that are zooming around our minds.
Take note of what you have written. If a friend had told you these struggles they were having, would you agree with them?
Often, if we hear someone say, "I'm just not good enough," we will immediately tell them that of course, they are! But often, we'll say to ourselves that same message and NOT contradict that lie.
Ask for Help if You Need It
Sometimes you can recognize these limiting beliefs on your own, but other times you may need some help. If so, seek out a pastor or trained counselor as I did. Having someone walk through this with you, at least initially, can be an essential aid in making progress.
Change What You are Telling Yourself
Next, I want to encourage you to find empowering and encouraging statements or affirmations that you can begin to meditate on.
Every day I read (out loud) affirmations from The Secret Power of Speaking God's Word by Joyce Meyer to help me fill my mind up with the Word of God, instead of thinking whatever thought happens to fall into my head.
It's a way to re-program the "stinkin' thinkin'" into words of hope and life that will help guide me to the path that God has for me.
Post a Positive Affirmation Where You'll See It Daily
Often having a visual aid can be very helpful too. Because I love to make printables, as my regular readers know, I decided to create a new printable to help myself – and hopefully you too! – push past some fears this year and conquer fears that have been holding me back from my best life.
FREE BE BRAVE PRINTABLES FOR YOU!
These printables are accessible in my FREE RESOURCE LIBRARY. You can get the password to this by signing up here.
Inside my Printable Resource Library, there are two versions of the Be Brave Printable.
The first is a rectangular print that you can print and hang, easy-peasy.
Version #1 of my Be Brave Printable by Jennifer Carroll
The second version is a little bit more intricate. You can print this and cut it out by hand, or you could use the PRINT + CUT feature of a paper cutting machine like a Cricut. I love the extra dimension the overhanging flowers add to this printable.
VERSION 2: Be Brave Printable by Jennifer Carroll
MORE INSPIRATION TO ENCOURAGE YOU TO ACHIEVE YOUR DREAMS
Overcoming fears is not a simple, overnight process – but it IS POSSIBLE!
I have been seeing real victory and a release from fears that have held me back, and it is my prayer that you will see the same freedom and hope in your life. That this year you will dare to dream big dreams and go after them!
I also have a great set of worksheets to help you SET GOALS for this year. You can find them here.
I'm dreaming big dreams this year, and I hope you'll join me in dreaming some big dreams for yourself.
There's an old saying: If your dreams don't scare you, they're not big enough.
So my questions for you are:
How big are your dreams?
Do they scare you a little bit?
I hope so because that means you are daring to dream some God-sized dreams!
I believe in YOU!
xoxo,