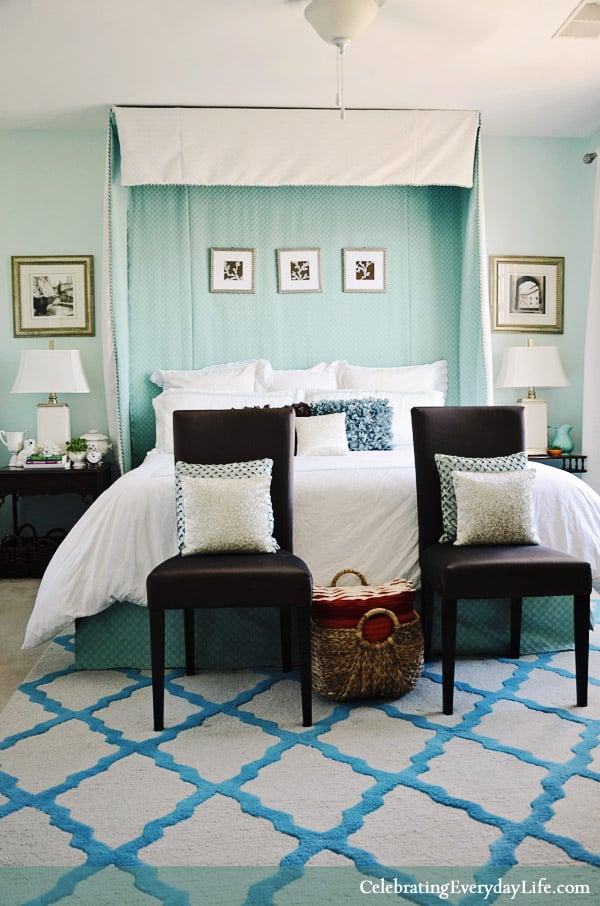 Welcome back to another installment of my home tour, did you see my daughter's bedroom earlier this week? Today, I'm happy to share my bedroom! Recognize the rug? I mentioned in the post about Emma's bedroom how I got one for me too! They were having such a big sale, I couldn't resist and I'm so glad I got it – I love how it pops in the room and accents the lighter shades of aqua…
But the main feature in this room is the bed canopy that my mom helped me to make. I feel like I'm a princess sleeping in a Tiffany box! We made a bedskirt and drapes to match. I hope to make a fabric covered headboard for the bed this Summer… fingers crossed that I get to do that project.
My bedside table has a collection of white treasures accented with a green succulent plant – I read that certain plants can help reduce VOCs in rooms so I'm trying to incorporate more plants into my home… now I just have to keep them alive! I have matching rectangular lamps on each night stand, I got these years ago at Tuesday Morning. Over the nightstands I have two black and white photographs from Spain – I got these at Kirkland's several years ago as well.
The sconce on the wall was a Luckett's find and I tucked a nest with a few speckled eggs inside.
On the other nightstand I have a silver nautilus shell that I got from Target (on clearance!).
I've paired it with a turquoise pitcher and another succulent plant in a small orange bowl. I love adding touches of orange with turquoise…
The silver leaf dresser was a huge project that I took on a while back. You can read all about it here and here. It was a really long and intense project but so worth it… this was my grandmother's dresser and I love having it in my room especially now that it adds a touch of glamour to the space! On top of the dresser I have a studio portrait of Loretta Young – one of my favorite actresses of all time! This was a very special birthday gift that I received from the wife of the former head of a major movie studio, when I used to live in Hollywood. I just adore this piece! With the portrait there is a photograph I treasure even more – my daughter!
At the foot of my bed I have two chairs – I like having a place to sit down, other than my bed, to put on shoes. One day, I'd love to have a pretty chaise or something but for now these chairs that I already owned are standing in nicely. I've dressed them up with two pillows each from Target. The chocolate brown of the chairs is a nice "grounding" accent in the room and ties in with my bathroom (which I hope to be sharing with you sometime soon) but the pillows help to soften the brown and not let it get overwhelming.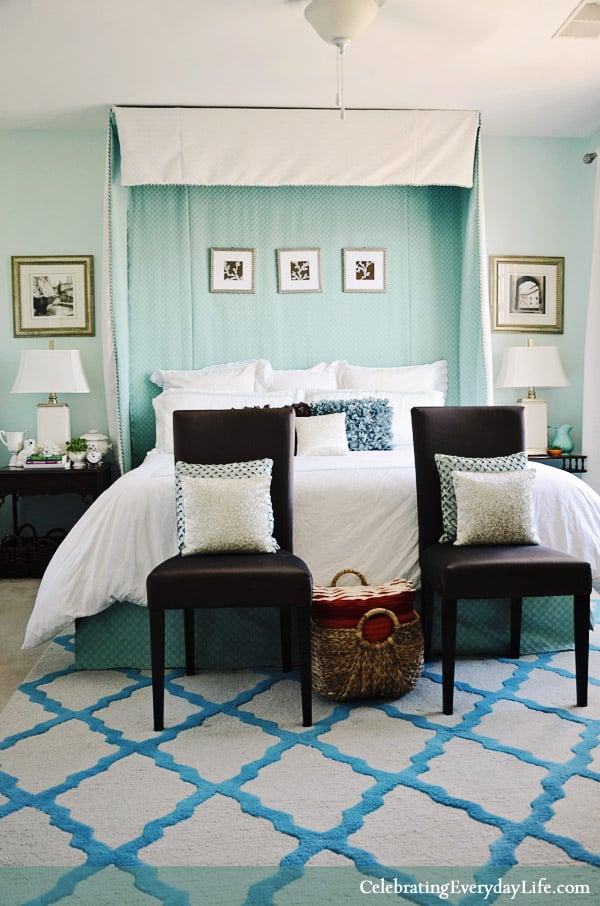 And there you have a tour of my bedroom. I have another dresser in here that I didn't photograph. I'm hoping to do another DIY painting project on this one but I haven't settled on a color yet and with all the magazine stuff going on at the moment I can't even think about it! But I'll be sure to share that project with you once I tackle it!
**Like my wall color? I get asked about it a lot. It's a custom color from Benjamin Moore – I share the "recipe" for it at the bottom of this post. Enjoy!
I hope you enjoyed this tour – I'll see you tomorrow when I'll be sharing another "Blog I Love". Please stay tuned… 'til then,
Happy Celebrating!
Would you like to receive a preview of my blog posts in your inbox?
I'd love to share them with you! Subscribe here…