My, oh my, sweet apple pie! Well, apple crisp actually. A few weeks ago I got an email announcement that the ever glorious Susan Branch was soon to be releasing a revised and expanded edition of her utterly charming cookbook: Heart of the Home: Notes from a Vineyard Kitchen (affiliate link) the 30th anniversary edition! Ironically, I had just finished reading her autobiographical book Martha's Vineyard Isle of Dreams  (affiliate link) here she detailed the highs and lows of her life and all the experiences around how that first book came to be. If you haven't read it yet, I highly recommend it! I already consider Susan to be a virtual BFF, but after reading that book, I was more charmed than ever by her kind heart, her honesty, her enchanting drawings, and of course, her delicious recipes! So I was primed and ready to order this newly released cookbook.
The book is brimming with illustrations that will both inspire and excite you to get cooking, plus many of them are practical!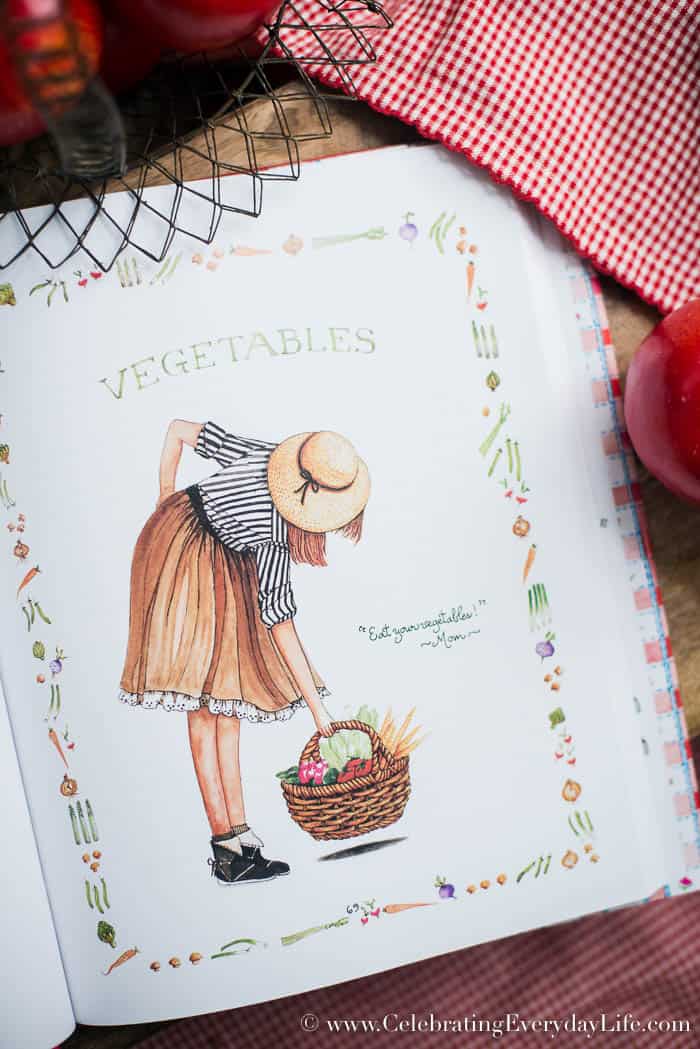 Others, I simply want to frame…
Since it's a cookbook there are of course loads of delicious recipes. Since we are knee deep in apple season around here I couldn't resist whipping up her Apple Crisp recipe found on page 127.
With just a few ingredients that I happened to already have on hand, I was excited to get going. I went to my pantry and gathered up my supplies.
I mixed my apples because I only had two Granny Smith's on hand, I tend to like doing that in apple recipes anyway, just because it adds a nice blend and depth to the flavors.
I pulled out my handy-dandy apple peeler (mine is from the Pampered Chef, but here is a similar Apple Peeler from Amazon – affiliate link) and let me tell you, it makes recipes like this super simple!
Voila, perfect little apple slices.
Next I layered the slices in a pan…
Topped it with crumble mix…
I heavily coated mine because the topping is delectable! Bake and…
Ta-da! A golden, crisp, and scrumptious dessert!!
Add a dollop of whipped cream and prepare for a mouth-watering treat. Your friends and family will think you're a baking genius and yet, I promise you, this is such a simple recipe!
I want to thank Susan for persevering through the many challenges that she faced to bring us this absolutely beguiling book, not to mention the numerous uplifting and encouraging works that have followed. What a blessing she and her books have been and continue to be to this day. I mean it, I have laughed, cried, and hugged her books – they are a true blessing to me!!
I hope you will check out her cookbook: Heart of the Home: Notes from a Vineyard Kitchen (affiliate link) the 30th anniversary edition! I know you will enjoy it!
Happy Celebrating!