I promise I really do love traditional fall colors but this year I can't seem to help myself from playing with "non-traditional" combinations like today's Glamorous Fall Supper in Cream and Gold! It's a celebration of neutral tones with lots of sparkly, gilded accents! I think it would work well for any Fall celebration that you are planning including a dazzling Thanksgiving table. Please pull up a seat and I'll tell you all about how I created this scene.
It began with these golden pumpkins that I found at Walmart. These half-painted pumpkins seem to be the "it" pumpkins this year – I've seen them everywhere! – and I was thrilled to find them so reasonably priced. I have a weakness for all things sparkly so how could I resist? Plus, I already had loads of golden pumpkins from years past and knew these would mix right in with the rest of my gilded patch.
I also had found this gold sequined table runner earlier this year on Amazon (affiliate link) – see it nestled under those pumpkins? – and knew it would add the perfect extra bit of shimmer and shine to this table.
This Ralph Lauren tablecloth found at HomeGoods grounds the setting and is the perfect foundation to build from. Do you remember it from the Apple Harvest Table last month? I love how versatile it is! If you are going to go glam like I did but don't want it to be too over the top, I highly recommend that you mix in some earthy, organic, matte textures. It will keep everything from becoming too excessive (unless that's what you're going for of course!).
For the placesetting, just like Fall fashion, I wanted layers! But, I kept them fairly simple. A gold leaf charger has a rustic edge to it due to it's distressed brush like finish. A super shiny charger here would have tipped me away from the elegantly rustic style that I was trying to balance, despite the sparkles!
White china (from Target) is a simple base for an antique brown transferware salad plate (from a collection I bought on ebay many years ago).
A taupe linen napkin – found at Homegoods – again brings in that natural touch that I wanted to blend in here.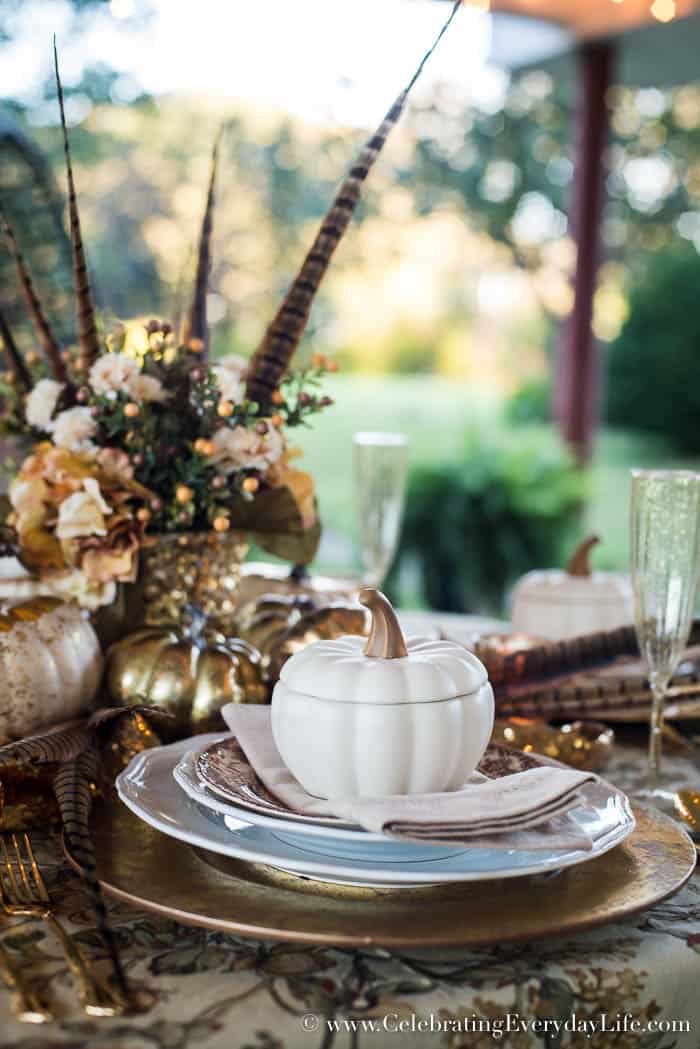 But one of my most favorite elements on the table are the individual white bisque pumpkin tureens from World Market. I can't wait to make some pumpkin soup to serve in these little guys!
Golden flatware, and this ever-so-sweet twig spoon (found at HomeGoods) add to the celebratory atmosphere!
Because it's so sparkly I felt it was totally acceptable to bring out the champagne flutes! These flutes are actually, now prepare yourself for a slight shock, plastic from Target! I have decided I enjoy breaking the rules and mixing in surprising elements like plastic flutes when they enhance the setting and make it better.
The "vase" for the flower centerpiece was once a giant candle, but once the wax had all been used I cleaned it out and kept it for a vase.
When creating the centerpiece I tried fresh flowers at first, namely white hydrangeas, but they were just too stark, too white for this creamy setting. These faux blooms though hit just the right note and when mixed with these berries it all blends together to look lush and full – so appropriate for the harvest season – while the pheasant feathers add wonderful "energy" and visual interest. Plus they add height but you can still see your dining companions across the table, a very important detail for any successful dinner party!
Around the base I just piled on loads of pumpkins and a few golden mercury glass votives (from Caspari) for some extra glow.
Even if sparkles aren't your style, you could create a similar tablescape with non-shimmery items too.
I hope you've gotten an idea or two for Fall entertaining! Want a few more ideas? You can view more of my Fall entertaining ideas here.
Thank you so much for reading and of course pinning! You know what they say, "sharing is caring!"
I promise, I'll be sharing a traditional color scheme soon, but I also have one more non-traditional one rolling around in my imagination that I am excited to pull together too. We'll have to see which one gets done first. I just couldn't wait to create this one though! Please stay tuned for more! 'til next time…
Happy Celebrating!
I'm sharing this over at Between Naps on the Porch!