Thank you all so much for tuning in yesterday to my Facebook Live Holiday Home Tour on Home Talk! If you missed it you can still watch it here. Today I have an early Christmas present for you, a Free Christmas Scripture Printable PDF for you to download and enjoy! I created this "Prince of Peace" scripture art for both my Christmas Card this year as well as Christmas art to decorate my home, and realized that you might enjoy it too. Taken from Isaiah 9:6, this is one of my favorite holiday scriptures. Due to the limited space I had on the card, I slightly edited the scripture to include one of my favorite titles for Jesus at this season – the Prince of Peace.
Here's the front of our card, a friend of mine snapped this picture of my little one and I right before a Christmas program we were singing in at church a couple of weeks ago – hence the golden garlands on our heads. We had so much going on this Fall, that we never got a chance to take a "formal" photo so I was grateful to have this one!
Free Christmas Scripture Printable PDF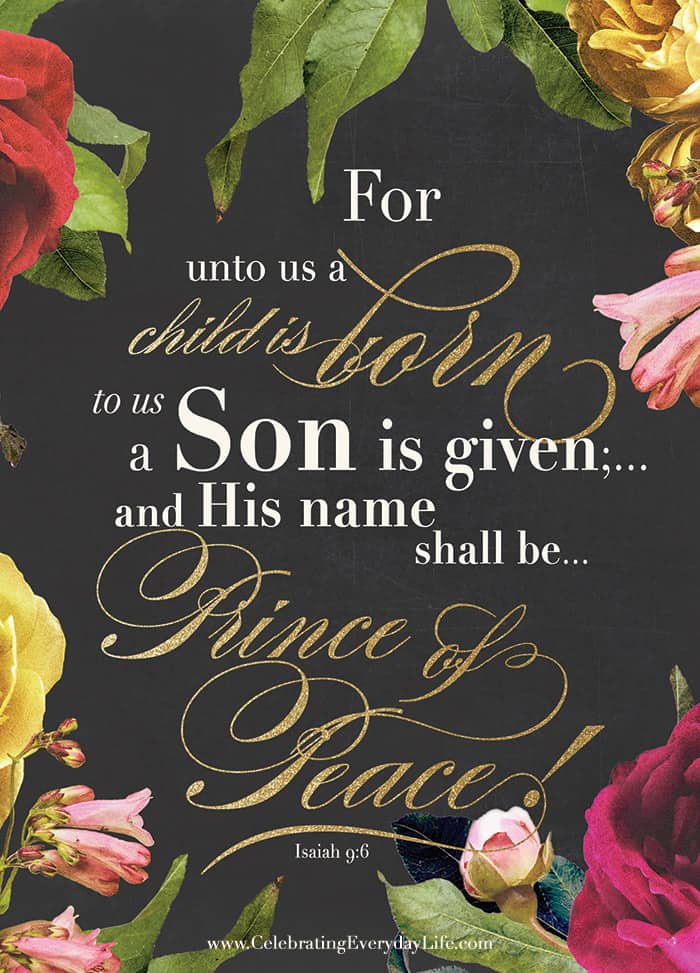 Click here to download your own copy of my "Prince of Peace" Christmas Scripture Printable PDF. The art is 5″ x 7″ but I have formatted it on a standard letter size sheet of paper for easy printing on your home printer. Just download, print, and cut out. I recommend printing on card stock.
I hope you enjoy this Free Christmas Scripture Printable PDF. Looking for more holiday printables? I also have free printable snowflake gift tags you can download here.
Check back in the next day or two because I will be sharing a few more holiday decorating ideas before I begin to transition into organizing and other winter related posts. I don't know about you but I have a strong desire to do some deep cleaning and organizing around here. Normally I get that urge in the spring, but this year, it's come early. I'm actually looking forward to getting some of our spaces in better order.
In the meantime, I hope you enjoy these final moments before the holiday. Thankfully my shopping is done, the house is decorated, and most of my Christmas cards are mailed out. Now, I'm ready to do a little holiday baking, cuddle up with my daughter, and eat popcorn while watching favorite holiday movies like "White Christmas." How about you? What are you most looking forward to this Christmas?
Wishing you an early "Merry Christmas" – thank you for being here! YOU have truly been a blessing and made a difference in our lives this year!! xoxo
Happy Celebrating and enjoy the Free Christmas Scripture Printable PDF!