I'm linking up to Jennifer Rizzo's Holiday HouseWalk – please hop over and vote for me!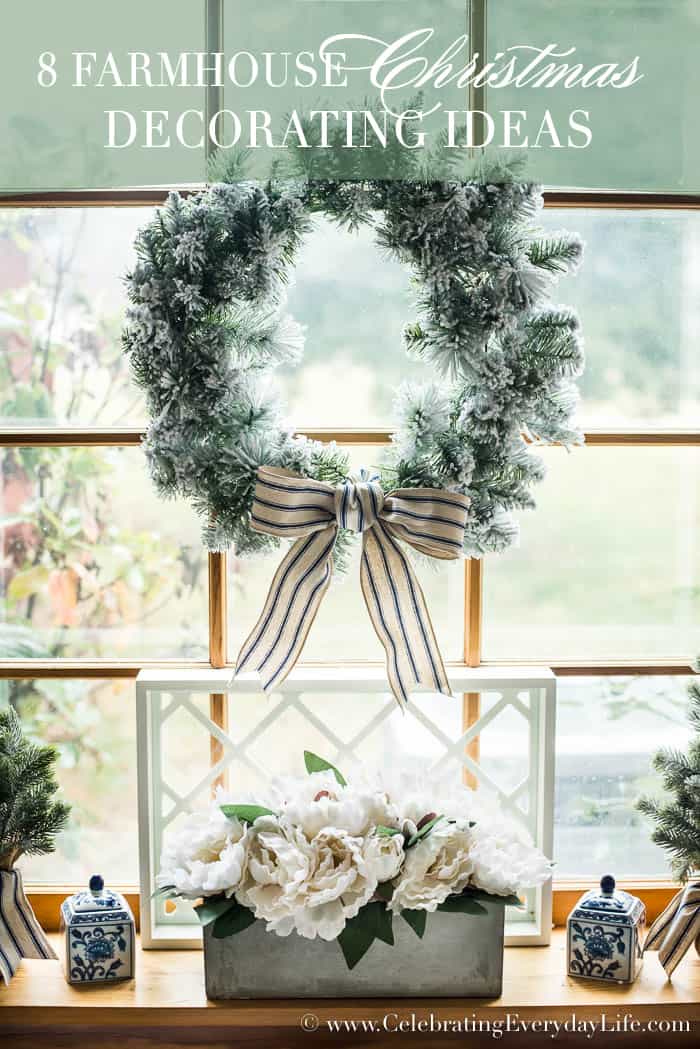 This is our first Christmas at Hartfield, our new farm, and to say I'm excited about decorating the house for Christmas would be a bit of an understatement! I'm embracing a rustic chic farmhouse look in the sunroom, and today I'm sharing 8 Farmhouse Christmas Decorating Ideas to help you infuse a bit of farmhouse style into your home no matter if you are really on a farm or not!
Before we dive in, I wanted to share that today I'm thrilled to be part of bHome's Home for the Holidays tour, where, over the last 4 days, 30 bloggers have been sharing their holiday best, and we're invited to step inside these lovely homes! And, as if that weren't enough, one lucky visitor will have a chance to win a $250 gift card from Farmhouse Refined – the newest member of bHome – I'm especially excited to welcome them because they are based in Virginia like me! See the bottom of this post for details on how to enter to win. But, first, let's talk Farmhouse Christmas Decor:
Add French Country Stripes (or ticking stripes if prefer)! You cannot go wrong with this timeless element and it is key to Farmhouse Christmas Decorating. Originally found on flour sacks this simple striking pattern is now seen on pillows, furniture, and much to my delight ribbon! Recently I was in the faux flower aisle at my local Walmart and came upon this absolutely darling blue & white striped wire ribbon (shown tied on the tiny tree above) – it was love at first sight! I didn't know how exactly I'd use it when I bought it but I knew I'd use it! I was toying with the idea of doing a garden themed tree somewhere in the house and once I got home I knew this dreamy ribbon would be perfect in that room and that I could use it on the tree too!
Here's a peek at the tree above but come back tomorrow for a detailed look at my Farmhouse Christmas Tree! Below is a french country stripe flour sack table runner that I found at Target recently. Again, this pattern immediately infuses the space with a sense of farmhouse joy.
Keep your greens s-i-m-p-l-e. Back in the day, most real farmhouse interiors were fairly sparce, at least the one my great-grandmother and grandmother lived in was. In the tradition of less is more, I have kept the wreaths and small trees bare with the exception of their happy striped bows. I love the simplicity and calmness that the lack of "fuss" on these items creates in here.
I have these wreaths on three of the four walls in here. Because they are so simple it allowed me to hang multiples of them in the space without it overwhelming it. Here is one on the sun room door. I have brought my Eugenia plants inside for the winter. I'm hoping they'll weather nicely in here. We'll see!
The second is hanging here on the window over this chest. Note the plain burlap tree on the rusty scale too.
The third hangs on this window flanked by two more tiny trees swathed with a simple blue & white ticking stripe bow.
Because they are plain, they blend in easily with other elements that I have in this eclectic space, like this ornate architectural art or the antique Chinese dragons – normally I wouldn't think you could combine these elements, but for me, it's working!
Keep your color palette neutral. A signature element of most farmhouse homes is the basic white canvas background. You don't necessarily have to paint everything white to achieve that effect but I do recommend you keep it as neutral as possible. When I first moved in to this house I had planned to paint this paneling white. But I haven't had a chance to do that yet, and now I'm debating if I really want to. The wood is actually growing on me and it lends a warmth to this room that I worry would vanish if I painted it white. Fortunately wood is also considered a neutral so I'm still in the zone, just a variation of the same theme.
I like to keep my decor accents fairly neutral in here too – it's helps keep the theme more cohesive even though there are different styles colliding!
Use heirlooms in your decor, don't hide them away in a trunk! I have a soft spot for matelasse coverlets and bedspreads. They always make me think of my grandma when I see them, I remember she had twin beds with matching coverlets in her guest bedroom. Nowadays, I have them on the twin beds in my daughter's room, but I also use them as easy slipcovers for chairs and loveseats, and we even used one under the tree in here this year! While you can buy them new online like this English Rose Matelasse Coverlet (affiliate link) I always keep an eye out at antique and thrift stores and have found some beautiful pieces for great prices this way.

While we're talking fabric, I encourage you to use natural textured fabrics as often as you can! Flour sacks and mattelases are wonderful but don't forget about the frugal decorators best friend – the drop cloth! In this room I've used dropcloths for the drapes as well as slip covers on the wing chairs. I love drop cloth fabric because it is affordable and durable – two of the cornerstones of farmhouse style!
Back to basics collectibles – long-term readers know how I love to collect things including: china, scottie dogs, bee skeps, tartanware, my list goes on and on. One of my collections got kicked into high gear this season – holiday paper houses. They are everywhere. I'm serious, from craft stores, to chain stores, even Cracker Barrel restaurants – paper houses are the new (but they're actually quite old!) village house to have and display. I happened into Michaels Craft Store recently and what should my little eyes spy but house after house in every style and color ON SALE. I practically filled a cart with these little guys and am proudly displaying them throughout this room.
My collection now includes this frosty barn…
This delicate pink and white paper Christmas house (this one came from Cracker Barrel!)…
This all Pink Paper Church and the mini version in the ornament cloche next to it.
And this little house under glass. I have many more under the tree too, we'll dive into those tomorrow.
Include a few love-worn accents with interesting patinas, the chippy-er the better! Painting furniture is a passion of mine but there are times that I come across something that has already achieved chippy-paint perfection. It's a piece whose weathered appearance has a unique story to tell, and for me that instantly adds character and personality to a space in way that few (if any) other objects can. Below an antique child's rocking chair lends a sense of history to some otherwise newer furniture.
The rusty scale glimpsed below tells a similar tale of usefulness and a life of happy service – at least that's the story I choose to believe about it!
When in doubt, go natural! Natural elements and textures like wood, stone, old brick, etc… are hallmarks of Farmhouse style. In here I am blessed to have several of these elements already in place thanks to the farm's previous owners. Keep these textures in mind when selecting decor to add in to your home. I saw this concrete planter at Target a season or two ago and loved the simplicity of the design. Classic lines never go out of style so you can feel confident that you are investing in a piece that you are not likely to tire of too quickly.
And there we have 8 Farmhouse Christmas Decorating Ideas to help you infuse a bit of simple beauty into your decor this holiday season. I hope you found at least one idea to inspire you here, and I hope you have room for a bit more because now I am proud to share the links to the entire bHome Home for the Holidays tour! Prepare to take a journey into some of the loveliest homes on the internet – and remember to scroll down to the bottom for details on how to enter for a chance to win the $250 gift card from Farmhouse Refined.
Sunday
Confessions of a Serial DIY'er
And here are the links to the first three days below:
Day One
French Garden House * Shabby Fu Fu * Zevy Joy * Redhead Can Decorate * My Soulful Home
Day Two
Starfish Cottage * Little Farmstead * So Much Better with Age * Cedar Hill Farmhouse
Garden Therapy * TeaselwoodDesign * Shabby Art Boutique
Day Three
Love of Home * Duke Manor Farm * Setting for Four
White Lace Cottage * Cupcakes & Crinoline * Our Southern Home
~ Now to enter to win the $250 Git Card to Farmhouse Refined ~
All you need to do is pop on to bHome and TAP the star for Farmhouse Refined and you will be automatically entered. (You'll get a message on the app confirming your entry.)
Don't have bHome yet? ( let's fix that pronto! ) Go to the app store, search for bHome, download it for free to your phone or ipad and then follow the simple step above to enter.
Good Luck!
(USA residents only – winner randomly chosen on 12/9 and notified on app & email )
Thank you so much for joining me today and for visiting my wonderful friends and welcoming new ones like Farmhouse Refined on this delightful tour! I'm so proud and honored to be part of it. I am picking up so many great tips and ideas along the way. I'm sure you will too!!
Happy Celebrating!