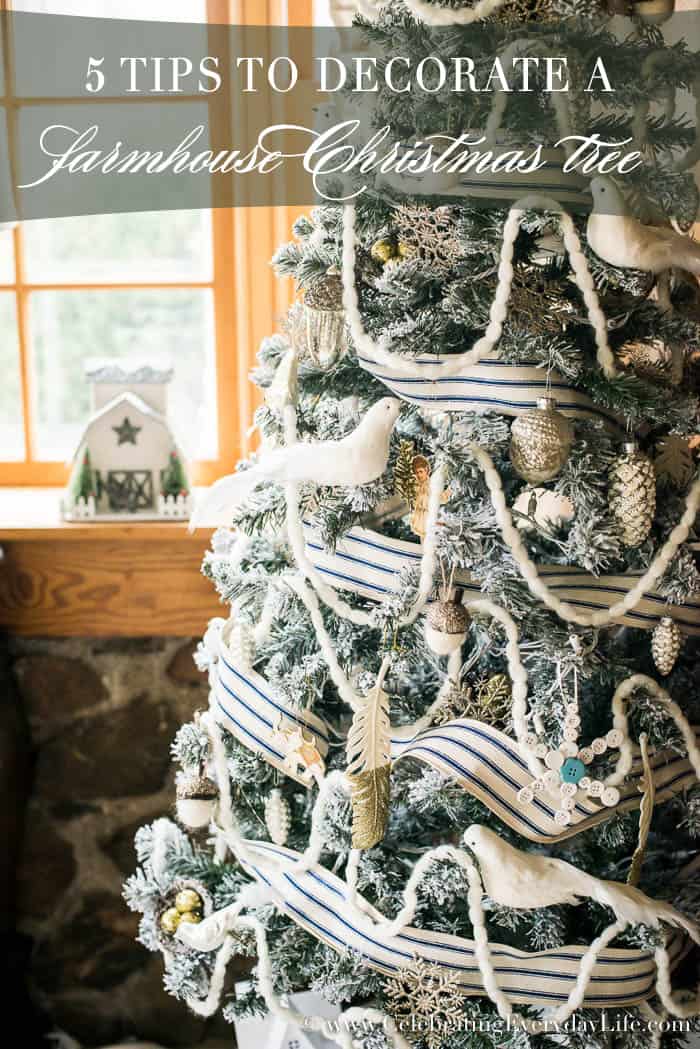 Today I'm sharing 5 Tips to Decorate a Farmhouse Christmas Tree. I am loving this relaxed farmhouse style in my sunroom. Yesterday I shared 8 Farmhouse Christmas Decorating Ideas pulled from this room. Did you get a chance to explore it yet? It's my favorite room in the house right now! Originally I had planned for this tree to have a garden-theme, but once I found this blue & white ticking striped ribbon at Walmart – I knew some farmhouse decor was in order. Let's jump right into simple ways you can add farmhouse style to your Christmas tree this season!
5 Tips to Decorate a Farmhouse Christmas Tree
Roll out the ribbon! This ticking stripe ribbon makes a perfect Christmas tree garland! It instantly establishes this tree with Farmhouse style, and all you had to do was unroll it and wrap it around the tree. So easy! I like to tuck the ribbon in here and there to give it a bit of dimension. Be sure to get plenty, while some elements of farmhouse style err on the side of less is more, this is one part where you definitely don't want it to look skimpy!
Add some homespun charm to the tree. In an alternate universe I'd love to have time to sit and knit and needlepoint a bevy of beautiful heirloom worthy decorations for our tree, but let's face it, I have no where near that kind of time right now. But I still wanted the tree to have the feeling that often accompanies handmade fiber art items. To keep at least a hint of that element on this tree, I decided to string a second garland, this time using an extra chunky white yarn. At some point I am dreaming of knitting a cozy throw blanket or maybe even a throw pillow cover out of this yarn, 'til then, it is happily hanging out on the branches and lending a handmade feel to this tree.
Stick with a neutral color scheme. While this is by no means a hard and fast rule, most farmhouse rooms have an all-white or mostly white color palette so I kept that in mind when setting out to decorate a farmhouse Christmas tree. From the frosted branches to the mostly white and silver ornaments – there is a restfulness to this tree that is most easily achieved by using mostly white items.
Mattelases or other antique linens are a must in every farmhouse – and they also make a terrific tree skirt! We chatted a bit about my love for these fabrics in yesterday's post and today I wanted to give you a closeup view of my little farmhouse village nestled under the tree. When thinking about how to decorate the base of the tree, I got digging around in my linen closet (I still need to organize it like I had it at the last house but that's an after Christmas project!) and was so happy to find this bedspread. Folded up and tucked around the base of the tree it makes a perfect snowy background for my growing neighborhood.
These paper houses are really popular this year and I can't get enough of them. I shared some resources yesterday. The white ones you see here are from Target, and the golden ones are from Michaels Craft Store. Since we will put our gifts under one of the main trees in the living room (yes, there are two in there… stay tuned to see them soon) I liked the idea of using this real estate to showcase this collection. It's an easy but interesting use of the space, and fits well in the farmhouse theme.
Get sentimental! Hang only the ornaments that matter to you and fit your theme. I'm sure it comes as no surprise to you to hear that I have a lot of ornaments that I've collected over the years. I love Christmas, and every year I seem to add a few more to my collection. But I've also had to learn to edit what I put on the branches. Traditionally farmhouse trees are uncomplicated, and you don't want to overwhelm them with baubles. So here I chose to keep it simple and put on ornaments that both mean something to my daughter and I, and fit with the color scheme and style.
We've had this star for quite a long time now and I knew it wouldn't quite work on the other trees we've decorated this year, I'm ever so glad to see it on this tree in here.
I'm very happy with how this tree has come together and with how well this style fits this room!
I hope you enjoyed this and found an idea or two, (or five!) that you can put to use this year when you decorate a farmhouse Christmas tree. Thank you so, so much for reading and sharing!
Happy Celebrating!