Want chalk paint ideas to make old furniture look amazing? Perhaps you're wanting to earn extra money by chalk painting furniture to sell? Or maybe you're like me and have champagne taste on a ginger ale budget and want to know how to decorate on a budget.
No matter what brought you here, welcome! I am so excited to meet you! I have been chalk painting furniture and teaching how to chalk paint for more than six years and I must tell you that I love it even more now than when I first began.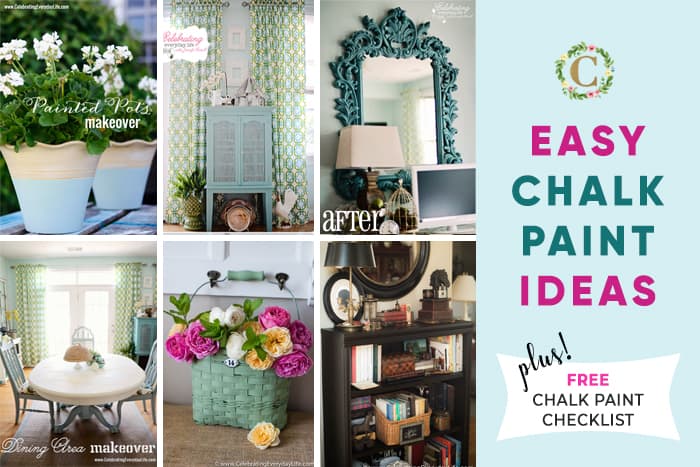 And while chalk painting furniture is awesome, there is so much more we can do with this amazing product, which, as you'll discover, is why I'm constantly falling more and more in love with it year after year.
Please scroll down for lots of chalk paint project ideas you can make this weekend!
But first, in case chalk paint is new to you, I want to share some of the amazing possibilities of what you can create with it!
What can you do with chalk paint?
When people see my excitement for chalk paint they sometimes ask – isn't it just paint? What can you do with chalk paint that makes it so special?
I think a better question is what can't you do with chalk-style paint!
Seriously. It is so incredibly versatile!
Here's a list of projects you can do with chalk paint:
Chalk paint furniture with little "preparation" – which means you get to the fun part (the transformation) faster!
Chalk paint fabric – from chairs to pillows to shower curtains and anything else you can imagine – yep, you can paint it!
Dye fabric with Chalk Paint – oh yes! You can even use chalk paint to dye fabric colors!
Chalk paint shoes – from ordinary to extraordinary – take your footwear to a whole new DIY level.
Clothes – make your own boho chic clothing with it!
Chalk paint lampshades
Brick fireplaces
Chalk paint frames
Paint metal
Glass
oh, and yes you can Chalk paint walls
Chalk paint kitchen cabinets
maybe you want to Chalk paint floors
how about Chalk paint countertops
Chalk paint appliances
and I could keep going…!
Is Chalk Paint Safe to Use?
Another reason that I love chalk paint is that, depending on the brand you use, many are safe and non-toxic, containing low or no VOCs. So I don't have to worry about using it around my daughter, my pets, me, and the environment!
When I'm using a natural paint like this, I'm not introducing hazardous fumes or chemicals which is important.
Plus, chalk paint is a fast product to use – it goes on easily and without a lot of prep work and dries really fast too!
Chalk paint projects are great when you are short on time and like that feeling of accomplishment.
Want help with your chalk painting projects?
Sign up below to get my FREE Chalk Paint Checklist for Beginners! It will help keep you on track with the order of how to chalk paint and some great tips to help you chalk paint like a pro!
Is Chalk Paint only for rustic or shabby chic furniture?
One of the great things about chalk-style paint is that it is very easy to work with and it makes a great base that you can work from to create many different finishes and looks.
And while it's true, that it can easily be adapted for rustic and shabby chic styles of furniture, this is by no means all it is suited for.
What types of decor is chalk style paint good for?
The short answer? ALL OF THEM!
Chalk painted furniture can be worked in to almost any type of decor you can imagine depending on the finish that is applied.
Best decorating styles for distressed chalk paint furniture projects:
Decorating styles that are easy to incorporate that chippy, distressed chalk paint look include:
Farmhouse decorating, Shabby-Chic, Boho, Eclectic, Country, Rustic, Primitive, Cottage, etc.
But, not all chalk paint furniture has to have a strong distressed finish!
You can finish chalk paint projects to have a more elegant, antique finish.
Elegant chalk paint projects make beautiful additions to decorating styles like:
Traditional, French Country, English Country, Transitional, Cottage, Shabby-Chic, etc.
And it doesn't stop there. You can finish chalk paint furniture to have a more clean and simple finish which works well with:
Modern, Arts & Crafts, Contemporary, Retro, and other decorating styles.
How do you use chalk paint to make furniture fit with your decorating style?
There are a few simple keys to making any chalk paint project blend beautifully with your home decor.
Pick the right furniture to paint. Look for pieces whose "bones" and "details" are right for your space. A French chest with curved legs and wood trim embellishments is not likely to ever blend perfectly with a clean, streamlined modern home, no matter what color you paint it. So, first, make sure the piece is the right "style"
Choose the right finish. Create a chippy finish or a clean and simple wax finish. The great news is you have control over the finish and can guide it to the desired look you want.
Easy Chalk Paint Ideas
OK, ready to dip your brush into some easy chalk paint ideas? Here's a list of awesome chalk-style paint projects to inspire you! I add to this list all the time so please bookmark (or better yet, pin this page!) so you can come back for more inspiration whenever you need it!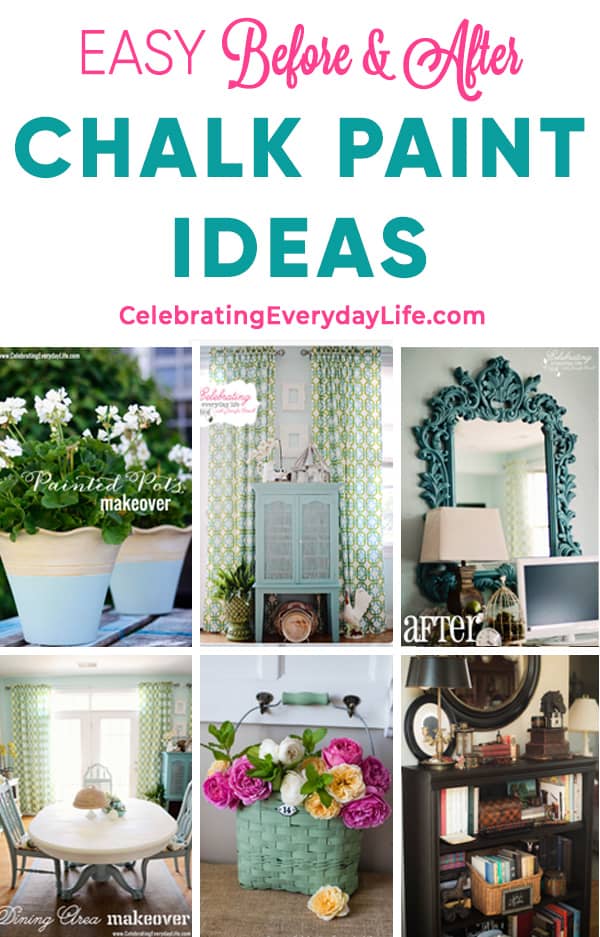 Want help with your chalk painting projects? Sign up below to get my FREE Chalk Paint Checklist for Beginners! It will help keep you on track with the order of how to chalk paint and some great tips to help you chalk paint like a pro!
Happy Painting!