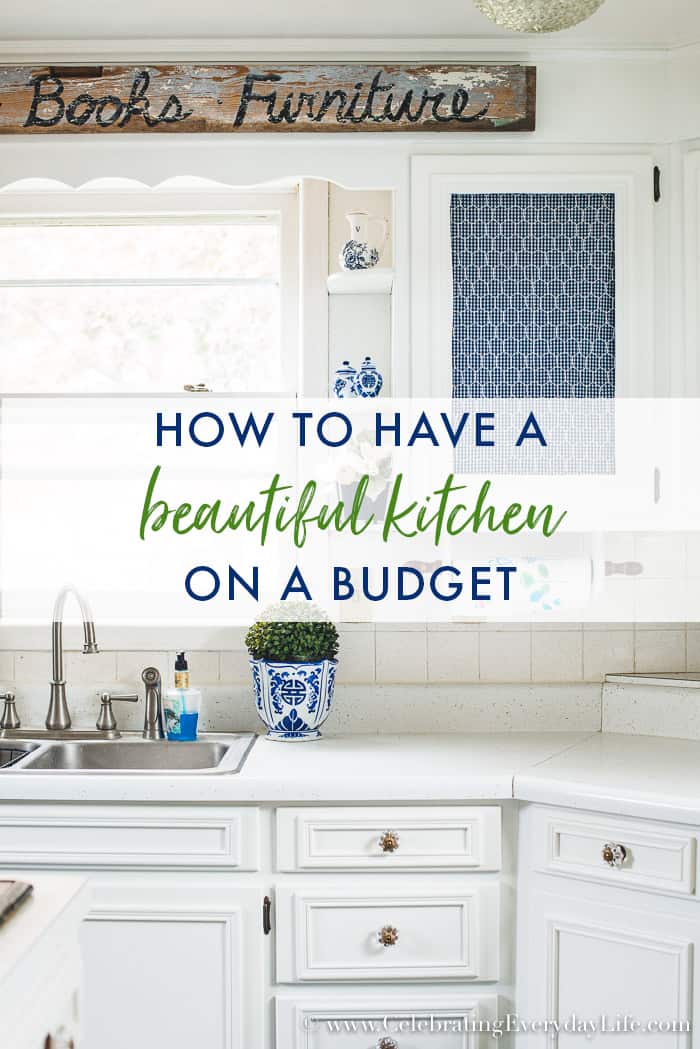 Experts tell us that updating your kitchen is one of the most powerful ways to increase the value of your home, but I have found it's also a wonderful way to add joy to your everyday life… that is after you have worked yourself to a physically and emotionally exhausted state, cried (a lot!), and wondered what on earth ever made you start this project in the first place!
My kitchen renovation is not done yet, but replacing the floor and painting the cabinets has made a dramatic impact and has helped me see keep going during this important, yet overwhelming, project.
To truly appreciate what's happened, let's take a walk down memory lane, shall we?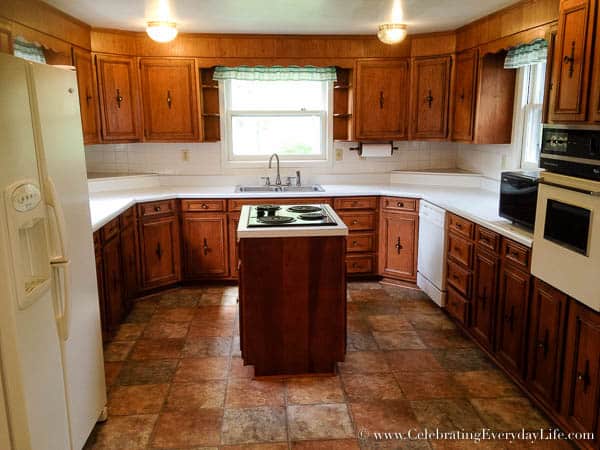 This was my kitchen when I bought the house. It was charming but just too brown for me. But, oh, did I see the potential! I shared some of my inspiration for this project in this post. Unfortunately, my wallet told me most of the work would be DIY, so I rolled up my sleeves and dug in.
And here it is today! Quite a change, don't you think?! And if you don't, please just nod politely… my DIY nerves are frazzled 🙂
The journey between the before and the (so far) after has been hard work, I can't lie about that, but it has been totally worth it to me.
There is still more to do: I have a new farm sink + faucet in my shed that is waiting to be installed, I have to remove the cook-top from the island, get the new stove wired, update the lighting, install door knobs on the cabinet doors, switch out the outlets, get new countertops (one day), and more… but thankfully I love it so much right now that I almost don't care about the rest!
They will be like cherries on top of my pretty kitchen cake!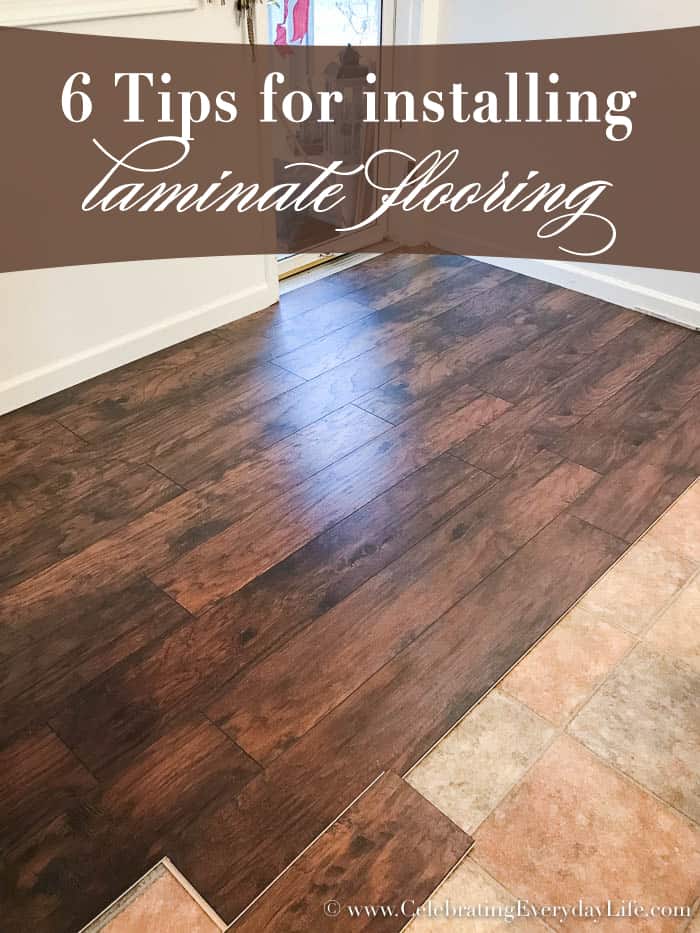 The project I decided to tackle first was the floor. I'm quite sure there are experts out there who would tell you do this last, but I'm dancing and DIYing to my own tune over here and decided to start there. For me, it worked out!
I shared all about my adventure installing new laminate flooring in this post here. The floors are doing really well, and I'm very pleased with them. In fact, I'm dreaming of installing this same floor in my living room, but that's a project for another day!
Next, I tackled painting the cabinets. I have a lot of pictures about that process and will share a post on (what not to do) How to paint kitchen cabinets- one day. (Once the nightmares stop! ha, ha!)
Paint made the biggest, brightest difference and although it was intense, it was worth it!
If you need some help picking a paint color for your kitchen check out this post with my 3 tips for selecting white paint for kitchen cabinets!
After painting, I realized there was a sea of white up top, and I needed to break it up. So I decided to do the unthinkable – I cut the center out of my kitchen cabinet doors! With a lot of deep yoga breaths and a boatload of prayer, not to mention a little bit of chicken wire and some scraps of fabric, suddenly the area around the sink felt cute & cozy!
I'll try to share that process with photos soon too.


I have a few touches of blue and white on the little shelves by the sink like these petite spice jars from Spode. These were a happy find at Home Goods!
For now, I don't want any window treatment on the windows; I like all the light coming in. But, I've added some decorative accents like these plates to the sides of the cabinets to "dress up" the window area. They add interest without being too distracting.
Even though there is a lot of blue & white in here, I love the pop of green from this basket. This is a DIY project that I did a while back with Miss Mustard Seed milk paint. You can read about it here.
My island is pretty small and narrow so I added this little rolling cart to the end, it's from Walmart and is perfect! I had a small piece of marble from another table and have set it on top, so I get my little bit of marble that I'm dreaming of. (One day I hope to have marble countertops in here!)
It's nice to have a spot to display some of my favorite pitchers and platters that I've been collecting over the years.
Plus it gives me some extra work room which is always nice. I'm hoping to get the cooktop removed soon. I think I'll put a butcher-block type of wood here for now. Since I'm dreaming of marble one day, I don't want to overspend here. We'll see…
You can see the edge of my new stove here. It still needs to be wired, but then it will be ready to go. I'm praying I can get that done before the holidays, we'll see!!
The drawer pulls that I chose are from World Market. They have a vintage look to them that I love. Plus, they aren't too distracting. I will say that sometimes the metal detail on the front will catch on a sweater, so I've learned to be careful, but I still would choose them again. I have them for the doors too, but I still need to drill the holes in the doors to put these in.
Is it perfect? Nope! Not by a mile! It's an 80-year-old house after all! Am I OK with that? Absolutely! The main thing to me is that it is light, bright, welcoming and cheerful! A space that I feel pleased to spend time in and make memories in with my daughter and family.
Doing the work myself saved me a ton of money and buying "scratch & dent" types of appliances saved me more and let me get appliances that would have been otherwise out of reach for me. But in the end, patience was probably the most important thing I had to keep hold of and use often. Rushing is always going to cost you more – both time and money – which is never good.
So, if you've been contemplating a kitchen reno or update, I will warn you it is hard work, and it will take time. Time to plan, time to do the updates, time to hunt down the deals, but if you spend the time, you can end up with a space that is uniquely yours and totally worth it!
I know many of you have been asking me for updates on the kitchen and I'm so glad to have something to share with you finally!! Thank you for your patience!
Oh, and in case you're wondering, the sign over the sink is an old sign I got at a vintage market. I love its chippy patina!
Want to add a little farmhouse style to your kitchen? Check out these 16 Favorite Finds to add Farmhouse style to your kitchen!
Stay tuned for another kitchen post coming hopefully this week! I want to share one more favorite part of my kitchen with you! Til then, thank you for reading and sharing, and of course…
Happy Celebrating!