Hello my friends! Welcome to Hartfield!!! Our new little slice of heaven that my daughter and I have been given by God! He is GOOD! We've just survived the move (barely!) and we've been in the new house for almost two weeks – time is going both very fast but also slowly as unpacking is a very challenging task. I still feel pretty dazed and definitely overwhelmed, I forgot how brutal moving is… but the possibilities here are endless and I'm just chipping away at it a bit at a time. We don't have any "after" photos yet, and who knows when we will, but in the meantime, I invite you to enjoy these before photos!
This is the exterior of my sweet cottage. I am in love with the stone, it feels like an English cottage right here in Virginia! After lots of thinking, my daughter and I named our new home Hartfield. Please leave a comment below if you know the story that this name comes from. For fun, I'll pick a winner amongst the guesses and send that reader a special gift of note cards especially designed by me!!
The house has a kind of "T" shape. This is the mudroom entrance that we use everyday…
This is the front yard. I love the park-like feel it has. Plus, I like that it is set almost two acres from the road – it's quiet and my daughter is less-likely to be out near it.
Let's step inside, shall we?
I'm super excited about this mudroom!!! Finally a place to store muddy boots, etc…
You step right into this eat-in kitchen. The floor is vinyl. While I would eventually like to change the floor, I'm grateful that it is easy to keep clean right now and is comfortable to stand on.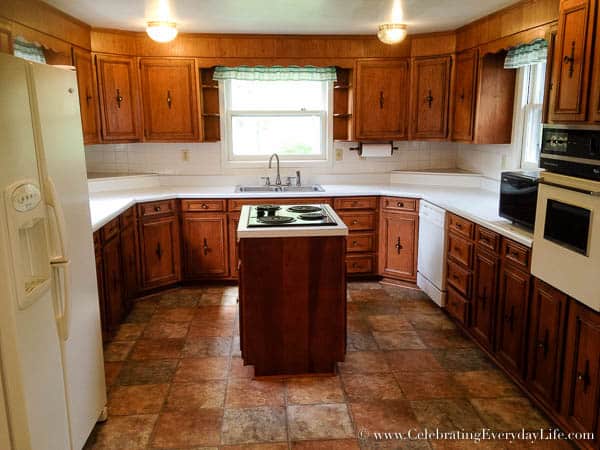 Here is the kitchen when we moved in. Of course I dream of a kitchen renovation but will have to do this in bits and pieces. Phase one will be painting the cabinets… Next on my list will be relocating the cooktop, I'm not a fan of it being on the island.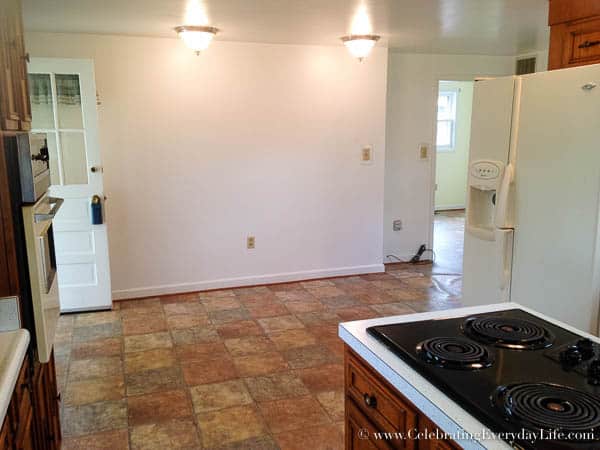 It's so nice having room for a kitchen table in here. I like the "homey" feel of a table in the kitchen.
The laundry room is right off the kitchen. I love the new washer and dryer that came with the house!
This is the dining room. It's on the smaller side so I've switched our dining table back to the round painted chalk table we had used before… The round table works nicely in here.
There is a small guest room off of the dining room. I was fortunate to be able to get those two twin beds in the sale of the house. I've since relocated them to my daughter's bedroom.
This is the living room, definitely one of my favorite rooms in the house! I love the ceiling beams and the interior window!!
This is the fireplace wall. I plan to paint the brick but I will keep the wood wall accent, it's Wormy Chestnut and I love the character of it! That wall heater is being removed though.
This is the front door. I am dreaming of a dutch door one day!
This is the sun room. Definitely my favorite room in the house! Oh, those interior stone walls and all the windows!!! I love them!!!
The window wall adds so much interest and charm!
This door has a built in dog door just the right size for our Mr. Darcy!! Plus, the yard outside is fenced so he can run in and out to his hearts content!
This is my daughter's room. It's quite a bit bigger than her bedroom at our last home. I'm very excited to have a room with two twin beds in it for her! My niece sleeps over fairly often and it will be delightful to have a room they can share – just like sisters!
There are two bathrooms in the house. This is the first one which will be both my daughters and the guest bathroom. The wallpaper and the vanity are on my list of items to change pronto. The vanity may take a little longer but I want to change it because it takes up SO much room in this tight little space.
This is my bedroom. The floor is actually vinyl – not real hardwood 🙁 but at least it's a pretty vinyl!
I like the louvered closet doors. I'm planning to paint this room my favorite turquoise like my last room and I think those doors will pop nicely against the blue. I'm also toying with painting the regular room doors dark. I've seen it in several other homes and am thinking I will give it a try. We'll see if I actually pull the trigger.
The master bathroom has a nice chair rail – I am thinking of doing a beadboard wallpaper plus paint, but I've also been looking at some more dramatic wallpapers… We'll see where I land!
This carport has been dubbed "Memaw's Crabshack." My mom loves crab and we've already christened it! It's so fun to have a covered outdoor entertaining space. I imagine us having all kinds of fun celebrations out here!
You can see the mountain views in the distance – It is delightful to wake up to them!
This is the slate patio out back that has the border of peonies. They were just coming up a few weeks ago when I took these photos, they are in full bloom now! It's amazing what just a few weeks can do. You can see some of the many outbuildings that I am blessed with. The main building hidden behind the tree branch will be my studio. There are 8 outbuildings in addition to the house on the property. Almost all of them are insulated and have power. I have plans for every single one!
I'm dreaming of turning the white building in the yard into a shabby-chic retreat. Like a little guest cottage. That is a looooong term dream but I'm already planning!
I hope you enjoyed this first look! I'm busy trying to unpack and decorate as quickly as I can while still working full-time. I'll try to post some progress photos soon but not quite sure when.
By the way, I listed my townhouse for sale after we moved in here and thankfully it just went under contract today. I'd like to ask you all to pray that that closing goes smoothly so we can completely finish up all these details and contracts.
I have a house blessing party that I'm planning as well as a church picnic that we'll be hosting here in June, so I'm trying hard to get things pulled together as much as possible before then. Please bear with me during this transition time. I do hope to get back to a regular posting schedule soon but I'm not quite there yet….
Thank you so much for your support and friendship while we're settling in. I am so grateful!
p.s. > don't forget to guess the origin of the name of our farm! Please leave a comment below!
Happy Celebrating!