Ah, Valentine's Day! Are you celebrating it this year? Most folks either love it or hate it.
It can be a day charged with a lot of expectation that can often lead to bitter disappointment.
Personally, I love Valentine's Day because for me, it's an excuse (as if I needed one) to roll out all the frilly, flowery vintage finery that I can get my hands on!
I celebrate it for me, and now, for my daughter too. It's a delightful excuse to have a tea party and be thankful for the wonderful love that we receive from God, our family and friends, and most especially from each other.
So with that in mind, I have created a Vintage Valentine's Day Pink Tablescape and best of all, it is extra budget-friendly thanks to these charming paper plates!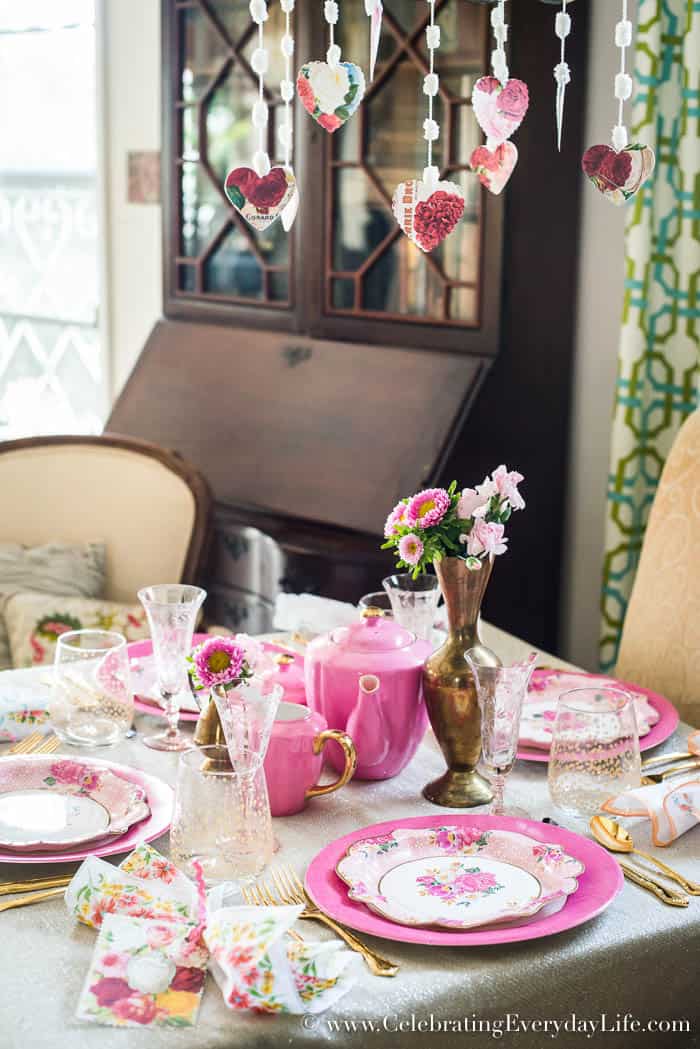 It was all inspired by the Vintage Paper Heart Lampshade Mobile that I shared here.
When I was creating that, I thought it would make a charming decorative accent to the table, and I'm so glad to see that it does indeed!
It's fun and whimsical and doesn't overwhelm the scene.
Vintage Valentine's Day Pink Tablescape
The same vintage seed packet graphics (Creative Market affiliate link)that I printed on paper and used for the hearts on the mobile, I cut out with pinking shears here and attached to the vintage-inspired handkerchiefs which I used as napkins.
You can find these handkerchiefs here on Amazon (Amazon affiliate link).
I love them and have used them so many times in my decorating and craft projects!
Aren't they charming?!
I have many, many more plans and ideas for these little guys so stay tuned to over the Spring & Summer – I'm sure they'll be popping up again!
The pink lacquer tea set was a happy find at HomeGoods last summer.
I get really excited when I find vintage looking pieces on their shelves!
The brass containers were part of a lot I won at an auction last year.
I have filled them with pretty blooms found in the grocery section at Walmart.
Aren't these floral plates fabulous?!!!
Look at the colors, the pattern, and the scalloped shape!
They are called Truly Scrumptious Floral Plates (affiliate link). I stumbled upon them on Amazon one day and I've been smitten ever since!
They are sold as a set of 12 plates, 4 plates in 3 designs on Amazon by a British company called Talking Tables.
Oh, how I want to work with that company!!!
The base plate is from my friends at Caspari.
It is their linen paper plate in Fuschia (affiliate link) and I think it is the perfect tone to ground the whimsical salad plate.
Vintage Valentine's Day Pink Tablescape
Doesn't all this light, bright femininity get you excited for Spring?
I'm already beginning to pull out the gardening books and dream about the warmer temperatures and the hope of an early Spring no matter what the groundhog said!!
I'm off to New York City today, I welcome your prayers for safe travels.
Curious about my trip? You can read about some of the fun shopping I plan to do here plus I invite you to follow along with my adventures on Instagram here.
I am also planning to share an update on my kitchen renovation soon (you can read more about my kitchen plans here), hopefully, next week.
Please stay tuned!
In the meantime, I hope this pretty pink party brightens your day and gets you excited about Valentine's Day, or at least the coming Spring!
Happy Celebrating!