The holidays are rolling upon us quickly and that means gift buying season is here! Yikes! How did this all happen so fast? I kept thinking I had more time but I know that the next few weeks will zip by in a blink. Have you completed your shopping? Normally I would have started by now, but not this year – I'm only just beginning to contemplate gift ideas. I thought it might be fun for us to do a little gift planning and buying together this year, so I'm going to share some inspiring gift guides. I have a few folks on my list who can be a bit of a challenge to shop for so I'll be sharing ideas that are fun and a bit off the beaten path to make us look like gift giving superstars! To start everything off, today I've created the ultimate Jane Austen holiday gift guide! This is a huge collection of books, bags, candles, and oh so much more for the most discerning aficionado on your list. One thing I love about many of the items in this group is that the recipient doesn't even have to be a die-hard fan like me to appreciate them! Let's dive in this is a long list full of gems. Please note that the links below are affiliate links.
What Jane Austen list would be complete without a collection of ALL of Jane Austen's books? This is her entire library in one lovely package!!
Do you ever ask "What would Jane Do?" Jane always know just what to say, and with this pocket collection of quotes from her novels and letters, you'll have a quip for every situation!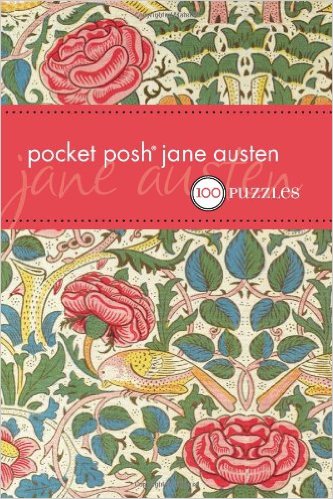 Pocket Posh Jane Austen 100 puzzles. This purse-sized collection of puzzles and quizzes on all things Jane will be a must-have for Janeites and wannabes! Fans and scholars alike will be amused and entertained by these puzzles.
Jane Austen Devotional. Did you know that Jane had a strong spiritual side? This daily devotional includes short excerpts from the Austen classics, and a devotional thought and Scripture that meaningfully translates to women's daily lives.
The Prayers of Jane Austen. Jane wrote beautiful, heartfelt prayers for use during her family's evening devotions. Each one reveals her gratitude for God's blessings and her pursuit of a holy life—expressions of a woman whose heart was profoundly moved by faith.
Jane Austen: An Illustrated Biography. Discover the stories behind the stories in this illustrated biography of Jane Austen. Enchanting illustrations and handwritten text featuring excerpts from Austen's personal letters outline the intimate details of the literary icon's life—her childhood on a farm, the writing of her first novella, her marital woes, the inspiration behind Sense and Sensibility and Pride and Prejudice, and more. Brimming with delightful details like the objects Austen kept on her desk and how much Emma originally sold for, this beautiful package—a petite square with a textured, foil-stamped, and debossed cover—is a lovely new way to celebrate Austen's legacy.
The Jane Austen Handbook. Every young lady dreams of a life spent exchanging witty asides with a dashing Mr. Darcy, but how should you let him know your intentions? Seek counsel from this charming guide to Jane Austen's world. Its step-by-step instructions reveal the practicalities of life in Regency England.
Dinner with Mr. Darcy. Food is an important theme in Jane Austen's novels – it is used as a commodity for showing off, as a way of showing kindliness among neighbors, as part of the dynamics of family life, and-of course-for comic effect. Dinner with Mr Darcy takes authentic recipes from the period, inspired by the food that features in Austen's novels and letters, and adapts them for contemporary cooks.
At Home with Jane Austen. Tour the homes and settings of Jane Austen, one of the most widely read and beloved authors in English literature, in this beautiful book featuring over 100 color photographs and illustrations.
Tea with Jane Austen begins with tea drinking in the morning and ends with tea in the evening, at balls and other gatherings. Each chapter includes a description of how tea was taken at a particular place or time of day, along with history, recipes, excerpts from Austen's novels and letters and illustrations from the time.
In the Garden with Jane Austen. Jane loved a garden. She took a keen interest in flower gardening and kitchen gardening alike. This book strolls through the sorts of gardens that Jane Austen would have known and visited: the gardens of the great estates, cottage gardens, gardens in town, and public gardens and parks. Some of the gardens she owned or knew exist still in some form today; among the gardens highlighted is the restored garden at Jane Austen's House Museum in Chawton, England, complete with a sample planting plan of the flowers grown there now. The book also includes touring information for gardens featured in film adaptations of the novels. With lush photos, social history, excerpts from the novels, information on her life, and period drawings, this book brings Georgian and Regency gardens and Jane Austen's world to life. In the Garden with Jane Austen captures the essence and beauty of the traditional English garden. As the heroine of Mansfield Park Fanny Price observes, "To sit in the shade on a fine day, and look upon verdure, is the most perfect refreshment."
The Real Jane Austen. Byrne transports us to different worlds, from the East Indies to revolutionary Paris, and to different events, from a high society scandal to a case of petty shoplifting. In this ground-breaking biography,  Austen is set on a wider stage than ever before, revealing a well-traveled and politically aware writer – important aspects of her artistic development that have long been overlooked.
Jane Austen's Guide to Good Manners is a light-hearted, insightful handbook written as if intended for her original Regency Era readers, and illustrated throughout with beautiful watercolors. When Anna, Jane Austen's young niece, sent her a novel for "literary comment," Jane loved everything about it, except its utter disregard for the manners of the day. The resulting and tender correspondence between the two serves as the foundation for this instructional book.
Introduce your little bibliophile to the romantic world of Jane Austen in Pride & Prejudice: A BabyLit® Counting Primer. Stroll through 1 English village to meet 2 rich gentlemen and discover what happens when the 5 Bennet sisters encounter 4 marriage proposals! Alison Oliver's charming illustrations accompany Jennifer Adams' clever, simple text to make this take on a beloved classic perfect for little ones.
Jane and the Twelve Days of Christmas. Jane Austen turns sleuth in this delightful murder mystery set over the twelve days of a Regency-Era Christmas party.
Jane Austen Cover to Cover compiles two centuries of design showcasing one of the world's most beloved and celebrated novelists. With over 200 images, plus historical commentary, Austen trivia, and a little bit of wit, this fascinating and visually intriguing look back is a must for Janeites, design enthusiasts, and book lovers of every age.
So Jane is filled with 30 craft ideas and 30 recipes organized into six chapters bearing the titles of Jane Austen's novels, enthusiasts can enjoy breakfast in Bath, via Northanger Abbey by creating Decorative Egg Cozies to keep their Soft-Boiled Eggs warm, or serve Honey-Lemon Teaspoons with Rose Petal Tea at the Middleton's of Sense and Sensibility. Enjoy a picnic that Emma would love to have shared with Mr. Knightly, or create an I Heart Mr. Darcy Pillow that all Elizabeth Bennett wannabes would love to cuddle up with.
Classic Coloring with Jane Austen. Iconic scenes and witticisms from Pride and Prejudice, Emma, Sense and Sensibility, and Jane Austen's other writings come to life in this intricately illustrated coloring book. It contains 55 line drawings printed on single-sided, heavy paper stock that is suitable for colored pencils, watercolors, and markers. Teacups, lace, ball gowns, and fans mingle with hand-lettered renderings of Austen's wise and often deliciously sarcastic quotes. Each page is a removable work of art that can be colored in and displayed in a standard-size frame, perfect for adorning the walls and shelves of any Austen fan.
Pride & Prejudice Coloring Book. Fall in love all over again with Jane Austen's Pride and Prejudice in this wonderful coloring book featuring beautifully intricate patterns and details, classic quotations, and iconic scenes to color in. Includes a fascinating guide to the Victorian language of flowers and a gorgeous foiled cover.
Color Me Jane. Sit back, relax and color in Elizabeth and Darcy, Anne and Captain Wentworth, Emma and Mr. Knightly, and all your favorite scenes and moments from the world of Jane Austen's classic novels. From Pride and Prejudice to Sense and Sensibility to Northanger Abbey, artist Jacqui Oakley provides page after page of iconic scenes, delicious hand-drawn Austen quotes, and sumptuous Regency-inspired fashions to color in. Comes with 8 pull-out posters to color in and display.
Need some good coloring pencils? This is a great set of 50 colored pencils to get you started!
Looking for ideas beyond the bookshelf?
Pride & Poetry Magnetic Poetry Kit. Filled with over 200 themed magnetic word tiles for you to rearrange to use as both a creative writing aid, and just a really fun and limitless toy. This is a great stocking-stuffer too!

Obstinate Headstrong Girl T-shirt. This is one of my favorite quotes from Pride & Prejudice and a t-shirt that I would just love to add to my wardrobe!
Jane Austen's Pride and Prejudice Pemberley Estate Ladies T-Shirt. The facade on this shirt is Chatsworth, one of my favorite places!!

Jane Austen Socks?! Yes, please! These say "I declare after all there is no enjoyment like reading!" I think these are another great stocking stuffer!!
Marrying Mr. Darcy, this Pride & Prejudice card game looks like such a fun way to spend a girls' night!
"A Most Beloved Sister" coffee mug – perfect for all we Sense and Sensibilities fans. My sister would LOVE this!!
"I Always Deserve the Best Treatment Because I Never Put up with Any Other" Jane Austen quote coffee mug. Such an empowering and encouraging quote, a definite perk in the early morning hours!

Jane Austen Silhouette Stainless Water Bottle. This eco-friendly and compact bottle, is sure to quench your thirst for style and refreshment. Made of 18/8, food-grade stainless steel, no lining, no BPA or other toxins, wide mouth for easy drinking.

"The distance is nothing when one has a motive." Engraved Solid Brass Compass With Case. This solid brass antique reproduction magnetic compass is the size of a standard pocket watch. My daughter is such an explorer, I know that she would love this!
Jane Austen Counted Cross Stitch Kit. Everything you need to stitch up some Regency era fun is here. Kit contains chart and instructions, needle, 14 count cream Zweigart Aida fabric and presorted stranded cotton threads on a loaded thread organizer.
Jane Austen Paddywax Candles Library Collection. Fill your home with a delicate blend of gardenia, tuberose, and jasmine. The 6.5-Ounce hand-poured soy wax candle is tastefully packaged in a gift box adorned with author bio and copper foil stamped labels and burn time is 60 hours.
Jane Austen Books Tote Bag. Make this shopping tote your new favorite grocery bag, library tote, or beach tote. These bags are also great gifts for him or her, young or old, for any occasion.
I Heart Darcy tote. Fans of the movie Austenland will instantly recognize this now iconic tote!
Emma Woodhouse's Hartfield Mint Tea in a Beautiful Artistic Gift Tin. There is an entire line of teas inspired by the novels too!
Pride and Prejudice Unfolded: Retold in pictures. Lushly illustrated by Becca Stadtlander, this is a fully illustrated fold-out concertina, telling the story in 14 scenes and doubling as a beautiful piece of freestanding art to shelve or frame. With quotes from the original text, close-ups of the main characters and summaries of the key themes, this a very special gift surely to be loved and admired!
Phew! Can you believe all this, and seriously, this is just a sampling of the Austen inspired goodies out there. I hope you found a new piece for you or a friend. I know I want everything on the list!
Stay tuned for more fun gift ideas in the coming weeks!!
Happy Celebrating!