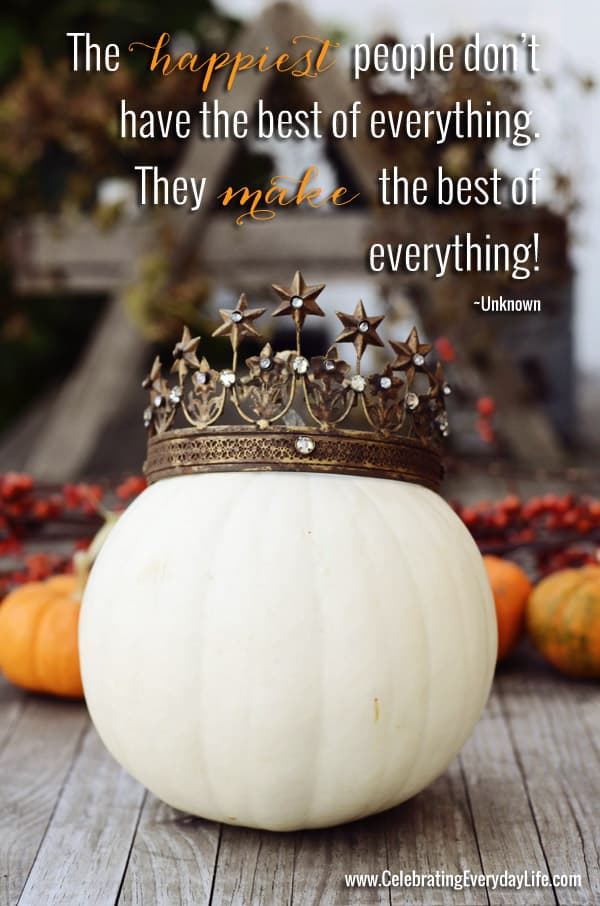 Happy October 1st, my friend!! I am still slightly obsessing over my new pumpkins so I couldn't resist styling today's inspirational quote photo with them. I thought the pumpkin wearing a crown would be some delightful Fall silliness but then I thought it oddly fit in quite well with this quote:
"The happiest people don't have the best of everything. They make the best of everything!"
Putting a crown on a pumpkin to style a photo is a perfect example of me "making the most of what I have" which in a sense is part of what this quote is talking about… The pressure to "have more (or something different) in order to be happy" is constant and certainly not made any easier with the invention of Pinterest, (at least for me!) but while shopping can be fun it certainly doesn't make me happier in my soul, in fact, when I find a new use for something that I already own – or shop my own house for decorations – I actually get a glowing feeling, a sense of accomplishment. I think it all comes back to that wartime slogan "Make Do, and Mend" type of mind-set. Now, don't get me wrong, I'm not saying never go shopping, but I've found that embracing the art of DIY has helped me to learn skills, stretch my imagination, and grow in so many ways. And those traits do make me feel oh so much happier than just plucking something off a store shelf could ever achieve, and teaches me to look at all of my circumstances in a more positive way.
I hope that today, no matter what situation you find yourself in, you are able to make the best of everything and know that your attitude and how you choose to "view" what's happening, that that alone will make you happiest. I know that's my plan!
Happy Celebrating!
Would you like to receive a preview of my blog posts in your inbox?
I'd love to share them with you! Subscribe here…