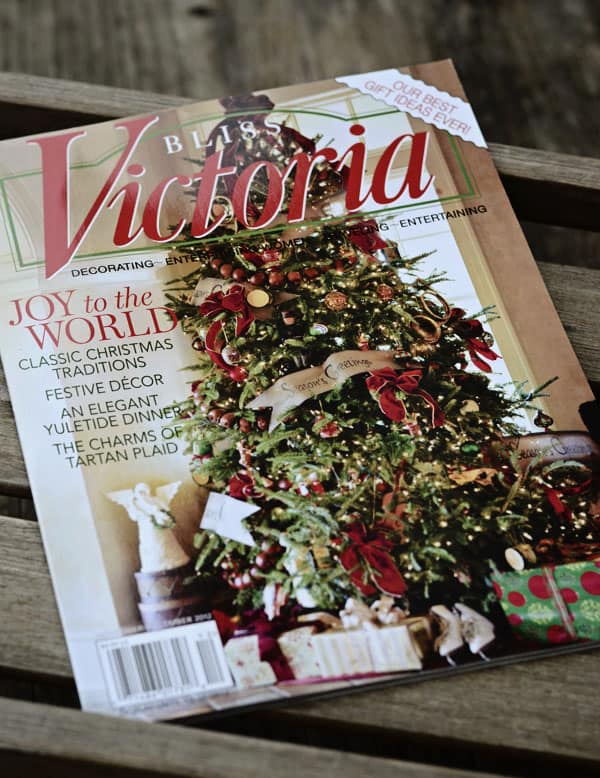 Phew! Immediately after clicking "publish" on my post last Thursday for Beth's wonderful blog, I was hit with the flu… hard. Can I just say, if you haven't gotten your flu shot yet run don't walk to get yours. What a miserable few days I had…. Thankfully my little one had her flu shot so she seems to be immune to the horror that I've been through – thank goodness! I normally get a flu shot and I meant to get mine earlier and just kept thinking I'll get to it. Well, it seems "it" got to me first!
Today I'm finally able to get out of bed and while I'm having to take it slow I just couldn't miss another day of posting. I really missed you! I still have some work to do fine tuning my Christmas decor and sadly that all got delayed by my unexpected illness but I still have some delightful Christmas fun to share as we are now officially in the Holiday season.
I had the supreme privilege (and I really mean that!) of partnering again with those fabulous ladies at Victoria magazine on a couple of stories. I'm totally 'mad for plaid' so I was beyond tickled when asked to design and style a story on "The Charms of Tartan Plaid" for the current November/December 2012 issue of Victoria.
I got to again partner with my friends Pat & Sherry of Southern Blooms by Pat's Floral Design. These were two of the wonderful women who were my fellow Artists-in-Residence with the magazine last year. They supplied the gorgeous blooms that graced the story. They also really helped my friend Jenny and I with all the set-up! The magazine sent an editor and a photographer too and we had a very long but rewarding day of shooting this story at the beautiful Keswick Hall hotel here in Charlottesville. Thanks to and George for lending that gorgeous Sacred Heart shown above right!
One of the scenes we wanted to create was a romantic plaid bedroom and being at a hotel we were able to do this! The rooms at this particular hotel are already very beautiful but this room was almost all white. I really wish I had a before photo to show you the transformation! There are so many vendors who loaned us items for this shoot and they are listed in the back of the issue and I really hope you'll check them out! I couldn't have done it without them!! (Special shout out to Kelly with One Creative Cookie for the custom plaid cookies!)
The Christmas tree was decorated by Pat & Sherry and was in the lobby of the hotel. I was so excited to see that it made the cover!!!
We set a Tartan Christmas table up in the library of the hotel and I am so proud of how it turned out… It feels very enchanting to me. Thanks so much especially to Festive Fare for the beautiful velvet tablecloth and Replacements, Ltd. for all the amazing china, crystal and silver on the table!
The shoot was a wonderful experience and one I will certainly treasure. The issue is on stands now and I hope you will pick up a copy and enjoy this and the many other stories in the magazine.
I'm off to keep recuperating. Lord willing, I'll see you tomorrow. 'til then…
Happy Celebrating!
Would you like to receive a preview of my daily posts to your inbox? Subscribe here…