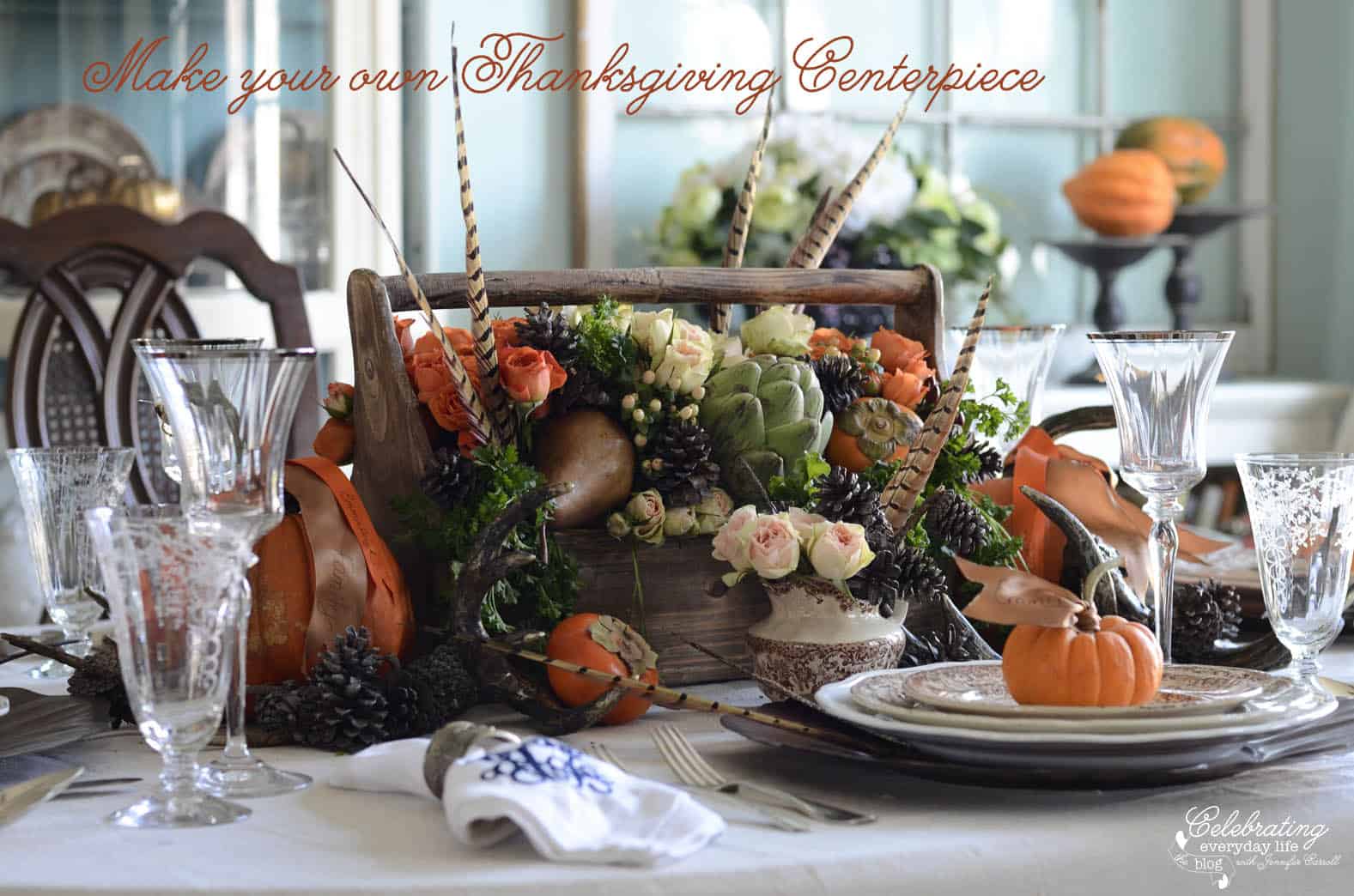 Welcome to my Thanksgiving table for 2012! This year I wanted to create a centerpiece which was easy and affordable but still filled with charm and beauty. So here's my Thanksgiving DIY: How to make your own Thanksgiving Centerpiece! Where to begin? Why the grocery store of course!! This arrangement really was easy. If I did it, you can to! Using items I already owned and a few grocery store supplies (and a craft supply or two!) this arrangement was very easy to pull together.
Want to make one yourself? Here's what you need:
:: SUPPLIES ::
Tool Caddy
Roses
small bunch of Parsley
Berries
small bunch of large Kale Leaves
2 Whole Artichokes
2 Brown Pears
2 Persimmons
Pheasant Feathers
Faux Antlers
Pinecones
Pumpkins
small glasses
aluminum foil
saran wrap
scissors
:: STEP ONE ::
To begin I wanted to protect my wooden tool caddy so I lined each box with a piece of saran wrap, then layered in some foil and then one more layer of saran wrap. This may be overkilll but I'd rather use up a couple of pieces of foil and wrap and protect my caddy! Then I placed a small tumbler cup inside each cubby. I think one of the reasons that I like working with containers like this tool caddy when flower arranging is that the dividers make it that much easier to layout the arrangement. They give structure to the space.
:: STEP TWO ::
A professional florist will I'm sure, have advice on what should go into your arrangement first. Since I'm not a professional here's what worked for me! First I held my roses up to the side of one of the cups to determine how tall I wanted them to be and cut the stems. Then I placed them in the caddy. I had more of the orange roses so I decided to place those in the two side cups. I found these absolutely gorgeous artichokes in the veggie section and knew I wanted to really "feature" these. So I placed them in each center cup. Tip: If you don't plan to eat these later, you could use a couple bamboo skewers to make a longer "stem" to help the veggies stay in the container. Since I planned to use eat these I just rested them among the veggies and that worked nicely. Next I trimmed the cream roses and placed those around the artichokes in the center cup. Seeing the roses and artichokes in place helped me see where I need to "fill in" with my herbs and other veggies. So next, I tucked in some kale and parsley under and around the roses. At this point the arrangement was beginning to fill up nicely.
:: STEP THREE ::
We're almost done! Now I added in one pear and one persimmon on each side and then tucked in a couple of berries, pinecones and the pheasant feathers. When using accents like pheasant feathers I usually subscribe to the theory of using odd numbers like 3's and 5's are best. Here I've used 3 on the right side but only 2 on the left – it just felt "right" to me! Regardless, I place them at a jaunty angle!  I think the added height of the feathers adds nice "energy" and interest to the arrangement. You can find feathers like these at your local craft store. I also tucked a few feathers with the charger plates. A few more pinecones on the table and an extra persimmon and a few of the faux antlers that I picked up at Luckett's last week accent the arrangement perfectly.
I flanked the centerpiece with some of my leftover Halloween pumpkins (Tip: if you don't carve pumpkins they can last for weeks and weeks!) But I gave them a bit of a Thanksgiving dressing by adding what I call "Gratitude Ribbons" to them! These are so simple and the kids will love getting involved in this too! Take a piece of satin ribbon and using a ballpoint pen, write a person, place or thing that you are grateful for onto the ribbon and tie onto the pumpkin stem! I wrote on each end of my ribbon giving that much more room for gratitude!
Finally you can also use your leftover mini pumpkins as placecards (as I did near the top of this post) to make little place cards for each guest using the same method of ribbon and ball point pen.
One of the things I love about this arrangement is the fact that much of it is edible! Just pop it into the fridge overnight and you can saute up those artichokes, kale leaves and parsley. Not too mention slice up those pears. I'm not sure yet how best to eat the Persimmon but I'm going to google to see if I can come up with anything. Have any suggestions? I'd love to hear so please leave a comment!
If you'd like a little more Thanksgiving tablescape inspiration check out my Outdoor Harvest Table!
I hope you have a wonderful weekend and have fun making your very own Thanksgiving centerpiece!
By the way, I'm linking up with French Country Cottage, Savvy Southern Style and Funky Junk Interiors.
Happy Celebrating!