Oh my goodness my friends! It has been a whirlwind few weeks but my daughter and I are so excited to be celebrating our first month at Hartfield. We had a "house blessing" party last weekend with our pastor and several dear friends and it was such a special time. While thanking everyone I kept weeping with joy, truly touched and blessed by this miracle that God has given us (in case you missed any of the story of us getting the farm, you can read about it here and here). Today I am excited to share with you the first look at my sun room decor.
In case you missed the before photos (found here) this is what the room looked like when we moved in.
And here it is today: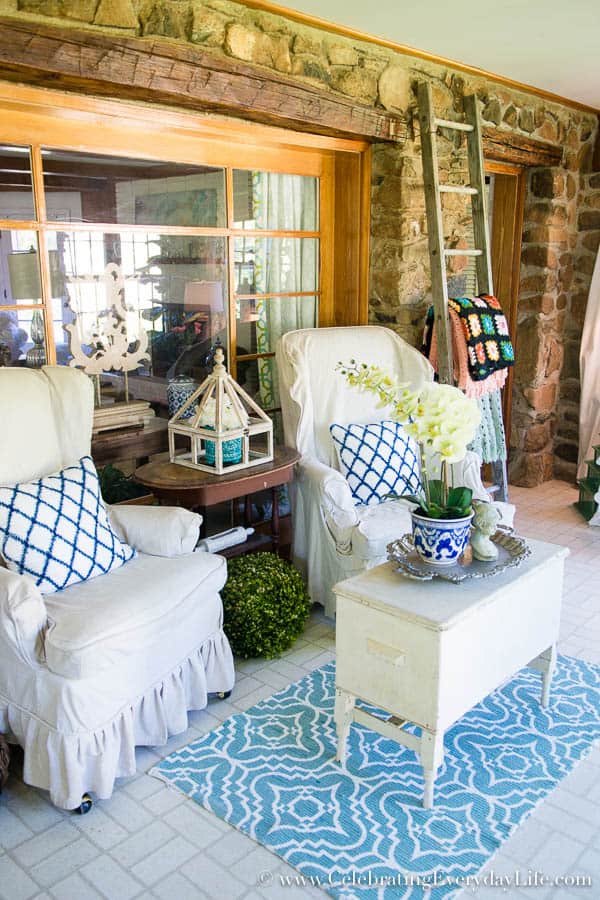 This room was one of the first rooms that I decorated because it's one of my favorites (although I tend to say that about every room in the house!). I love to begin my day in here with a cup of tea and my devotional. It is so peaceful and calming, perfect for starting my day right!
I actually haven't done much work in here yet. I do hope to paint the wood paneling over the windows a cream color. Before I moved in I had all these plans for how I was going to change things but then I got so bogged down by the actual business of moving that I didn't get around to most of the things I thought I would, and now, I'm actually glad I didn't come right in and start making changes. I'm seeing how we actually live in the house and I've already changed my mind on a few ideas I initially had… so sometimes, not jumping right onto a task can be a good thing!
I've tucked a desk into this room for me since my new studio is nowhere near up and running yet, it's still box city! So this little space has been perfect.
Plus, I realize it will always be nice to have a small desk in the house for quick bill paying, email checking, and of course late night blogging when I don't want to be out of the house and away from my daughter (even though it's right next store).
This is the park like view outside the window – so serene!
I bought several of these chic glass trays at Target a year ago and I've had fun using them as "art" in this room. I have this turquoise one at my desk…
This white lattice one behind the loveseat (with flowers and a charming frog statue)…
And this one as a backdrop to this eclectic mix of treasures. I like using them by the windows so you really see the detail but don't obscure the view!
Displaying beloved accessories has been a huge part of the joy of decorating my new home. We were so crammed into the townhouse, it is very refreshing to have room to stretch out here and play with new combinations for familiar pieces.
I wanted this room to have a garden vibe so there are touches of flowers and greens all throughout.
I was extremely excited to find this pair of triple ball Eugenia topiaries at my local WalMart garden center!
I still need to plant them in pots but even so, they add so much to this space. By the way, there is Mr. Darcy enjoying one of his favorite spots – the house came with that dog door – can you believe how perfect it is for him?! He and our cat are in heaven here too!!
I'm quite sure I'll keep tweaking the room but for now it's mostly set while I move on to the many other spaces!
I hope you like this mini tour. I promise to be back soon with another reveal.
In the meantime, I want to congratulate Kathy for being the winner of the guessing game we had about the farm's name. It is indeed named after Emma Woodhouse's home in the Jane Austen novel. Being the avid Austen fan that I am, plus the fact that I have my very own Emma, it seemed quite appropriate! Thank you all so much for joining me in that little folly! Kathy I will be in touch soon to get your mailing address so that I may send you some cards (as soon as I unpack them!!).
I hope you have a blessed week and I look forward to chatting with you more soon!!
Happy Celebrating!