What kind of sacrifices are you making in the morning to get out the door on time? If you're like me, a healthy, sit-down breakfast might be on the list (or even at the top). Admittedly, some mornings are better than others but if you're new to this blog you need to know that I'm always on a mission to make our lives better – and since breakfast is considered the most important meal of the day, it's worth finding ways to make this work. So today, let me show you how to Speed Up Your Morning Routine with this Egg Muffin Recipe.
I typically wake up around 6, have some devotion time, wake up my daughter, hop in the shower, and try to get dressed and out the door by 7:30 at the latest. There are plenty of distractions that can pop up between our dog, cat, and can I just say that getting a 6 year old up and dressed is always an adventure.
If you're a night owl like me (I'm typically up late at night working on the blog), finding the time to bake on a weekday morning is simply not going to happen. Right now we are definitely in a grab and go mode. I'm actually OK with this as long as we are still eating "real" food. These egg muffin cups are a great example of what I'm talking about. Whole eggs and fresh veggies all in a deliciously compact take-along size? Hooray!
Speed Up Your Morning Routine with this Egg Cup Recipe
What's the secret to having these handy egg muffins ready to go when you need them? You bake them in advance and – now brace yourself for a really cool fact – you can even freeze them! Yep! They are freezer friendly and defrost in seconds in the microwave or you could pull a couple out each evening and set them in your fridge to defrost for the next day.
This means that once a month you can bake up a few batches, pop them in the freezer, and enjoy a homemade breakfast without the fuss every day, all month long!
Best of all, these come together quickly and easily.
Quality ingredients are the key to not feeling so guilty about eating on the go. Here are some things I recommend you look for when buying ingredients.
I'm still hoping that one day we will get a couple of chickens so that we will have our very own farm-fresh eggs, but in the meantime I'm grateful for the organic, pasture raised (free range) eggs from my local grocer. I highly recommend you look for this type of egg. Not only does it come from a healthier, happier chicken but they are scientifically proven to provide higher quality vitamins and nutrients.
Hands down one of my favorite elements of this recipe is the bacon. I prefer to buy smoked, uncured bacon that has no nitrates, no preservatives, no hormones, etc… fortunately even major national brands offer this type so it's become easy to find. By using chopped, cooked bacon (rather than one slice per cup), I find that less will go further which is budget friendly without sacrificing any taste.
No surprise that organic vegetables are also a priority. Leafy greens like spinach and kale are on the infamous "Dirty Dozen" list of vegetables which we are advised to buy organic versions of to avoid exposure to pesticides and other hazardous chemicals.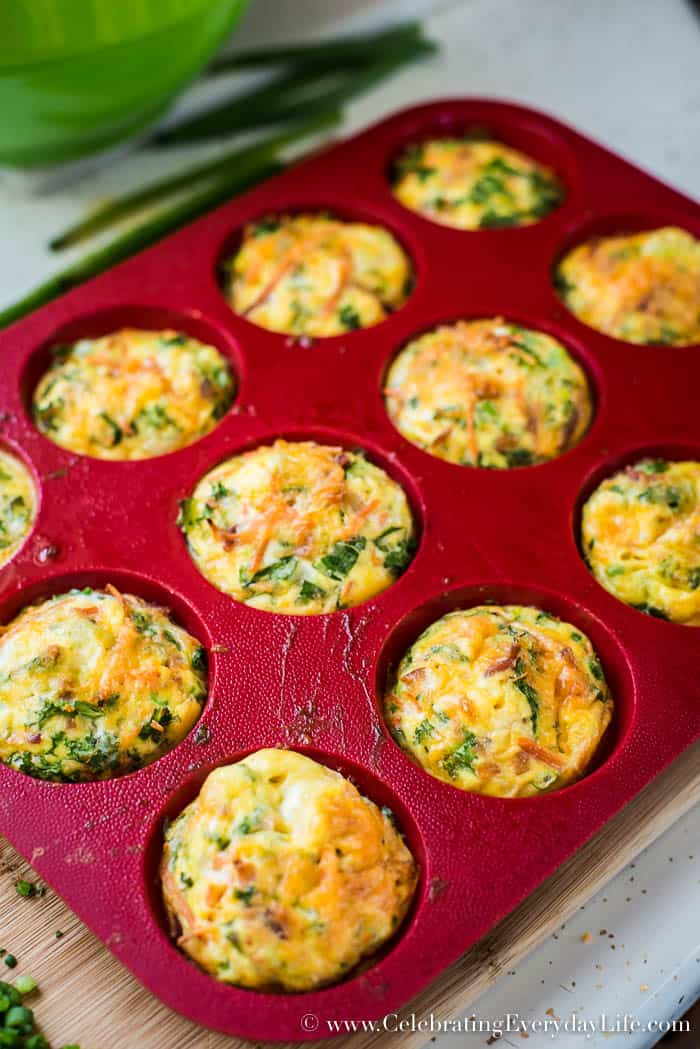 Speed Up Your Morning Routine with this Egg Cup Recipe
Vegetable, Bacon and Egg Cup Recipe
Author:
Jennifer @ Celebrating Everyday Life with Jennifer Carroll
A delicious make ahead grab & go egg and bacon breakfast treat made with "real food" that will help you get out the door a little faster on busy mornings!
Ingredients
8 eggs
6 ounces of bacon
⅓ cup milk
1 cup of Kale, chopped
½ cup carrots, shredded
½ cup sharp cheddar cheese, shredded
¼ cup green onions, chopped
Instructions
Preheat oven to 350°F. Meanwhile cook bacon in a skillet, careful not to make it too crispy. Remove bacon to paper towel to drain. Once cool, chop and set aside.
Place 8 eggs in a large bowl, add in milk and stir gently to combine. Add kale, carrots, bacon, onions, and most of the cheese (reserve a little bit to sprinkle on the cups before they go in the oven)
Spray a cupcake pan with non-stick cooking spray and ladle in egg mix til cup is ¾ full. Fill all 12 cups.
Sprinkle a tiny bit of remaining cheese on top of each cup.
Bake in 350°F oven for 20 minutes or until the egg is fully cooked.
Remove and allow to cool for about 5 minutes, then remove from pan to cool totally. If the eggs don't pop right out, use a knife around the edge to loosen.
Once cool, place cups in a freezer bag for storage.
To ReHeat:
To thaw overnight: Pull out the desired # of cups and place in the refrigerator overnight to thaw. In the morning heat for approximately 15+/- seconds in the microwave til hot & ready.
If frozen, place in microwave for approximately 30+/- seconds (depending on the power of your microwave) until hot & ready. Enjoy!
I have a southwest version of this recipe here you can view here.
No matter if you are trying to make your morning routine go smoother, or are just generally looking for ways to add another delicious breakfast to your rotation, I hope you will whip up these egg-cellent egg cups!
Happy Celebrating!