I wanted to pop in this morning to share a few Simple Spring Front Porch Potted Plants with you! I love those big porches that feel like an outdoor room but my front porch is really more of an overgrown stoop. It is exposed to full sun and all other elements so I am trying to be careful about what I put out here.
Last Fall I added all the pots you see (you can view my Fall porch look here) and I'm still really happy with them. I just decided to switch out what was in them! I did save my fall mums and will transplate them somewhere around here although I have not decided on an exact location yet… but I wanted a soft, soothing color palette here right now since we're already experiencing some 80+ degree days!
Over the weekend my daughter and I popped into our local garden centers and I spotted these beautiful wispy Salvia plants. I love their wind-blown look, especially against the stone of the cottage. It has a very wild English countryside look to it that I adore!
They also had this pinkish purple version that is so cheerful, I couldn't pass it up!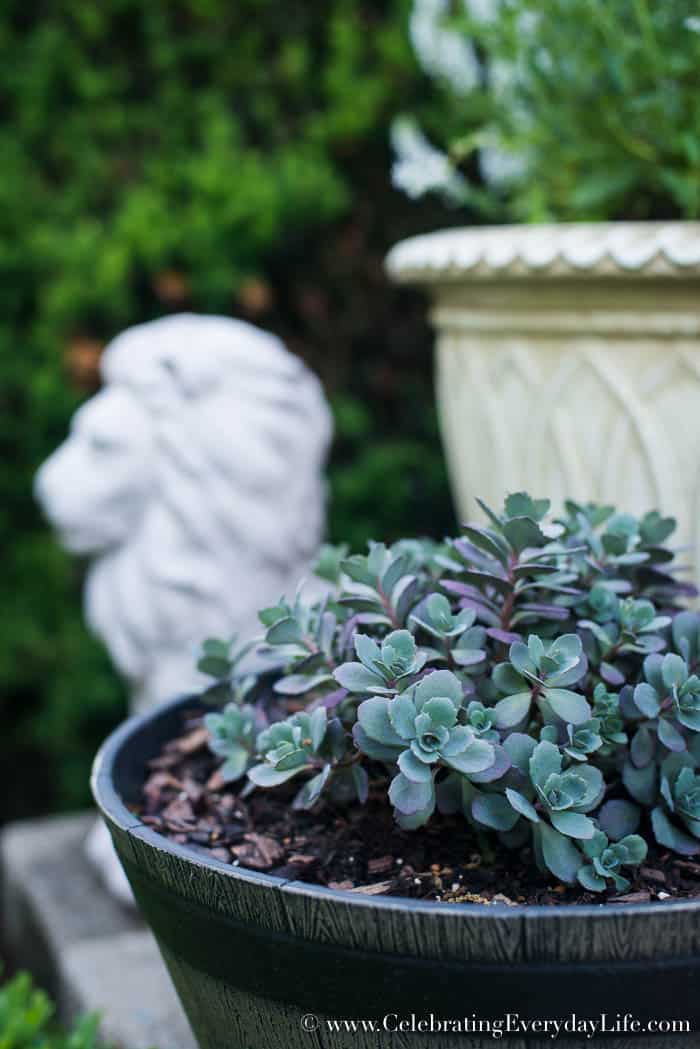 I spotted these soft green and slightly purple sedum – a type of succulent – that I am head over heels for! It is so soft and dreamy looking and has just the right tones to accent the white and pinky/purple of the salvia plants. Plus, it is full sun friendly and won't require copious amounts of water (remembering to water is not my superpower!).
A Euonymus bush fills the large pot by the door quite nicely. I'm going to have to keep an eye on this to be sure it doesn't begin growing too vigorously. I really like the green and white tipped leaves. It makes it so much more vibrant and interesting than a regular evergreen. It pairs nicely with the faux spiral topiaries – although these may not linger here too much longer, they are getting knocked around so much (not the chip on the base) by the intense winds that we get around here… I can't figure out how to weight them, the spiral is staked inside and I can't gain easy access to the interior of the urn. If you have any ideas, please leave a comment! I would love for them to stay on this porch but they fall over all the time and I don't want them to be ruined from falling off the porch so often.
Here's another look at it. Isn't it so attractive?! You can see a corner of my new welcome mat…
I found this at Target – the swooping letter grabbed my attention when we were in the rug aisle. I was instantly smitten – plus it was on sale for a ten dollars and change! I find that I have to replace these sisal type of welcome mats each year. So finding them for that friendly price makes it even easier to replace them each Spring.
This is the view off to one side of the porch. You can see some rose bushes that I'll be planting soon. (You can also spy our dog, Mr. Darcy) I am really excited to get these roses planted. I've missed roses around here. I love these varities that I bought because they will bloom again and again all Summer and into Fall til we get that first real frost.
For a lark, here's the view from my front door. They yard looks so beautiful in the spring, especially with those pink azaleas blooming in the island!
And there you have a few easy, and budget friendly ideas to help you design a pollished and not too fussy front porch for this Spring!
I've got a couple other planting jobs I will try to share with you soon. Thank you so much for following me along on this decorating and planting journey!
Happy Celebrating!