Today I want to share a very simple Farmhouse Easter table with you because I believe that beautiful can also be uncomplicated and relaxed. And that is just what this table is. It is lovely without the fuss. Like all good decor, farmhouse or not, it relies on a few pieces that can stand alone and shine.
To me, the heart of farmhouse style is about making the most of the least. Now don't get me wrong, there are times that I love to lay on the layers and gild the lily, but there are also moment like this where I want to keep it a bit simpler but I don't want to sacrifice one ounce of charming hospitality.
These cabbage plates are a good example of what I mean. Because they are so intricately detailed they don't need a lot of "extras." The delicate veining of the leaves and the color are exquisite on their own. I found these at Marshalls but you can also find them on Amazon here (affiliate link).
I only have a few of these plates but I want to get a few more for some wall art I'm dreaming up…
The lavender linen napkin is from World Market. They actually call it a Rose Linen napkin, in case you search for it, but to me, it's more of a lilac… Linen is a staple in farm kitchens. It is a simple luxury.
Linen is a staple in farm kitchens. It is a simple luxury and one of my favorites.
I cinched the napkin with a lush green velvet ribbon. Ribbons are one of my go-to decorating elements – they are so versatile! A simple "v" cut finishes them to perfection.
I am always collecting ribbons, it's almost a compulsion. I found this one on my recent trip to New York City. I got it from Tinsel Trading Company. If a trip to New York is not convenient for you, check out these beautiful ribbons (affiliate link).
At the center of it all, I placed my DIY Easter Cabbage arrangement. I shared the tutorial for how to make it in this post.  It really is so simple to make.
I needed it to have little more "presence" or mass so I placed it on a silver tray and sprinkled white eggs around the base. These are the same faux eggs that I used in so many of the Easter egg projects that I made this year.
In case you missed it, there was the DIY Chalkboard Eggs – these made lovely place cards!
The simple DIY Crochet eggs are full of home-spun charm, and they caused quite a stir in a recent Facebook LIVE video. 🙂
There were also the DIY Speckled Eggs which turned out so beautifully thanks to chalk paint!
I just love the Pioneer Woman collection at Wal-Mart and these gorgeous white milk glass goblets and plum sherbet cups are from her line. Classic and charming! For some Easter whimsy, I filled the sherbet glass with some speckled robin's egg jelly beans. It makes a wonderful candy dish!
The petite bunnies are from Target. I just love them. They were in the dollar section at the front of the store. I actually missed them somehow when I went through that section at first and didn't see them until I was putting my cart away after I had already checked out. I scooped them right up and marched back to the register. They were too sweet to miss and at just $3 per pair, a great deal to boot!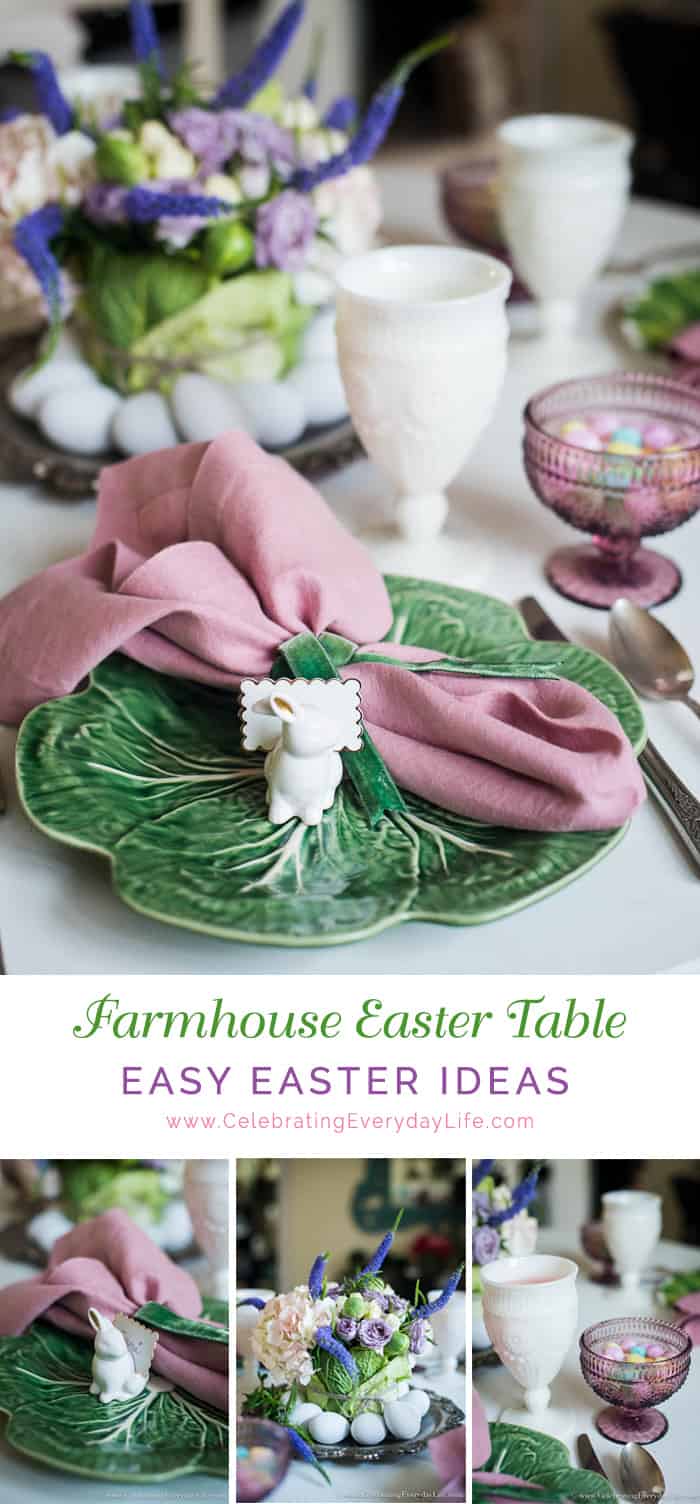 I hope that you have a blessed Easter as you gather with your loved ones this weekend to celebrate the resurrection of Christ! What a glorious, glorious day it is indeed!!!
Happy Celebrating!