This shop has been compensated by Collective Bias, Inc. and The Coca-Cola Company. All opinions are mine alone. #IceColdSummerMoments #CollectiveBias

Now that Memorial Day has wooshed past us, summer entertaining is here in full force! And today I'm excited to be throwing an easy Summer party with Coca-Cola™, Target, and YOU! The new Share-A-Coke bottles have arrived in stores pretty much everywhere, and I thought it would be fun to toast the summer season with a personalized Coca-Cola! What do you say? Want to join me? I hope so!
It all began at Target in the checkout aisle by the registers when I spotted these personalized Coca-Cola bottles. "They're back!" my daughter and I cheered! As we enjoyed picking through the rows finding our names (I got lucky and found my first & middle name!!) we discovered they also have Last Names this year! How fun!! We grabbed our Coca-Colas and headed home with a few other Target necessities like a new patio set! Our summer grilling party was off to a BIG start!
Looking festive, don't you think?! Best of all, it's very SIMPLE you guys! Seriously! First, let's talk about the table.
First, drape a big piece of fabric or cloth (mine is just yards of a favorite fabric – easy-peasy!) over the table. Next, plates and flatware. Feel free to mix and match patterns and colors. Here the color was my unifying theme. I love the Coca-Cola red; it's classic Americana! So I went with it and added in the blue for a very patriotic look.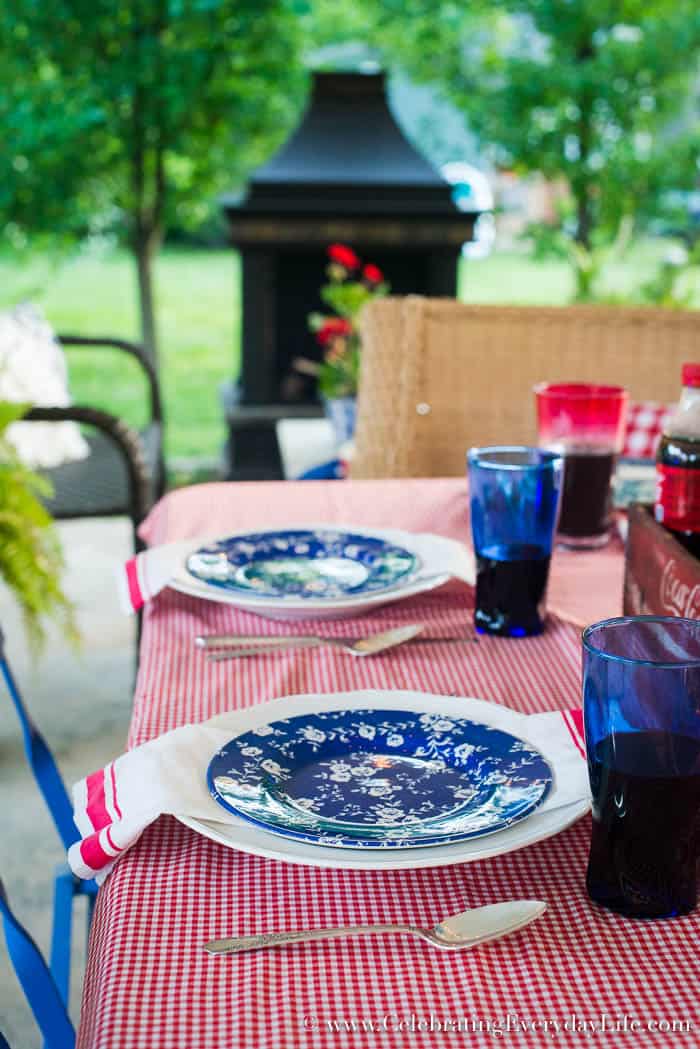 You can even mix up your glassware and napkins! It gives it all a casual but still coordinated look which helps put everyone at ease, I think.
I have had this old Coca-Cola crate for years and couldn't resist adding a bit of vintage Coca-Cola charm to the table. Inside I added a few more bottles for pops of color and some grocery store flowers in a pretty blue & white jug and flanked that with a couple of mason jars. A small galvanized platter gave the small pitcher a bit of height.
The table still needed a little something when I had an "a-ha!" moment – how about a little hanging flower chandelier made with – you guessed it – Coca-Cola bottles!?! Y'all this is so simple and fun I can hardly stand it!
These are the three supplies you need to make it. That's it! A stick/piece of wood, some twine, and Coca-Cola bottles. I used the plastic bottles for mine. I like those because they are A) lightweight and B) if they clang together I'm not worried about them breaking and glass going everywhere. Plus, since it's so light it can hang from a simple hook screwed into the ceiling.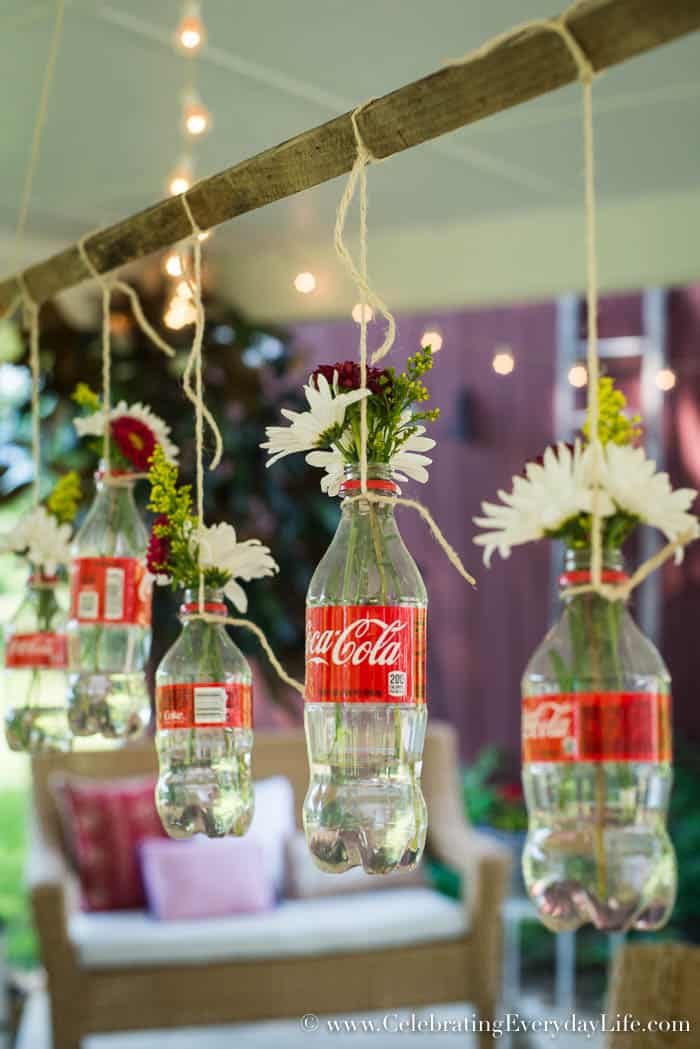 To make your own – simply tie the twine around the neck of a Coca-Cola bottle and then tie the other end around the piece of wood at the intervals that you prefer. I used five bottles on mine – three 12 ounces and two 20 ounces. To hang it I tied one long piece of twine to each end and hung it from the middle. A few leftover flowers from the arrangements below was all it takes to finish this SIMPLE Flower Chandelier!!
My daughter loves it so much she's asked if we can leave it up all summer, sounds good to me!
Remember I mentioned we bought a patio set at Target while we were there? Here's the loveseat – appropriately named since I do love it! Plus, it was on sale – woo-hoo! Some of those pillows are also Target finds.
I bought two wicker arm chairs as well, and right now I'm loving them at the end of the table! They anchor it so well!
I still have my brown set I bought last year at the other end of the patio near the fireplace. It is a nice contrast but still feels like a neutral.
I hung a sheet from a couple of hooks for outdoor movie watching – my daughter's favorite summer entertainment! We can sit out here, roast smores and watch a movie although now with the sun staying light longer it does mean late bedtimes so this is reserved for Friday nights only right now when we don't have to be out bright and early the next day.
For dinner, I fired up the grill and made my favorite Cowboy Cola Classic: a Coca-Cola glazed Bacon Cheeseburger with Coca-Cola BBQ Sauce. This thick and juicy burger is grilled to perfection and topped with bacon baked in a Coca-Cola glaze, sharp cheddar cheese, crisp red onion, fresh bibb lettuce, and sweet & spicy homemade Coca-Cola BBQ sauce. YUM!
This bacon is tasty and straightforward to make. Just two ingredients are all you need: Bacon and Coca-Cola.
DIRECTIONS:
Place the bacon strips on a foil-lined pan (sprayed with non-stick spray just in case). Pour a bit of Coca-Cola over bacon and bake at 350° F for 20 minutes or until golden and crispy. That's it! I love that I can start this and move on to other party food prep out at the grill!
What do you think? Fun, right?! I hope you'll head out to find your very own Coca-Cola bottle with your name on it! They say there are over 1,000 new names on them this year, SO many options!
Bonus! Here's a Cartwheel coupon for 20% off Share A Coke 20oz Bottles at Target between now and June 17th!
And with all the goodies I found at Target from the bargain bins to my favorite home decor aisles – one stop shopping at it's best – I have to say I am completely thrilled with how easily this fabulous party space came together! Such a win and I know we'll be enjoying it all season long!
I hope you enjoyed this summer party! Thanks so much for joining me. Remember, don't forget to grab your coupon. You can find even more great summer inspiration here!!
Happy Celebrating!