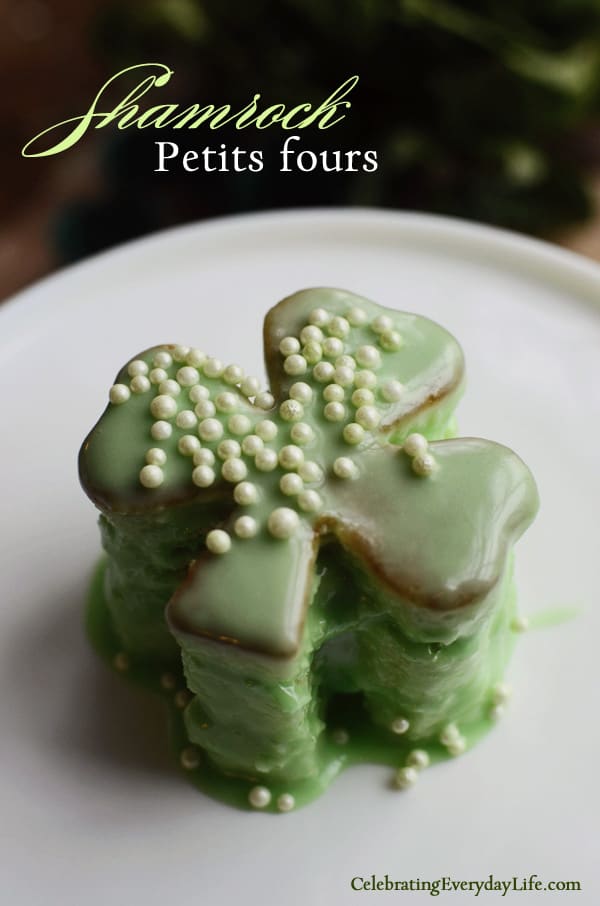 I really enjoy those sappy-sweet Hallmark channel movies and recently I saw one where a high-society wife was dumped by her husband and had to return to her humble New Jersey roots and work in her father's bakery. As plots tend to go, things were a bit tough for Dad's small bakery but the gal comes up with a winning idea which turns it all around – saving the bakery and finding Mr. Right at the same time. (By the way Mr. Right in this case is an actor I love hailing from BBC's Monarch of the Glen. Bonus points if you're familiar with that!) Well, the cakes she makes that save-it-all are called "Paddy Cakes" and this is my homage to those sweet little cakes – just in time for St. Patrick's Day – except mine are no bake but equally delish!
First, I begin with a pound cake – this is my go-to item for a special dessert in a hurry. It is the best! So, pound cake in-hand and using a shamrock cookie cutter (I got mine at Michael's Craft Store) I cut out the cakes from the top pressing down. My cookie cutter wasn't quite tall enough to push through without squishing the cake so I used a knife to gently trim the sides away of the remaining cake on the bottom. My cutter would allow me to get 2 mini-cakes from one pound cake. You will have extra pieces left which you could freeze and use for a trifle or something in the future!
Next, I sliced the piece into thirds so that I would have a TRIPLE layer cake!! Yippiee!!
Then, I mixed up some frosting. I'd love to tell you how I whipped up a batch of fresh buttercream frosting but today was a super busy day and I just didn't have time – thank you Betty Crocker for a tasty alternative! I simply mixed in a bit of green food coloring until I got the color I desired. Easy-peasy!
With frosting ready, I gently spread some on each layer and stacked. Note that when you stack some icing might ooze out the sides. I cleaned some of this off because I'm using a petits fours style glaze to "ice" this mini cake and it will show all the ins and outs of the sides of this cake….
Now, for my glaze, I've seen lots of complicated recipes which include all kinds of ingredients from corn starch to corn syrup. Some call for cooking others don't. I'm not saying those recipes aren't good but I just didn't want to take that kind of time and honestly I love how mine tastes!
I used 3 ingredients. That's it! You could add a teaspoon of Vanilla or something if you'd like but I was happy with mine the way it was. I combined 2 cups of icing sugar (powdered sugar) and almost a 1/4 cup of water and a couple drops of green gel food coloring. This will give you enough to easily cover 2 cakes if not 4…. Add your water a little at a time to the powdered sugar until you get a consistency that you like, then add your food coloring. I like mine a little bit thick (but not too thick – you do have to pour it after all).
Now you are ready to glaze! Place your cake(s) on a plate that is NOT your final presentation dish. Glazing is a messy process. Slowly pour the glaze over the cake and use a mini spatula or a spoon to help get the glaze onto the sides of the cake. You can scoop up glaze that has puddled on the plate and use that to "patch" the sides.
A few pale green pearl sprinkles add a pretty garnish to this dessert – perfect for your St. Patrick's Day celebration! And you didn't have to cook a single thing! Love it!! These took me about 10 minutes to whip up. Now that's sweet!
I hope you will give these a try.
Happy Celebrating!
I'm sharing this over at Feathered Nests Friday at French Country Cottage, Create & Inspire Party from A Night Owl and Funky Junk Interiors.
Would you like to receive a preview of my blog posts in your inbox?
I'd love to share them with you! Subscribe here…