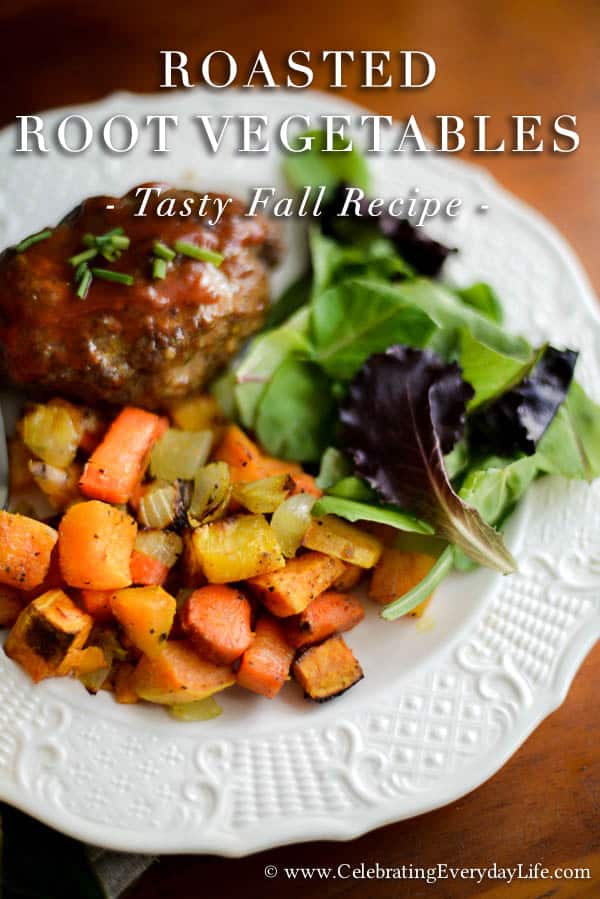 One thing I love about Fall are the delicious foods that just taste better when the temperatures begin to cool, and this dish is a perfect example: Roasted Root Vegetables. They are very easy to prepare because you basically rinse, peel, chop and dump these into a pan. Add some seasonings and let a high temperature oven work its magic. I am a big fan of all things curry so I love to add a few shakes of curry powder on to my veggies before they go into the oven. It really enhances the flavors. Here's my recipe to help you add a little zing to your menu tonight!
You can use any variety of root vegetables you have on hand. Here I've got some chopped butternut squash, sweet potatoes, onion, and carrots. Use as many vegetables as you like in this depending on the flavors you prefer. I do try to keep my carrot ratio lower to the rest of the veggies. For my taste, a little roasted carrot goes a long way and I don't want it to make the whole dish taste too sweet. I make this up in good size batches because it is just as delicious the next day as it is the first night.
Chop everything up and dump it right into a foil lined pan. Some dishes I worry about overcrowding the pan but not so much on this one. If you want your veggies crispy on all sides though, definitely space them out more. I like just a few bits of roasted ends and mostly soft, delicious veggies so I keep 'em cozy. Here's a recipe card to walk you through:

Roasted Root Vegetables :: Fall Recipe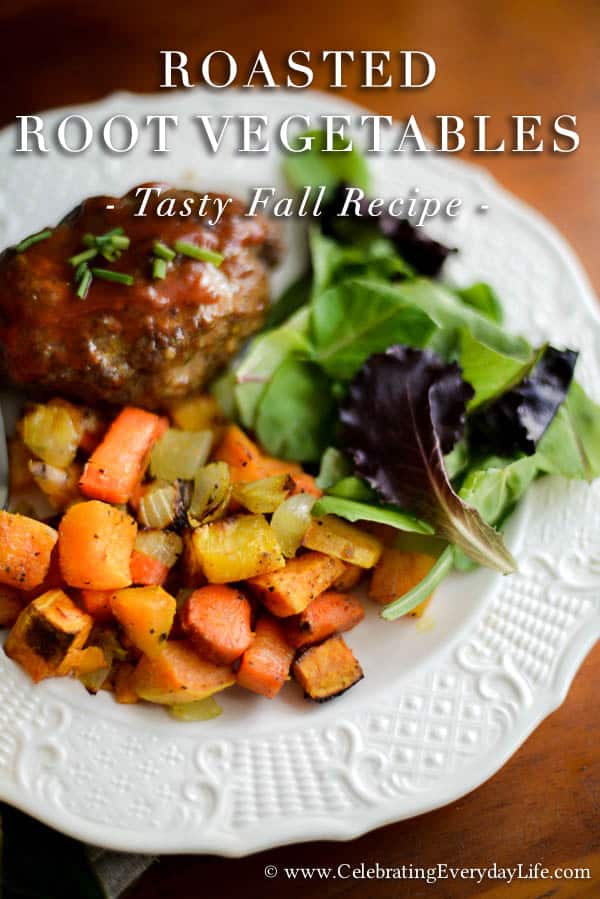 Author:
Jennifer @ Celebrating Everyday Life with Jennifer Carroll
Delicious Roasted Root Vegetables with a twist of curry powder for flavor. This dish comes together in minutes and has a warm, comfort food quality. Perfect for Fall!
Ingredients
Sweet Potatoes
Butternut Squash
Carrots
Onions
Olive Oil
Curry Powder
Garlic Salt
Garlic Powder
Instructions
Preheat oven to 450°. Rinse and peel veggies as needed. Chop all of your vegetables into bite size pieces.
Place vegetables on a foil lined, lightly oiled baking sheet. Drizzle a bit more olive oil over vegetables and sprinkle on curry powder, garlic salt and garlic pepper to taste.
Roast for approximately 35 minutes or until vegetables are done to desired tenderness. Stir halfway through cooking time.
Serve immediately and enjoy!
You could par-cook your sweet potatoes in the microwave to make this dish come together even more quickly. If you have fresh garlic on hand I would definitely throw some cloves in there. The sky's the limit on the variations you can do with this dish. You can keep it simple or jazz it up. Pair down the number of veggies or multiply them! And with Thanksgiving right around the corner I can tell you this dish is amazing with turkey… for real!
I hope you will give it a try, especially with the curry powder. It really takes it to a whole new level!
Happy Celebrating!