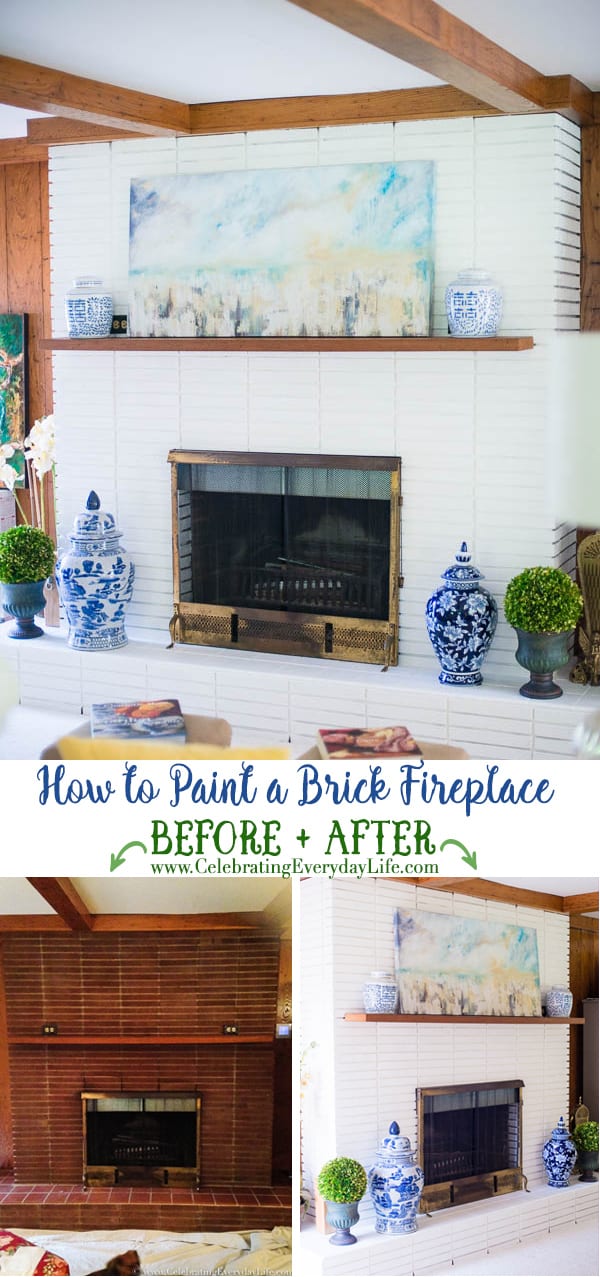 Hello sweet friends! I hope you are well!! I've been battling a relentless case of bronchitis or some-such summer cold – it's taking its sweet time in going away, but every day gets a little better, thank goodness. What an odd summer allergy season this has been. OK, on to today's fun: As promised in my Living Room Before & After post I am happy to be sharing my tips on How to Paint a Brick Fireplace! Before I moved in to my new home I had a long, long list of items I envisioned doing before I moved in. Unfortunately my ideas were many more than I could possibly accomplish while preparing to move. I dreamt of painting all the rooms, painting my kitchen cabinets, and more… Then reality set in and I realized I barely had time to give the house a good spring cleaning before moving in much less – painting all these rooms! Thankfully I like the paint colors that I have (for the most part) and am happy to live with them until I find time or they just drive me too crazy. But one project that I knew I'd have to tackle asap was the fireplace.
(Here's a "before" shot when we moved in)
The dark bricks plus the dark wormy chestnut walls cast much too much of a dark shadow in the room. I didn't want to demolish the dark tones entirely – I just wanted the wood to shine, to be an accent – let those glorious wood beams and the wormy chestnut panels really shine! So I knew that painting the brick was going to be a top priority. Having done so much painting before – in rooms and of course practically every stick of furniture that I own – I was looking forward to this project.
I had done some research online and found that most folks encouraged you to clean the brick first but some said dusting was enough while others insisted you must use some kind of acid wash. I was anxious to get to the "painting" part but I know that good preparation is the key to a good finish so I took a hard look at my brick. There were a few dark marks from soot here and there but overall there wasn't any kind of buildup or anything on the brick so I decided to give it a good dusting and see where that left me. I grabbed my broom, gave each brick a good swish and then quickly went over it all with my vacuum using the brush attachment. It all looked clean and good to go, so no need for me to pull out wire brushes and heavy chemicals – yay!
Supplies I used: Bulls Eye 1-2-3 plus (affiliate link), Brushes (affiliate link- I used similar brushes), Benjamin Moore Eggshell Paint in a custom tint of Capitol White.
Now for the fun part, the painting! Priming is a must when painting masonry. In this age of chalk paint/milk paint I know that many of us cringe at the thought of priming but I promise you, "Prime first ladies!" It will pay dividends later!
OK, bad news first – painting brick takes a LONG TIME! I'm used to zipping through painting projects and I figured I could get through this in a couple of hours tops… boy was I wrong. I realized I was wrong when after 45 minutes I was still only a few rows deep on the side of the fireplace (which is only a few rows wide)! I'm telling you, brick soaks the primer right up! Now, this will be a big help when it comes to painting the top coat, but for now, it's slow going. Pick a favorite show on Netflix and get ready to enjoy a whole season (I enjoyed Season 1 of the Andy Griffith show while I was painting).
Here's what it looks like after the primer coat. Please note, I was very heavy handed with the primer. I applied it generously and worked it into all the nooks and crannies. Pay special attention to the grout lines – I wanted a more "even" look to my painted brick – I didn't want too much variation which I would have ended up with had I not made sure to really get the primer into the grout areas. Also, because my brick sticks out some from the grout, I had little sides to paint (top/bottom/left/right) of each brick. Pay attention to these if you have them. Step away and make sure you have it covered from all sides – being so close painting it makes it easy to miss some spots, so stepping back helps you pick up on details you might have missed.
Once the entire fireplace was primed I was ready to begin the top coat. Since I have an extra wide fireplace it took me a few evenings to get the entire thing primed, so dry time wasn't an issue here. But if you move faster through your project, just be sure to allow proper dry time according to package directions. Me being me, picking the top coat color wasn't a super simple process. There are so many shades of white out there! I have a particular affinity for Benjamin Moore's Williamsburg collection and decided to use their Capitol White, but of course I had to personalize it a little bit. So, in case you want my exact formula – here's a snapshot of the can:
I'll admit that after all that priming I was tempted to just leave the primer coat but it just wasn't the look I wanted, and I had already come this far, so I persevered with the top coat. Because the priming portion of the painting took so long I began the top coat stage with a bit of trepidation but GOOD NEWS! The top coat just flew on! Thanks to that primer, the brick was now not super porous so the paint just brushed right on now. Here's a look at one coat of top coat versus just primer:
Yay! With just one coat of the Benjamin Moore paint I got the look I wanted! Hallelujah!
It's not a perfect paint job and there are a few spots that might benefit from a second coat but I am truly happy with it and in the end that's what matters most! So here's a recap for you:
How to Paint a Brick Fireplace:
Prepare your brick – dust & vacuum and if you have severe buildup or sticky coating on your brick you may need to also use a brick cleaner. (Wear protective gear if you do!) Be sure your brick is clean, you want your primer to stick to the brick – not dust or loose mortar that will fall off or in any way cause it not to adhere properly.
Gather your supplies. Good paint brushes that don't lose bristles are important.
Prime, prime, prime! Choose the best quality primer you can afford because this is the longest (and in my opinion) the most important step in the process. Your brick will most likely soak this up so buy extra cans – if you don't open a can you may even be able return the unopened leftovers since it's not a custom item (check with your store first though). I always have a use for primer though so I don't mind having some in my stash.
Add a topcoat in your preferred finish. I wanted a hint of shine so I chose an eggshell paint by Benjamin Moore.
Sit back and enjoy your fresh new fireplace!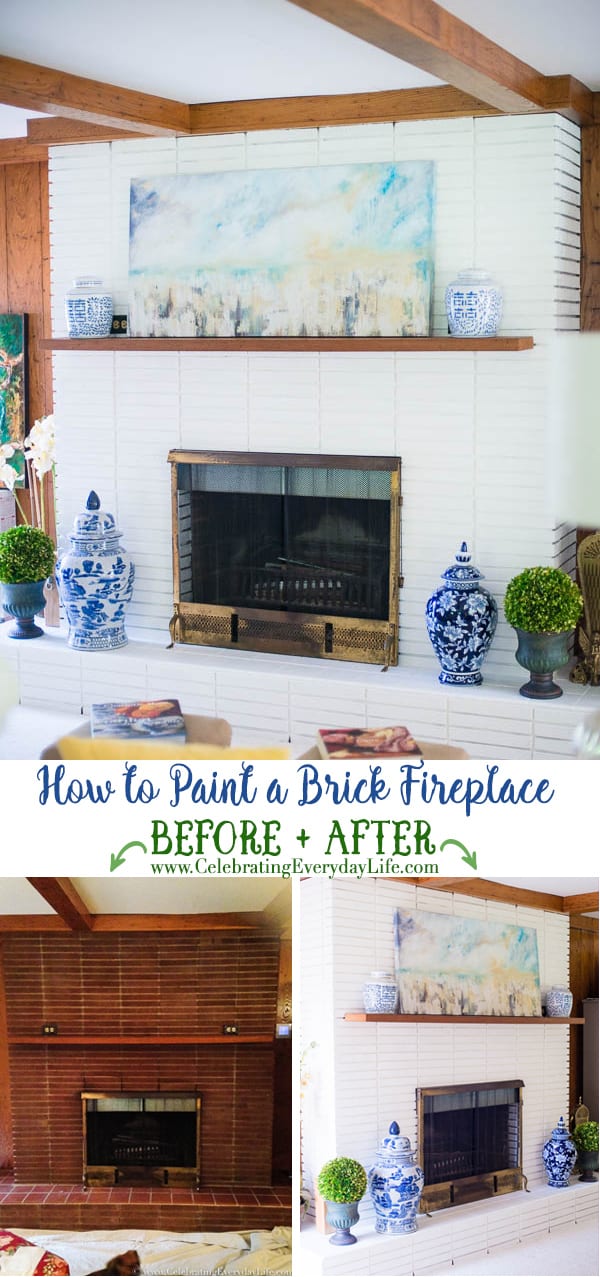 I hope you enjoyed this tutorial and picked up a tip or two for your project! It takes some effort but it is well worth it in my opinion. I would do it again – for sure!
p.s. – Please be sure to Pin this Post – that way you'll have it for easy reference and you'll be helping me out by spreading the love!! a win-win!
Happy Celebrating!