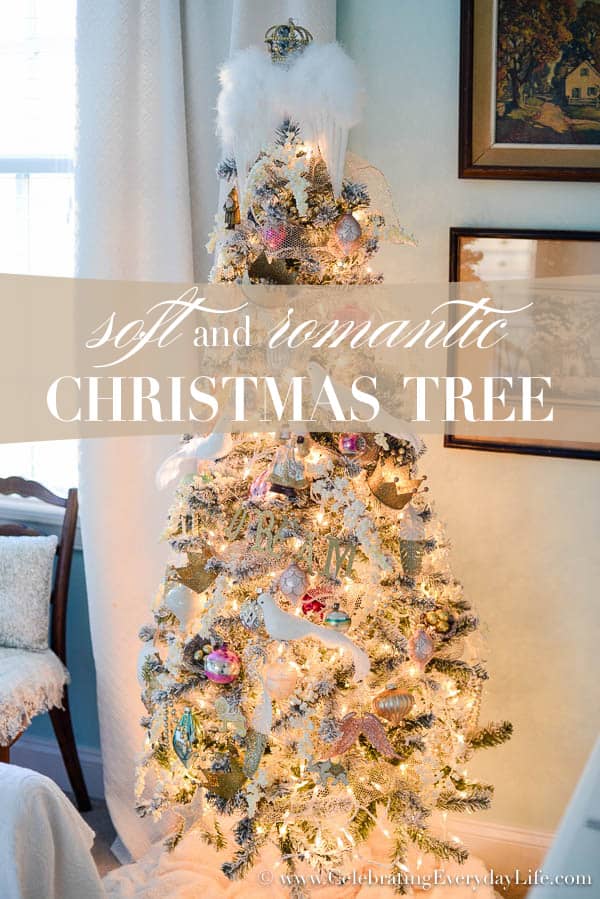 Welcome to the third tree in my unofficial 2015 Christmas tree tour. My Chinoiserie inspired tree was #1, #2 was my kitchen tree, and today I'm sharing my soft & romantic Christmas tree which is in my bedroom. I had originally planned to use this as the base tree for my blue & white tree, but as I began putting on the decorations it was a bit too small for the space I was in, but here in my bedroom, it's perfect! I'm having a lot of fun spreading Christmas magic throughout the whole house this year and having a tree in the bedroom has been surprisingly serene. I love to lay in bed at the end of a busy day with all the lights off except the tree lights and just "be still" and enjoy the soft glow of this tree. I have it plugged into a remote outlet so I can just click a switch to turn it off before drifting off to sleep. Here is a closer look at the many details that I used to decorate this soft & romantic bedroom Christmas tree.
When decorating this tree, I began by tucking this silvery wire ribbon around the tree as a garland, I then added several strings of gold pearl garland as well. Next I placed a few sparkly white berry picks into the branches for a bit of extra dimension.
Then I began layering on the ornaments! There is an eclectic mix of old and new. The paper angel you see here is part of a set that has been in my family for decades. (You can see a few more ornaments from this collection in this holiday tablesetting.) The pink glitter angel wings are a recent purchase from Michaels Craft Store.
I love the translucent ornaments like this green one here. It is part of a set that I found at Target recently, which includes a mix of several pastel colors.
These glitter crowns are also from Target this year. I like them as ornaments, but I also have some other ideas in mind for these, we'll see if I get to use them in another project, stay tuned!
I have a growing collection of Santa's and was excited to add this one to my collection this year. I found it at Michaels Craft Store too. I like how it looks vintage and yet it's new (and was on sale!).
Here's another one of my Santa's. I've had him for a while too and though he looks old, he's actually only a few years old.
I think this Santa was from Target a few year's ago. Any time I see a Santa that looks vintage-y, I scoop it up.
I also have a few genuine antique ornaments on the tree too. These are real treasures to me since they are old. I love the patina and sweet details like the painted flower motif.
I also hung a "DREAM" banner in the tree. I made this many years ago with my Cricut
(affiliate link) paper cutter. I thought the dream sentiment was particularly appropriate since it's in my bedroom 🙂
I also mixed in a few white love birds which fits the theme just right, don't you think?! I love how the tree reflects in the mirror over my dresser.
When thinking of a tree topper for this tree I wasn't quite sure what to do. Then I remembered that I had these sweet little angel wings as decor in my daughter's room. (I think they came from JoAnn's Craft Store a few years ago). Sure enough, they are just the right size for this tree. It still needed a little something so I placed this small crown ornament (from Walmart a couple of seasons ago) on the tippy-top. I think it finishes the tree very well.
And there you have my soft and romantic Christmas tree. I haven't had one of these before, I'm such a fan of classic plaid for Christmas, but it has been SO FUN to explore all of these other combinations this season with so many different trees. I hope you're enjoying the variety too! Here's a handy Pinterest ready image if you would like to share it.
Thank you so much for sharing this Christmas tree journey with me. I still have at least two more trees to share and maybe three, we'll see. So please stay tuned for more holiday fun! Plus, I have touches of Christmas in my bedroom that I'm working on and will be sharing that with you soon too. Have you ever created a tree similar to this one? Did it have a theme or was it a mix like mine? I'd love to chat about it in the comments below.
Happy Celebrating!