Lord willing, I'm hoping to get our Christmas Tree this afternoon, so I thought I would share another installment in my How to Decorate a Mantel series and show you my mantel as it's been this past month before I change it over to Christmas! Remember my October (Halloween) mantel here? One of the biggest changes to my mantel this month was the addition of the clock and plates on the wall. I found this clock at Ross Dress for Less and knew it was just what I wanted over my fireplace! It's a statement piece and that's what I was hoping for. I have a beautiful mirror that I recently transformed hanging near this (I'll share that project with you someday soon!) and so I didn't want to hang another mirror right beside it. I think this will be a fairly "neutral" wall that I can embellish with each changing season.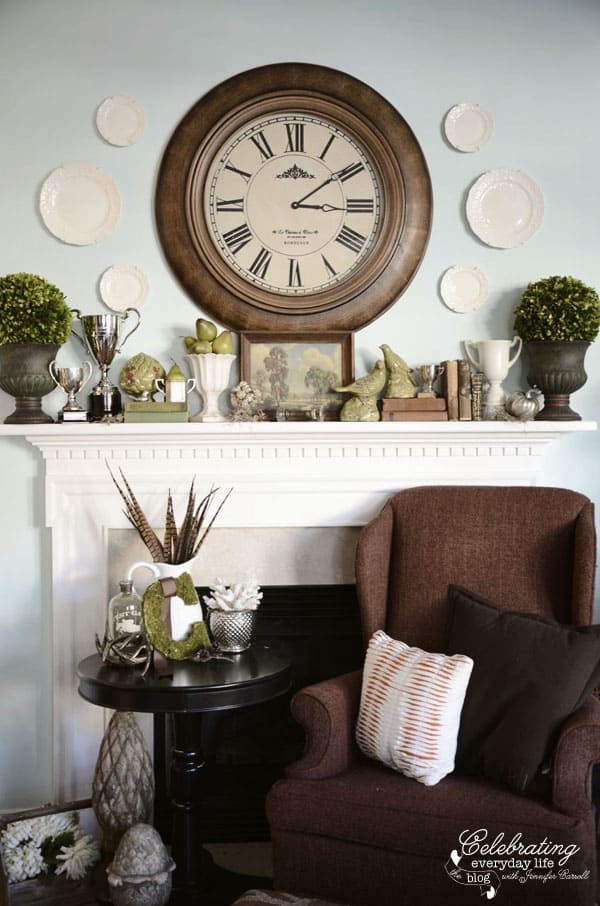 I'm also hoping that this is the last mantel photo that this brown chair is going to appear in… I've gathered my supplies and am really, really hoping to tackle my very first slipcover project in time for the next shoot. Fingers crossed it goes well!
This tall trophy was a recent find at Old Lucketts Store. I love trophies and have been slowly growing my collection. They can be quite pricey so I really take my time hunting for affordable ones and scoop them up when I can.
I love the gently winding stream and farm in this painting so I was very excited when I found it a thrift store this past summer for $4. Yep, four dollars! Score!!
I'm not sure if this is a paperweight or what but I've been seeing these double doorknobs everywhere! I found this one at a shop near Luckett's on our last trip. Whether used as a paperweight or decorative accent it adds just the right amount of funky junk sparkle.
These sparkly acorns were a Michael's Craft Store find. Nesteled in a sherbet glass they add a very pretty sparkly to the mantelscape!
These birds were another Luckett's find and I was especially excited because they match the artichoke figurine that I have! I've had that artichoke for a few years so I was particularly pleased to find a complimentary piece all this time later! Yay!
Hiding behind these books is one of my cream trophies from Target. I found this on clearance and bought several. I've seen some pretty fun projects with them floating around online (Miss Mustard Seed painted her's with chalkpaint!). For me, the cream works and I'm really happy with it when mixed with my other trophies and old books.
This "C" is a recent craft project that I made for one of the wedding blogs that I write for. Don't worry, I'll share the tutorial with you one day soon! I haven't quite decided where it's going to live in my house yet – there are so many choices I'm having trouble picking one spot!! For now, I'm quite happy with it simply resting against this simple white pitcher filled with pheasant feathers.
I hope you enjoyed this latest tour in my How to Decorate a Mantel series! Wish me luck on the adventure of getting our tree!! I hope you have a wonderful weekend!!
Happy Celebrating!
Would you like to receive a preview of my blog posts in your inbox?
I'd love to share them with you! Subscribe here…
Have checked out the May/June issue of Celebrating Everyday Life with Jennifer Carroll yet? You can read it on your computer, iPad or in Print. Click here to learn more!
Don't forget to like & share our Facebook page! When we reach 10,000 likes we're giving away 2 iPad minis and 2 iTunes gift cards!