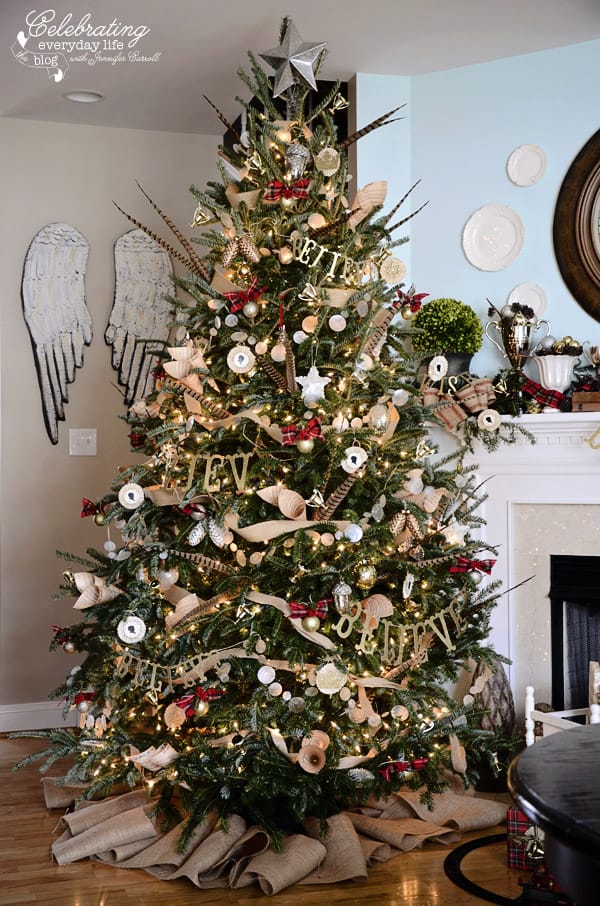 Welcome to Christmas 2012 in the Carroll home! This year for the first time in more than 25 years I have a REAL Christmas Tree and I have decorated it in a sort of Hunt Country aka inspired by Ralph Lauren Christmas tree theme. (Although there are elements of Miracle on 34th Street, Brigadoon and who knows what else in there, too!) The last time I had a real Christmas tree, I was around 12 years old and I had gone out in the field near our house with my dog and cut my own. I then dragged it back to the house and decorated it with strings of popcorn, cranberries and cookies that I had baked and called it my "kitchen tree". I loved that tree…  For the family tree, my parents have always had a fake Christmas tree and out of habit I kept up that tradition. But in my new townhouse, the only place to store a tree would be in the attic and wrestling a big, fake tree down that narrow pull-down staircase doesn't appeal to me, so a real tree was in order. And boy, am I glad! I love my tree!! My favorite part is the smell. You just can't beat that fresh tree scent. The only down side I've found so far is that you have to be careful how heavy the ornaments are because the branches are soft and will droop.
Therefore, all of my decorations are pretty lightweight. When decorating my tree, I began by stringing the lights. Next, I added my garland. I've used two types of garland – burlap ribbon (from burlapfabric.com) and strings of capiz shells. I love how the capiz shells glow from the lights. They add a very pretty dimension to the decor.
I love old sheet music and have made some pretty wreaths out of the paper cones and had some extra cones lying around and thought they would add nicely to the scene so I tucked pairs of them all around the tree.
On my mantel, I'm displaying my collection of trophies (I'll share this with you on Monday!) and wanted to incorporate these into my tree as well. But as I mentioned, my branches can't handle anything too heavy. What to do….? Hmm….. Then it hit me! I remembered that I had some mini trophies from the Dollar Store. I dug them out and sure enough, they are perfect! A quick trip to the store to buy several more packs and I had a perfect little trophy to tie in with my mantel.
I adore plaid and found this perfect plaid ribbon at Michael's recently. Unfortunately, I only had one spool and I needed to make it stretch, so I devised this cute little ornament. I may share a little tutorial on this next week – it was very simple and inexpensive to make and adds just the right pop of color on this otherwise neutral tree.
As a compliment to my capiz shell garland, I also hung a few of these stars. I'm not sure what they're made out of (other than some type of shell), but they're pretty to me 🙂
Last year, to mark my daughter's first Christmas, I made lots of these paper medallion ornaments. I love the simple silhouette on the tree!
Using my Cricut cutter, I had also made several of these "Believe" banners and, again, wanting something a little bit different on my tree, I wove several of them – in two sizes – throughout the branches.
I love acorns and noticed that I have a growing collection of them – and what's more natural on a tree than acorns? – so I've nestled several types in the branches…
There are a couple of mercury glass acorns like the one above and frosted glass acorns like the one below.
To go with my acorns, I also have an army of pinecones in various shapes and finishes. Here's a favorite stylized pinecone…
For the final touch, I tucked dozens of pheasant feathers here and there amongst the branches. I like the "energy" the feathers give the tree!!
Best of all, I really love how my angel wings are hovering behind the tree!! I got these a while back on DecorSteals.com. I love that site!
And there you have my Christmas tree for 2012! I call it an inspired by Ralph Lauren Christmas tree because it involves lots of classic elements that I see him use – plaids, burlap, classic images like a silhouette, and natural elements like the pheasant feathers. Add a shimmer and sparkle from the bits of gold and silver and a touch of vintage with the sheet music… and, well, you have my homage to a Ralph Lauren Christmas Tree with my Jennifer Carroll twist.
I hope you enjoyed this tour of my tree! As I mentioned, I'll be sharing my Christmas mantel with you on Monday. I look forward to seeing you then!
Remember there are 17 Days 'til Christmas!
Happy Celebrating!
P.S. I'm linking up with Funky Junk Interiors and Craftberry Bush!
Would you like to receive a preview of my blog posts in your inbox?
I'd love to share them with you! Subscribe here…
Have checked out the May/June issue of Celebrating Everyday Life with Jennifer Carroll yet? You can read it on your computer, iPad or in Print. Click here to learn more!
Don't forget to like & share our Facebook page! When we reach 10,000 likes we're giving away 2 iPad minis and 2 iTunes gift cards!