Yesterday's home tour with Unskinny Boppy was, well, AMAZING! I was so incredibly blessed by the warm welcome I received and the loads of comments!! I'm left a bit speechless honestly! So, while my simple "Thank You" may sound a bit light – please know it comes from the very bottom of my heart! Bless you Beth for inviting me to your party! For those of you who didn't make it over, it's not too late, click here to see the post. And today's featured home is none other than the spectacular home of Karianne from Thistlewood Farm. I'm completely in love with Karianne and will be excitedly sharing more about her over here soon… please stay tuned! In the meantime, I wanted to share photos of my Christmas kitchen decor!
My kitchen, dining room and pseudo 'keeping room' are all open to each other and my tree is in this space too. With so much going on with my Christmas Tree and mantel, I try to keep my kitchen decor a bit more low key. Plus, it's a galley kitchen and let's be honest – there's just not a lot of room in there! I have some dreams for this space in the coming year – nothing too major but some upgrades to the backsplash, some moulding around the ceiling… things like that. But for now, it is what it is, and mostly I'm happy with it.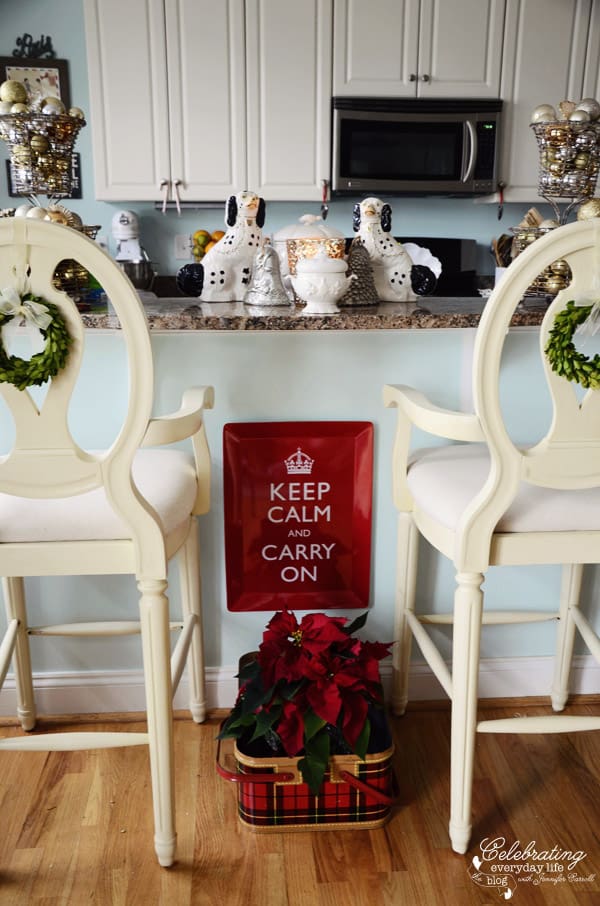 Another nice thing about keeping it simple is that decorating in here didn't take much time at all! First, I plunked a pretty red poinsettia into my vintage plaid picnic basket (a piece I love so much!) and placed that in front of my "Keep Calm and Carry On" tray – my mantra when things get crazy around here (and with an almost 2 year old running around, ummm… yeah, I say it a lot!). These bar stools are from Martha Stewart's Home Decorators collection and I love them! The shape of the back of the chair is my favorite part.
A simple boxwood wreath is all this needs to look festive!
On my island I have a pair of these chippy, metal tiered planters. I think I got these at Michael's Craft Store years ago and boy have I gotten my money's worth! They are so versatile. For Christmas, I've filled them with dozens of glass ball ornaments from the Dollar Store. Some are gold, some are silver, some have glitter, others are plain.  Sometimes I'll use just one color but this year I'm really into the mixed metal look – I mixed my gold and silver trophies on my mantel too! To round out this vignette I've framed a silhouette of my little one that I made earlier this Fall and tucked a simple piece of sheet music with a letterpressed gift tag into a frame. Nothing stupendous but I really love how it all came together.
Remember the ornaments I mentioned in my centerpiece post? I've hung the rest of them around the base of the arrangements.
I especially love this little angel!
My Annie Sloan Chalk Paint makeover hutch is also "dressed" for the holidays! First, I've filled a galvanized tub with a trio of red poinsettias… I actually love the bright red against the cool blues and greens. I wasn't sure I would at first, but once I set it there I feel like it instantly "brought the party"!
On top of the hutch I've stuck with simple bits of silver for decoration…. like this silver snowflake from Miss Mustard Seed. Yes, that's the famous German glass glitter!
Or this mercury glass heart ornament. I love hearts… they seem to be yet one more item I can't seem to resist collecting when I come across one!
A snowy Christmas cottage…
… and a tiny forest of silver wire brush trees complete the decor!
I told you it was simple!
I'm planning to share my Christmas tablescape with you on Monday – that is if everything get's done on my giant Santa list. I went from feeling cool, calm and collected about Christmas to now worrying about how on earth it's all gonna get done!
All is not quite calm yet but it's definitely bright!
Hope your Christmas prep is coming along smoothly!
Happy Celebrating!