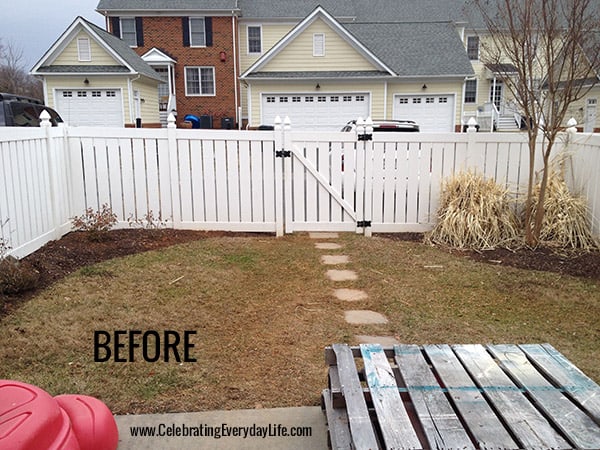 I live in a townhouse that is blessed with a back yard – it's not huge but it's large enough for me and my budding gardening ambitions. I haven't touched the backyard for a couple of years because I've just had other things that were higher on the "to-do" list. But this year I felt the urge to get out there and finally put my stamp on this yard. "English Cottage Garden" was the theme I went with (surprise, surprise). I adore roses so I knew I wanted to plant as many of those as I could and I also wanted to put in some edible plants especially to help teach my daughter how we can grow food to eat. Visually, I wanted to add a little bit of drama and symmetry to the space as well. These were at least some of the ideas in my head and here's how it came out:
The first big project I tackled was to take out the walkway and put in a pebble path. The yard has very bad drainage when it rains and the existing stone pavers were nowhere near adequate to handle the amount of water that can puddle, so I usually ended up with a muddy walkway. Adding this wider path has stopped the mud – yay!! I took photos of the process and hope to share a tutorial on the pathway soon. I also added a little over 400 pounds of dirt to one side of the yard to help a bit with the drainage problem. I'm still trying to grow grass over there and it's slowly but surely coming along…
The first roses I planted were these Knockout Roses. I have white, red and pink planted here. These roses are coming along quite nicely and seem to be super tough which is great for a novice like me!
Next, I wanted to add some height and a bit of drama to the garden so I put up four of these willow trellis's. I love how they make the yard feel even more like an outdoor room – plus they are the perfect backdrop for three of my David Austin roses – which I planted next… I have a white, yellow and pink bloom (remember, I showed you the pink bloom here). The white and pink are blooming but the yellow hasn't begun to bloom yet, although it's growing fast!
I also love garden statuary…. I have packed this little yard with lots of it. There's a sweet fox, a frolicking girl, a playful bunny, a scotty dog, a frog, oh the list truly goes on… but one of my favorite pieces is this concrete fruit basket. It absolutely reminds me of the beautiful gardens I've visited in Europe so I knew I wanted something like this in my yard. When I saw one like this at my local Garden Center I was discouraged by it's almost $300 price tag – ouch! – this entire backyard makeover with all my new plants, materials, even pillows, barely cost that so there was no way I was going to spend that much on one piece. But, I also knew I really wanted some accent pieces like this. So, I decided to do a bit of research online and look for one of those "concrete world" types of places. You know, the kind you drive by on the highway that has acres and acres of figurines made out of concrete. Sure enough, I found that there was just such a place less than an hour away from me so off I went in search of my treasure. Was it worth it? Well, I'm delighted to say that I got this glorious statue for $35. Yep, $35 smackers. And it's identical to the one I had seen at the fancy garden center. For me that was a huge win because I would have otherwise just gone without. It pays to think outside of the box 🙂
We're also growing our own strawberries and blueberries – my little one and I are having lots of fun running out each morning to see how they are all coming along. Plus we have a very sunny back corner where we've also planted four types of heirloom tomatoes, spinach, rutabaga, kale and bibb lettuces. So far so good, but it's still early days on those…
Overall I'm delighted with our "new" yard. I love the colors and the interest, it has some symmetry but isn't too formal, and is definitely a wonderful place to sit in the mornings and evenings to enjoy these wonderful days of Spring!
I have more projects I'm working on back here and I will try to keep you posted on those. I hope you have a wonderful Memorial Day weekend!
Happy Celebrating!
Would you like to receive a preview of my blog posts in your inbox?
I'd love to share them with you! Subscribe here…