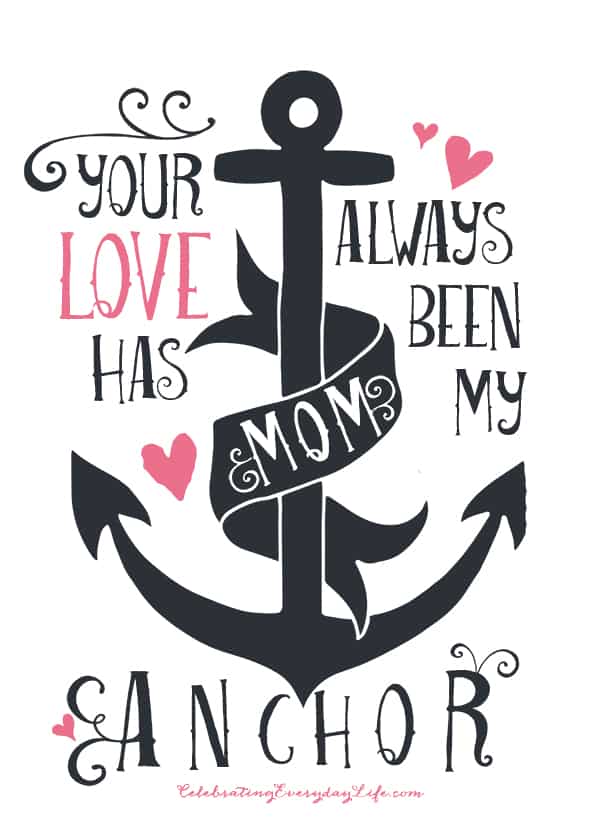 Oh. My. Goodness. Where, oh where, does the time go?! I have been swamped, per usual… and I miss you! Can you believe it's already almost Mother's Day? We just had a Mother's Day concert and tea party at my daughter's pre-school (which was absolutely adorable!) but I was like, "What? It's Mother's Day already?? Isn't that a couple of months away still??!!" Alas, the days are whoosing past at an alarmingly fast rate and I'm being swept along in their current. My sister recently moved back here from Los Angeles which has been thrilling and also brought with it lots of fun new adventures. One of which I am excited to share with you quite soon – stay tuned for that post. In the meantime, I have put together a sweet little Mother's Day Free Printable for you to enjoy.
The phrase reads: "Mom, Your Love Has Always Been My Anchor" Isn't that just the loveliest sentiment? For me it's absolutely true. My mom is, and always has been, my biggest supporter even when she's telling me things I may not want to hear, I know that she is always being honest with me, and that she truly wants to see me succeed in life. I am blessed to have a wonderful mom and she inspires me to be the best mom I can be for my little one. I can say that my mom is my best friend, and I pray with all my heart that my daughter and I will be as close as my mom and I are when she is grown up.
Click here to download the printable.This printable is free for personal use.
With the warmer temperatures it's definitely beginning to feel like summer and I think that is also part of why I chose this quote, I'm feeling inspired by all things nautical right now… In designing this, I liked the preppy pop of pink and green with the navy and couldn't decide which one I preferred, so I've put both of them on a printable for you! Each image is approximately 5″ x 7″. Whether you print it out for yourself or share it with you own mother, I hope it blesses your heart this Mother's Day!!
Happy Celebrating!
Would you like to receive a preview of my blog posts in your inbox?
I'd love to share them with you! Subscribe here…