It is so hard to believe that Easter is right around the corner…. this year is flying! I realized I was about to miss sharing any fun Easter crafts with you if I didn't hop to it (tee-hee, I couldn't resist!). So to celebrate this precious holiday I decided to make (and share with you!) some sweet & romantic lace dyed Easter eggs.
:: Step 1 ::
To begin I hard boiled my eggs using a great technique I learned long ago from Martha Stewart. First, I put all my eggs in a large pan so they are all on the bottom (no stacking) and fill with water to cover. Then I bring the water to boil and let it continue boiling for 1 minute. Then I turn off the heat, set my timer for 13 minutes and walk away! So easy and you get perfect hard boiled eggs each time. Once eggs are done, remove from water and let cool.
:: Step 2 ::
Next, take your lace and cut it into strips. I used lace ribbon in this tutorial which you can find on the MayArts website here and here. Tie these very tightly. This is one of the most important steps so make sure you've got that ribbon attached like a second skin to that shell. In other tutorials I've seen – like the Martha Stewart one here – you can use rubber bands to secure your lace. Since I was using ribbon I just tied it super-duper tight and that worked.
:: Step 3 ::
Now we're ready to color our eggs! I used a few drops of gel food coloring mixed with hot water (I used the water I had boiled my eggs in) and a splash of white vinegar for mine. I combined these in a glass cup that was microwave safe. To get that blue-green color I combined, you guessed it, blue & green! My pink is a neon pink gel color – a little of this goes a loooong way. Place one egg in the hot water mixture and leave it for 10 – 15 minutes. My colors were pretty potent and when I left my first eggs in the mix for a little over 15 minutes I didn't really like the color. So play with yours until you get the color you desire. Tip: I reheated my color in the microwave between dipping to help make sure I was getting the same effect each time.
Voila! You have lace dyed Easter eggs!!
On this project, I had real trouble with my blue dye and the lace…. I just couldn't get the contrast that I was looking for so in the end I decided to wrap fresh lace around my lovely dyed eggs and I am very happy with that effect. Now my pink dye was perfect with the lace!! Look how crisp the lines are on the egg below. Why did one work and the other didn't work as well? I think that's a question for a chemistry teacher and not me… In the end I improvised and love how it all went. Lesson learned? If you are doing these as centerpieces for your Easter table…start early to allow yourself lots of trial and error time!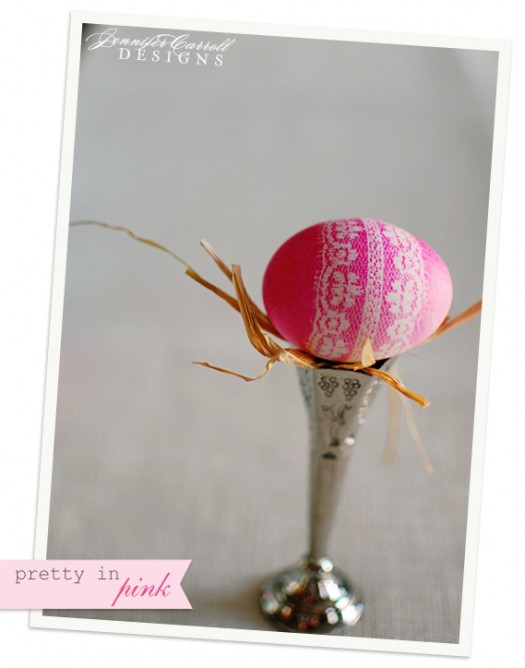 I hope you enjoyed this tutorial. Have suggestions or ideas on how to improve on the blue/green dye? I'd love to hear them!
Happy Celebrating!
Have checked out the May/June issue of Celebrating Everyday Life with Jennifer Carroll yet? You can read it on your computer, iPad or in Print. Click here to learn more!