It's no secret that I love burlap so imagine my delight when BurlapFabric.com agreed to become a sponsor on my blog?! Yippie! I have ordered from them before and I can honestly say, I love their products! At Christmas I ordered some of their Jute Webbing with an oh-la-la red stripe and used it to make bows on my mantel. Well, with Valentine's Day coming I thought it would be lovely to pull out the webbing again and make something crafty like this DIY art project. I always have lots and lots of frames on hand (it seems I can't resist getting just one more whenever I'm in Marshall's) and this red lacquer frame is perfect for a Valentine inspired piece, don't you think? So, voila! I present to you a "Key to My Heart" framed art piece! It's so easy to make, here's what you need:
:: Supplies ::
1 picture frame, mine has an opening for a 4″ x 6″ photo which was the perfect width for the webbing!
1 – 6″ strip of Jute Webbing from BurlapFabric.com
1 – heart locket
1 – antique key
glue gun (not shown here)
:: STEP ONE ::
Remove glass from frame, store or dispose of it – you won't need it for this project. Cut jute webbing to the length you need – I cut mine to 6″. Place jute in frame and reattach frame backing to frame.
:: STEP TWO ::
Lay frame right side up on a flat surface. While glue gun is heating, play with your key and heart layouts and determine where you want them. Once glue is hot, apply a small drop to the key and heart and attach each to the jute webbing. Glue will adhere relatively quickly so try not to disturb the pieces once you've placed them on the webbing.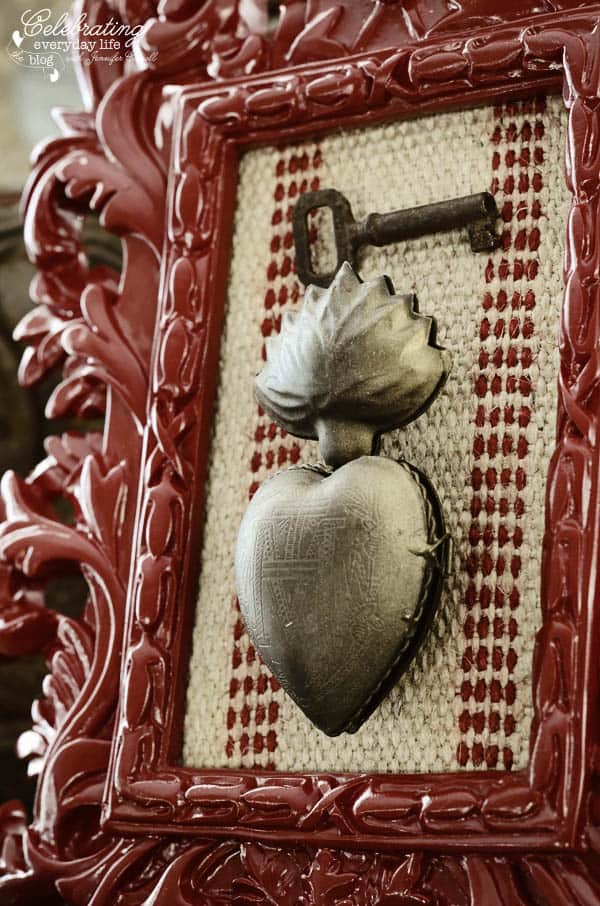 Allow for them to dry completely and there you have it! A custom, one of a kind, extremely sentimental piece of artwork. A sweet keepsake for your home or a delightful Valentine gift!
A giant thank you again to Burlap Fabric for joining my team of sponsors! I hope you will visit their site and check out their wonderful products. Looking for more inspiration on projects you can make with burlap? Visit their YouTube channel to see video tutorials on making burlap roses, ornaments and more! You can also find them on Facebook and Pinterest!
I'm linking up with Funky Junk Interiors!
Happy Celebrating!
Would you like to receive a preview of my blog posts in your inbox?
I'd love to share them with you! Subscribe here…
 Disclosure: This is a sponsored post, but I only work with companies I really like and want to support.  All words and opinions are my own. You can read my complete disclosure statement here.