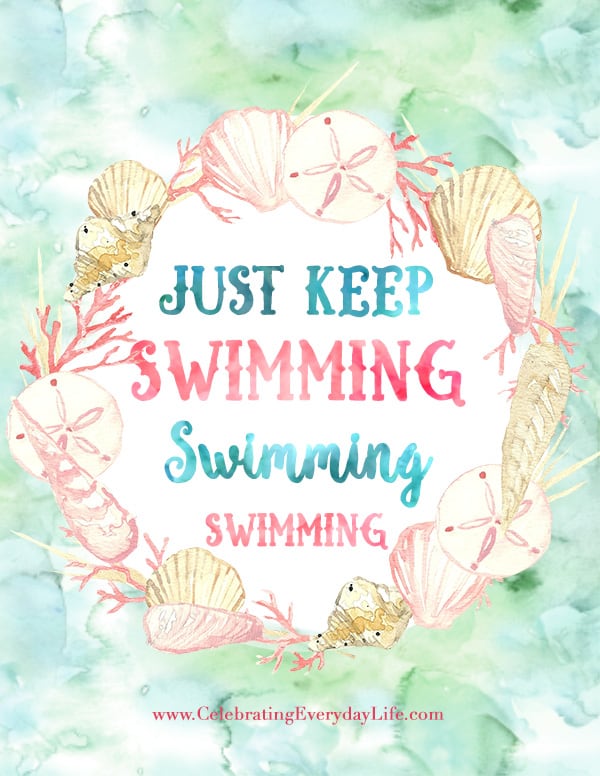 My goodness, it's hard to believe that it is almost the end of July already! Time is certainly flying. Em and I are settling into life at Hartfield – the days are filled with joys and challenges as we learn the rhythm of our new home. It feels a little bit like what life must be like after the credits end on a movie –  you know, Yay! They get their new home, their floating off into their happily ever after, and "The End" flashes on the screen. I always kind of hate when a favorite movie ends with the couple finally getting together and that's it – I want to see where they go from there, what happens next?, because life goes on and the troubles don't stop just because the movie did. Please do not misunderstand. I'm not complaining. It's just that, while I love every single inch of this farm, I have also come to learn that I am in waaaaayyy over my head – and that it's OK!
A few weeks ago my daughter, my niece, and I went to see Finding Dory (such a sweet movie) and I was especially charmed by Dory's advice when times got tough – "Just Keep Swimming" she sang, and I knew this was just the advice I needed to hear. Living in my dream house is unquestionably a dream come true, but it is still "real life." The dishwasher is falling apart, the lawnmower is on it's last leg, and the trees around here (though intensely lovely) are a constant source of worry. While I've come to realize that it is all too much for me alone, it's given me a new and deeper opportunity to trust that God is with me – and you know what? He really is! At every turn, He meets me. Let me share with you what I mean: one day I arrived home to find a giant tree branch (like 25+ feet long!) laying in the front yard. I stood staring at it with absolutely no idea what to do about it. While it's true I enjoy DIY projects, I have to say that I draw the line at using a chainsaw! My daughter asked me what we were going to do about it and I told her I didn't know – we needed to pray. So we did. And do you know what? The next day someone knocked on my door asking if they could haul the branch away for firewood. Bingo! Just like that, God sent a helper – hallelujah!
Another day I came home to find that two of my glorious trees had been struck by lightning (one neighbor described the noise as a bomb going off and said they saw a "ball of fire" when they looked out their window to see what was happening!). Again, I stood in shock and awe wondering how on earth I could handle this – tree removal is not for the faint of heart or those on a tight budget. Again, my daughter and I prayed both for our safety – one part of the 80 foot tree was perched precariously over my sunroom! – and for help in this situation. Again, God answered swiftly! I called a friend who owns a tree company and next thing I know he comes right over to check the tree. He declares it's safe to be in the house but he will come the day after next to take the most dangerous branches down. He came in a big bucket truck and made sure the house was safe. It was quite a show for several of my neighbors who joined us in the yard to watch this mighty oak tree be dismantled. Even more amazing was that another severe thunderstorm hit the next day and knocked a tree onto another neighbor's house (fortunately there wasn't too much damage to their house) but I knew God had spared us because there's no doubt of the damage that could have been done to my house with the precarious limbs that had been looming overhead.
I guess all of this is just to say – Trust God! Lean wholly on Him! Trouble is around us, there is no escaping it, not even in your dream home – but the good news is, we don't have to "escape it" we have to just meet it head-on WITH God! Don't feel bad that you don't have all the answers – no one does but Him. It doesn't mean that everything will always work out immediately, I can guarantee you that it won't. But in time, if we don't lose faith, things will work out for the best. That "best" may not be what you expect, but if your faith is in Him, than I can promise you that it will be the honest to goodness best for you. So sing a Dory song or my slightly modified version "Just Keep Praying, Praying, Praying!" and don't give up!
I've made two printables for you to download and enjoy that I truly hope will encourage you as you face the numerous challenges that life is constantly tossing at us. You can download "Just Keep Swimming" here and "Just Keep Praying" here. I hope they are a blessing for you!
Happy Celebrating!