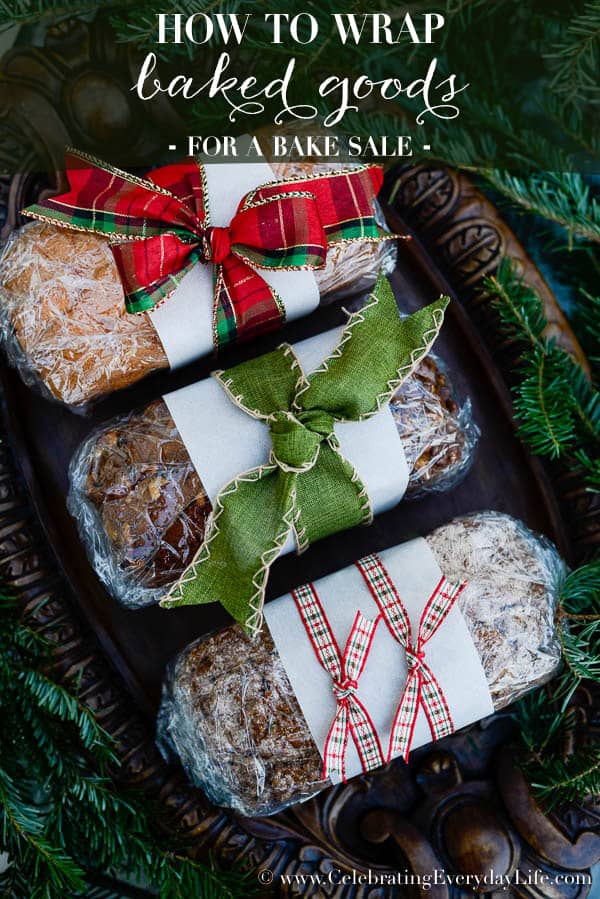 Ho, ho, ho! Uh-oh-oh-oh… I was asked recently to donate some baked goods for my church's upcoming holiday bazaar to raise money for missions, etc… and while normally I would just love to share something homemade, right now I am pretty maxed out – I've got a Christmas program at church this weekend that I'm both directing and singing in, plus, work, being a mommy to a four year old who is testing her limits (every moment of the day it seems) and all the other busy details of life these days – not to mention Christmas shopping and trying to actually enjoy this season as it tries to blur by. In all of this, baking for this event got forgotten. Whoops! Thankfully my mom made a quick dash to Costco to buy a couple baked delights from their bakery for us to donate. Here's how I made them bake sale ready!
While the treats taste delicious, this isn't exactly inspiring bake sale packaging. No worries, I have a plan and a craft stash ready to go! The good news is, you probably have all these items in your house right now too! Here's what I used:
SUPPLIES:
Baked goods of your choice
Saran Wrap
Parchment Paper
Ribbon
Paper for tag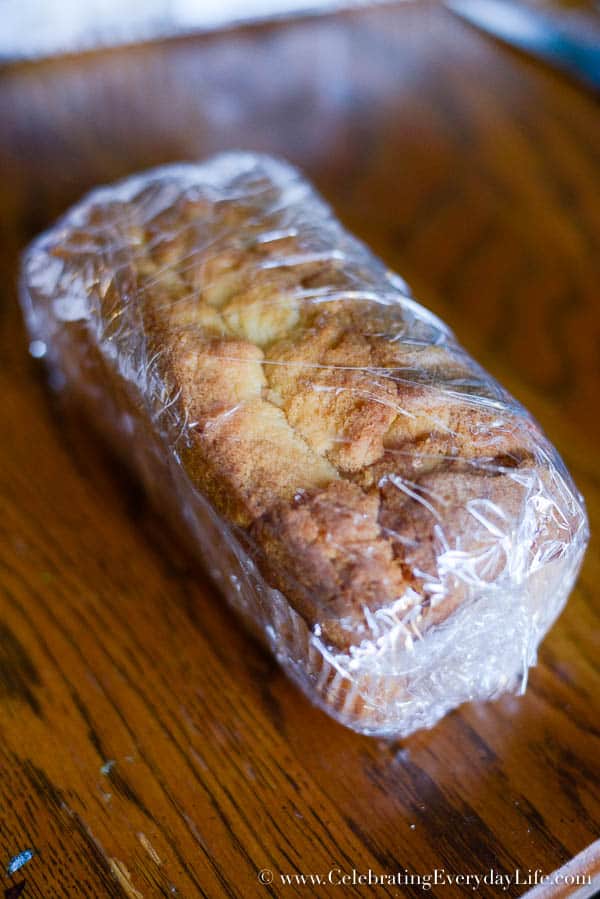 STEP ONE:
For the cakes, I first wrapped them in saran wrap. While it would look prettier to not have them wrapped, I was worried about them staying fresh. So plastic wrap had to go on.
STEP TWO:
Next, trim a piece of Parchment Paper – I usually have this Unbleached Parchment Paper
(affiliate link) which is brown and my favorite, but I'm out right now and have the white type instead. Either is fine, it's an aesthetic choice here.
STEP THREE:
Then, simply tie on some extra Christmas ribbon which you probably already have lying around. Easy-peasy, but my-oh-my what a difference it makes!
Now that's a trio ready to go forth and raise money!
With thinner ribbons like this, I like to do double strands of it – it adds impact, and a simple knot is all that is needed here. Nothing too fancy, anyone could do this!
For the cookies I used a decorative Paper Loaf Pan
(affiliate link) like this as the base. I love these loaf pans and while I do use them for baking, I find that I also like to use them for projects like this.
Wrap these with saran wrap and tie with a ribbon. Sweet and simple (my favorite combo!).
I made tags for these with my Tag Punch
(affiliate link) by EK Tools.
For the hole to attach the tag to the baked goods, I used a heart hand punch – it's just a sweet detail and you know I can't resist those! Mine is by Martha Stewart but I think it's been discontinued, but I did find this Heart Hand Punch
(affiliate link) by Fiskars for you on Amazon.
So next time you find yourself in a pickle like I did and need to transform some store bought goodies into a special gift either for a bake sale or a friend, I hope you find some inspiration here to make it simple for you and stress-free!
Please pray for me and wish me luck this Sunday evening with the musical program. I've never directed one before and I've definitely bitten off more than I can chew – I just keep saying it's a wonderful opportunity for the Holy Spirit to shine because I'm in way over my head! 🙂 Have a great weekend and I'll see you next week.
Happy Celebrating!