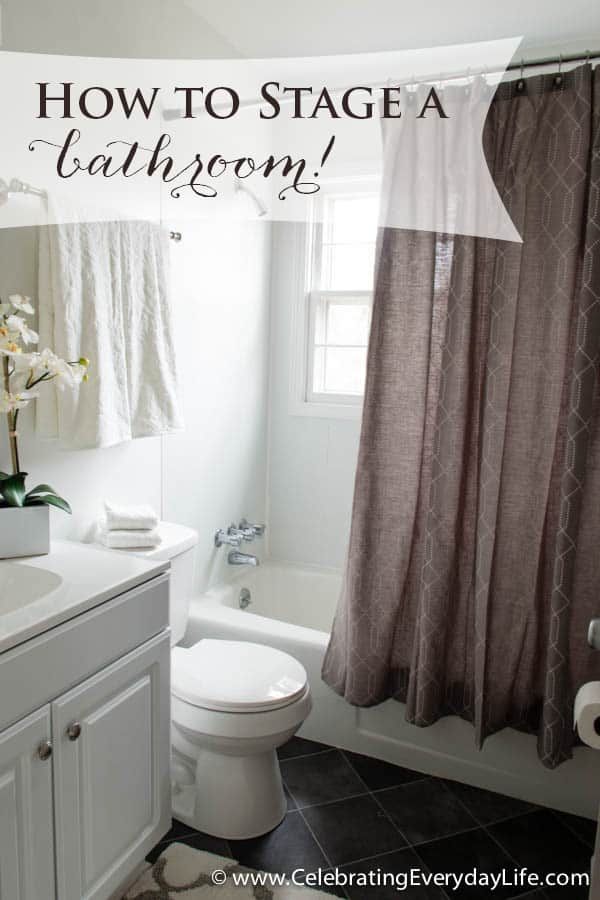 I'm back with more staging advice. Did you check out the how to stage a bedroom post? Well, today we're chatting about staging a bathroom. Like the bedroom, less is definitely MORE in here. In this first bathroom, I found these white damask towels and loved them. I know they are a great neutral that I'll be able to use in many more bathrooms that I stage. But, since the bathroom itself is mostly white, with the exception of the pretty floor, I wanted to add a little bit of drama. This dark grey curtain hits just the right note – especially since this shower/tub combo has a window in it. Otherwise the shower curtain might have overwhelmed this petite space.
An orchid in a sleek modern container lends a bit of "life" to the space (even though it's faux!) and a hand soap and lotion duo tucked in a chrome carrier add a bit of hotel posh to the vanity. A cushy mat under foot in a coordinating (but not too matchy) Moroccan pattern completes the space. And in my opinion that's all you need to make a bathroom really shine.
Above is the en suite bathroom for the bedroom featured in the other post. I wanted the aqua and white from the bedroom to flow into here so that it really felt like an extension of the room. Even though this shower has doors, I'm not a fan of those style doors being on display. They are a bit boring. So even in my own bathroom, I hung a shower curtain over it. An architectural garden sphere placed on the toilet tank looks almost like modern art and adds interest and texture while also tying in nicely with the floor color and drawing a bit of it up.
Simplicity is again the key to the vanity here. Prospective buyers don't need to see icky old bar soap, toothbrushes, etc… I suggest tucking those in the cabinet so that a fresh clean slate is all the potential buyers see. Because this is also a bright white bathroom, I selected these towels that have a subtle punch of color – it makes the space feel sophisticated and not boring.
And there you have two stylish bathrooms sure to inspire potential buyers!
Here are some RESOURCES that I used in decorating these spaces:
Bathroom #1 (top two photos):
Shower curtain, mat, orchid: Target
White damask towels & soap/lotion carrier: HomeGoods
Bathroom #2 (bottom two photos):
Towels, shower curtain, bath mat, sphere: Target
Soap/lotion carrier: HomeGoods
I hope you've found a bit of inspiration in these spaces! I'll be sharing the kitchen a little later this week but first I'm planning to share a yummy Quinoa recipe that is great for busy weeknights. Stay tuned~
Happy Celebrating!