I finally tackled one of the biggest challenges I could ever imagine tackling – ok, maybe I exaggerate a little but seriously this was a big job – I reorganized the dreaded LINEN CLOSET (insert scary "dun, dun, dun" music here…) When I first moved in, I had two closets in the bedroom hallway and foolishly I chose the smaller one thinking "There's just two of us, we don't have that many linens, etc… to store, this will work fine". I put away the linens and time passed. But as time passed, mysteriously more and more things got shoved into the closet until it looked like this:
Um, how did this happen?? It was a disaster and good luck finding anything in there! Yikes, I needed to do something – and be quick about it!
As with all organizing projects, things seemed to get worse before they got better… I'll freely admit, at this point I just wanted to go lay down and watch some Poldark episodes that I've recorded and forget about this entire project. Alas, I couldn't get to my bedroom without going through this pile so it was full speed ahead!
STEP 1 – PURGE + PREPARE YOUR SPACE
Remove EVERYTHING from the closet shelves, yep, that means everything. Your hallway will look like the photo above and the closet needs to look like this photo below:
STEP 2 – GATHER SUPPLIES
Determine how you want to store your items on the shelves. After seeing how crazy my "piles" on the shelves got, I decided that I needed to get storage baskets to help me keep order in this space. Notoriously I will pull one tiny thing off the top of a folded pile and the entire pile will tumble over, it's a weird phenomenon. So, baskets are my friends! To me the baskets don't have to all match, so look around your house, or head to the shops, but find whatever you need to make it easy for you and your family to maintain order. Some items might be better stored in baskets where you can see through the sides, while other items are ok in baskets that you can't see into. Just food for thought when you are making your plans.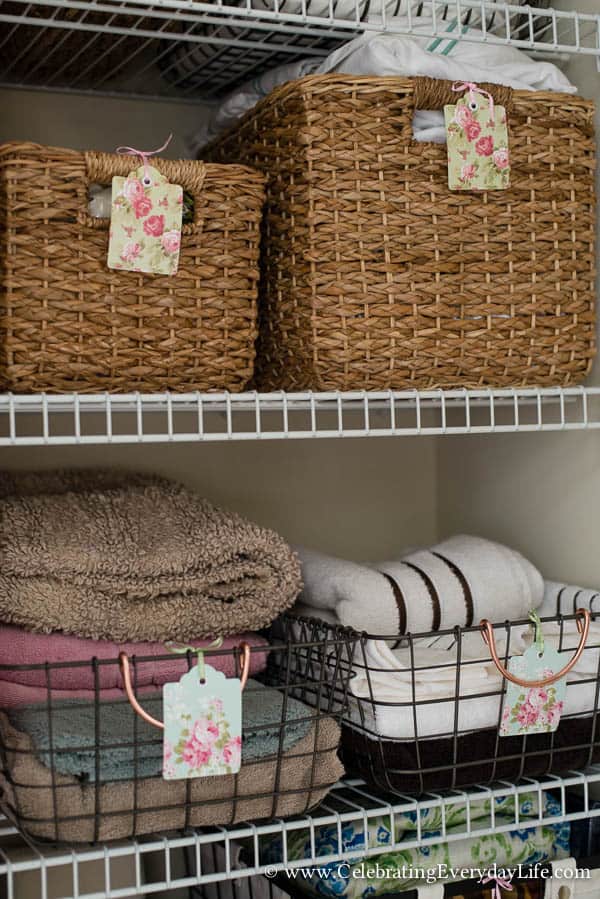 STEP 3 – GROUP LIKE ITEMS TOGETHER
This may seem a little obvious, but group all your like items together.  I even broke it down more by making baskets for specific rooms/people. Like a basket of "Jennifer Towels" or "Jennifer Sheets". This makes it easier when trying to grab specific items and it makes it easy to direct my daughter on where to find/put items – just look for your name!
STEP 4 – MAKE IT PRETTY
Alright, on some level this step is optional, but for me, if a space is tidy AND pretty, I'm more likely to keep it that way! So, pretty is important over here. In addition to the nice baskets, I added sweet tags – these are by Shabby Chic and I found them in the bargain bin at Michaels Craft Store.
STEP 5 – USE EVERY INCH OF SPACE YOU CAN
I wanted to use every inch of space that I could but I also wanted to display some of my favorite linens because (as I said in Step 4) pretty things inspire me! While the shelves were coming along nicely, there was a whole door standing there doing nothing – so I decided to turn an over the door towel rack (from Target) into an over the door linen rack – I have way more linens than towels apparently!
I really like the details on this rack – especially the knob trim:
It feels kind-of farmhouse-y/vintage to me.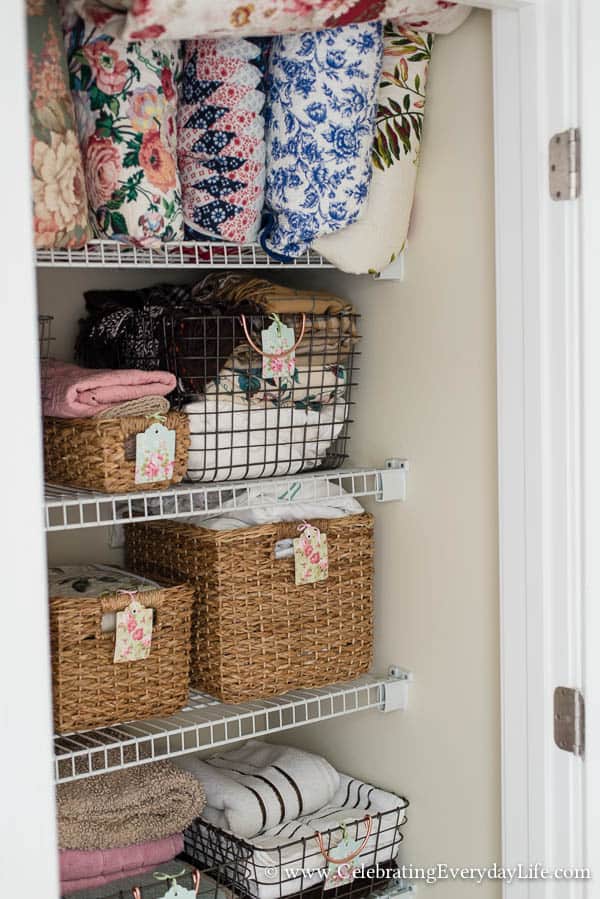 Large items like comforters, I folded and put on the top shelf where there was lots of space. I lined them up rather than stacking so I can see all of them. It's nice to see all the patterns this way.
Now that that's all done I can get back to the all-important Poldark watching!
I hope you feel inspired to tackle your own linen closet! Want to pin this to remember for later? Here's a handy Pinterest ready button just for you!
Happy Celebrating!
Would you like to receive a preview of my blog posts in your inbox?
I'd love to share them with you! Subscribe here…