How to stage easy + sensational bookshelves. If you are selling your home or just upgrading your decor these 9 Tips to Add Style to Your Shelves will show you How to Decorate Bookshelves with ease!
Recently my parents were thinking of selling their home (they've since changed their mind) but when they were talking about it, we got talking about the importance of staging and they asked if I would help do a bit of sprucing up at their house. I eagerly agreed to and rolled up my sleeves. I began with the built-ins in their living room. Here's a look at how the shelves were before I began:
Often when you read articles about staging, you see instructions to pare down and depersonalize your home. Like any kind of advice, I think this needs to be taken with a grain of salt. Too much paring down and a space begins to lose its personality. And depending on the scale of the room, if things are too sparse, again, the room feels unfinished and not cozy. You want potential buyers to be able to easily imagine living in the space and to me, that means it needs to feel inviting.
So, as you can see, I went against the grain and decided to bulk up these shelves – now I did pare down the rest of the decor in the room so that it didn't get overwhelming, but I think that by filling these shelves, we gave guests a vignette that would draw them in and certainly infused the room with lots of personality!
I repurposed all of the decor that was there but I had to go on treasure hunts for the other items. Shelves like this can be like a sponge – they can absorb so much more than you think! Here are few tips for How to stage easy + sensational bookshelves that I recommend when decorating built-in shelves like these.
How to stage easy + sensational bookshelves
#1 – Vary the shelf heights
By staggering the shelves, you automatically add interest to your built-ins and make the space seem more interesting – and you haven't even decorated yet!
#2 – Play with your books
Try stacking your books in a few different ways. Here I mix it up, some books are laying down, some are standing normally, while a few are sitting face out – showing off their lovely covers! Books make great plateaus for showing off your treasures too!
#3 – Add greenery!
Everything is better with greenery! Here I use a mix of preserved boxwood balls (from Target) and a few faux succulent plants (from Michaels Craft Store) to bring some green to these shelves.
#4 – Add art
Whether it's a painted tray or a painting, art on the shelves is always a nice touch.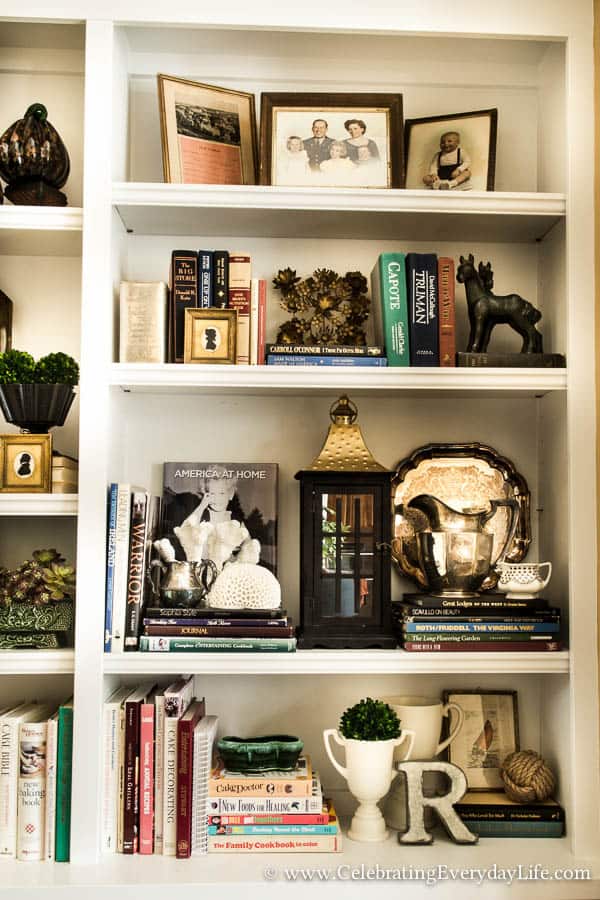 #5 – A few photos are welcome
Adding a few classic photos can make your space feel real and may actually help the home feel relatable to guests and potential buyers.
#6 – Raid your kitchen cabinets
Bookshelves like these can be a great place to store AND show-off your some of your precious china collectibles. Tea pots, tea cups, tea tins, trays, pitchers, old sugar jars, decanters, and the like are all great items to display on shelves like these. They add variety and interest. Especially if you can make little groupings with them.
#7 – Pick at least one unexpected focal point
I fell in love with this lantern (on clearance from Pier One!) and knew it would be an anchor piece for the shelves, and it is. I recommend to always be on the lookout for statement pieces like this whenever you are out and about.
#8 – Repeat colors for continuity
Here I mix metals and colors but almost every shelf has a touch of gold on it, and I think that adds a nice sense of continuity and drama.
#9 – Use the entire shelf
If your shelves are deep like these, slide some items forward and layer taller items into the back to add dimension and visual interest. It draws the viewers in and gives you more room to tell your decorating story.
Do you have some bookshelves that you've been wanting to spruce up? Hopefully, you've gotten an idea or two here. Have an idea you'd love to share? Please leave a comment below!
Happy Celebrating!