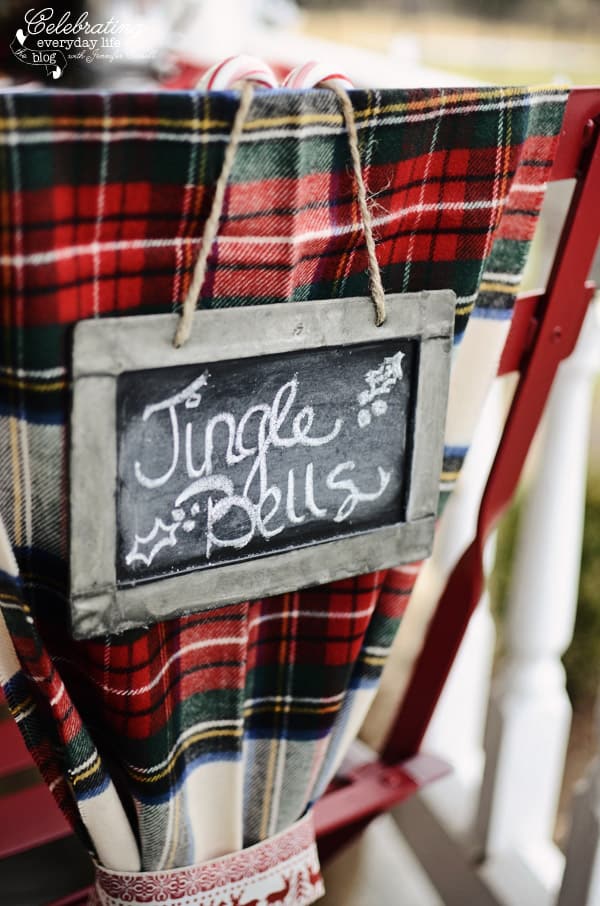 Before I jump into more details of this Front Porch Hot Cocoa Party, I just want to say that my prayers are with all the families of those so horribly affected by the recent tragic events in Connecticut. I also wanted to share a link to a really great post written by Beth at Home Stories A to Z about 'How to talk to your kids about school shootings'. My little one is still too small to know or understand what's happened but if your kids are older this may be helpful.
Thank you so much to everyone who commented about Part 1 of my Front Porch Hot Cocoa Party! I put a lot into these scenes, so it's a wonderful blessing to hear from you! Today, I want to show you the other details on the porch beyond the cocoa bar itself. Let's begin with the chairs at the table, shall we?
These red chairs are from Kmart – I got them during the summer and love the color! They are surprisingly heavy duty steel chairs. I have some plans to "jazz" them up with a paint project or two at some point but for today, all they needed was a pretty plaid scarf (from Target), a mini chalk board sign (from Decor Steals) and a bit of Reindeer ribbon (from Michaels Craft Store).
I really wanted to hang my little chalk signs over the scarf and at first I wasn't sure how to achieve it without pinning the fabric (I didn't have any pins with me!). And I thought, "I wish I had some hooks with me" and a candy cane caught my eye and I thought "hmmm… I wonder…." and sure enough! These candy cane "hooks" were just the ticket to hang my jingle bell chalk signs!
Of course my ruffled burlap table cloth had to make an appearance! I love this cloth so I try to use it whenever I can. Want to make your own? Check out my tutorial on How to Make a Ruffled Burlap Tablecloth.
I get so excited by the textures on the porch – the old wood shutters, the swing, the floor…. Isn't it just beautiful?! I'm a total sucker for chippy wood!!
On the tabletop I was excited to use these pieces of slate that I had gotten at Luckett's Store in May. Even though I'm not a very good artist, I really love the chalk board trends that are sweeping through the home decor/DIY world right now and because these chargers are slate – they are perfect for a little impromptu chalk art! Atop the slate, I've placed some fun plaid plates (from Target). With the bold color from the plates I thought a simple centerpiece was appropriate. This wood tool caddy filled with pinecones seemed just right. I've tucked a bit of evergreen around it with just a bit of red. The yarn "trees" (also from Target – on clearance right now!) lend both color and texture to this happy scene.
Aren't these chargers so fun?!!
A festive mug of Hot Cocoa brimming with peppermint-y goodness!
Both peppermint mini marshmallows and a candy cane infuse their minty delisiousness to the cocoa.
A simple red dish towel makes a perfect napkin at the table. A pretty burlap tree ornament (also from Target) bundles the flatware and napkin with festive, rustic style!
There is something so inviting about a porch swing especially one filled with a cozy throw and lots of cushy pillows. These pillows are an assortment of old and new finds from Pottery Barn, Target, Walmart and Kohls.
Because it is gift season I also put together a quick and easy hostess gift idea for you – Hot Cocoa to-go!
It began with a chicken wire styled basket – I think I got this at… where else, Target! I haven't seen them lately but I've also gotten these at World Market in the past…  Next, I've filled 2 mason jars – one with white chocolate mix and Peppermint marshmallows and the other with cocoa and extra mini marshmallows.
For a bit of flourish, I added natural coffee filters (which I trimmed down just a little bit) to the top of each jar and gathered with a bit of ribbon. I made these cute little tags with red card stock and my Real Estate Punch,
(I love the shape of this punch!) I used the Martha Stewart Heart Handpunch
for the tiny heart and a bit of double stick tape to attach it to the top.
A Silver Paint Pen
gives a shimmery accent to these little tags.
Of course, for me, the ribbon just "makes" it 🙂
My antique sled is a festive accent on the porch…
Here's one last look down the porch…
Thank you again for joining me in part two of this Front Porch Hot Cocoa party! I hope you have enjoyed it and found some inspiration. Please feel free to pin and share this post with your friends – please just link back to me.
The countdown continues with only 7 days to go 'til Christmas!
Just a reminder, I'll be sharing my holiday house tour on Unskinny Boppy this Thursday! There are lots of great blogs included and you can click over to see the whole tour.
Happy Celebrating!
Would you like to receive a preview of my daily posts to your inbox? Subscribe here…
Disclaimer: Please note that some of the links above are affiliate links and I will earn a commission if you purchase through those links. Happily, I use all of the products listed and recommend them because they are helpful, not because of the commissions that I may earn from you using these products. Please let me know if you have any questions about anything listed. I'll do my best to follow up with you and answer your question(s).