Easter will be here before we know it! Do you host a special lunch or dinner? If you do, then I have a treat for you today. A few of my favorite bloggers and I have gotten together to make some beautiful but budget-friendly Easter Tablescapes. Each one is inspired by reusing/recycling/repurposing other items in your home. I am sharing all of their links below. First, I want to share my Egg Shell Easter tablescape.
Eggs were an obvious choice for me because eggs are a common decoration for this holiday and we eat a lot of them around here so they're always at hand. I've long admired petite egg bouquets and now with this challenge, I decided this was the perfect opportunity to try my hand at these miniature arrangements.
No matter if you place them in an egg cup like I have done above…
Or presented in an egg carton that has been sliced with a serrated knife – eggs make charming tiny vases!
The centerpiece is a blend of elements. At its base is a silver tray, on that I place a teapot which I filled with a mix of faux greenery as well as fresh flowers gathered from my yard and a potted plant. Next I tucked moss in around the pot on the tray. Finally I placed a variety of eggs into the moss. So simple!
After cutting one egg carton into thirds (3 sections with 4 cups each) I created a similar arrangement to the main centerpiece. I filled two holes with moss, while I put eggs in the opposite two. One egg has been cracked, rinsed, and filled with blooms. While the other is still whole.
Tiny quail eggs add a nice accent with the moss.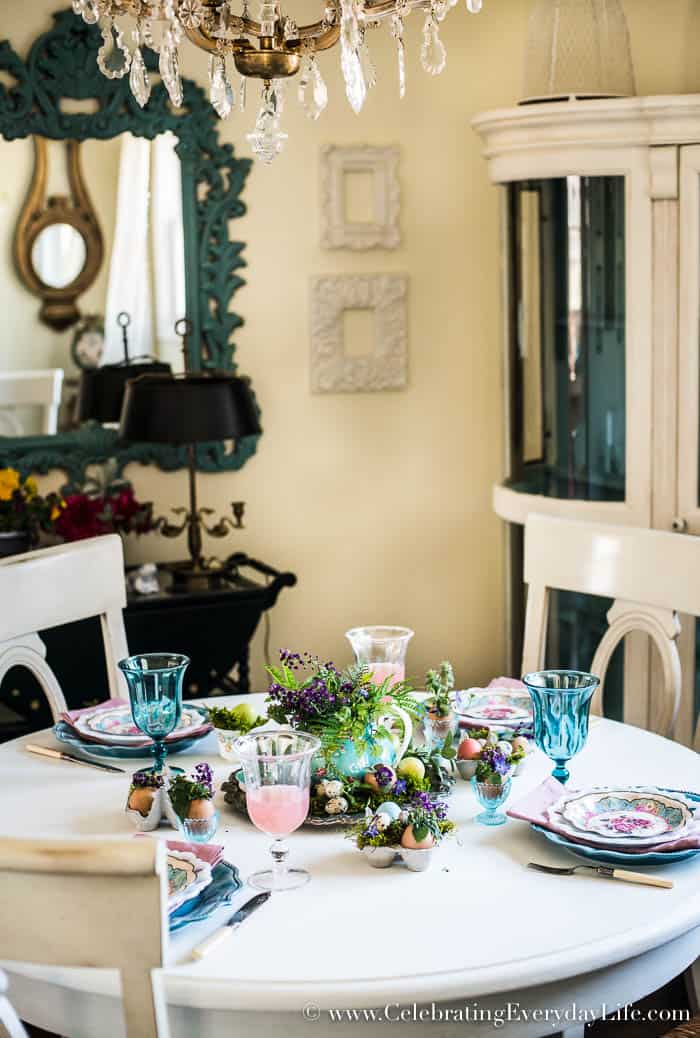 It's a simple, yet sweet arrangement that will lend itself to happy conversations and toasting the resurrection of Christ on that happy day!
The place settings are lushly layered and again I've pulled out my favorite decorating secret weapons! Oh yes! Those ARE paper plates on top!! I get really, really excited about paper plates and love to incorporate them into my tables.
I love the edges of these plates. Here's a breakdown:
The Blue dinner plate is from The Pioneer Woman collection at Walmart.
Milk Glass Lace Edge Plate – see similar versions here on Amazon (affiliate link).
Talking Tables Truly Scrumptious Tea Party Plates on Amazon (affiliate link).

The lavender napkin is from World Market.
The flatware is antique.
It's so sweet and feminine and perfect for the early Spring we seem to be having! I hope you enjoy this soothing color combination and have gotten an idea or two for your own Easter tablescape. Save those eggs when making your breakfast and before you know it, you'll have plenty of supplies for unique DIY Easter decor!
Ready to see what my friends have created? Great! Let's go visit them!
An Extraordinary Day
Cupcakes & Crinoline
Craftberry Bush
Thank you again for joining me and my dear friends today!
Happy Celebrating!