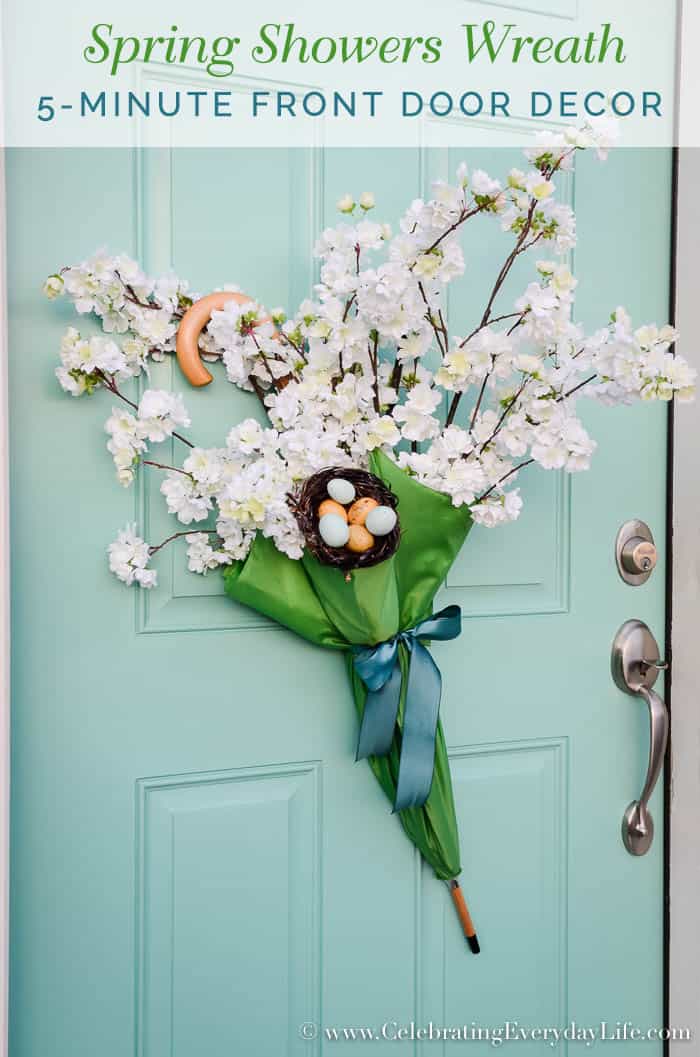 Who's up for a little Spring decorating? Especially something that is super simple and comes together in minutes with just a few supplies?! Today let's create an Easy 5-minute Front Door Umbrella "Wreath"! A few fairly basic supplies are all you need to create this simple and lovely front door Spring welcome!
Before we dive into that though, I hope you had a happy Easter! Mine was lovely. We had beautiful weather, a great morning at church, and my dad prepared a scrumptious lunch for us! I came home and rested for a little while and dove back into my budget farmhouse kitchen renovation project.
If you've been following me on Facebook and Instagram then you know that my kitchen renovation is moving forward slowly but surely. This is far and away the biggest DIY project I've ever tackled – especially on my own. I'm doing a little bit every day and trying not to get too frustrated at the pace (or lack thereof). I've decided it will be done when it's done. I'm trying to work hard but not make myself too crazy during the process. I've reached the priming stage of the cabinets and am thrilled to finally "see" some tangible evidence of a light at the end of the tunnel.
An easy project like this one is a great little pick-me-up in the meantime.
Here's a list of supplies to make your own front door umbrella "wreath":
Please note this post contains affiliate links. If you purchase any of these items your price won't change but you will help to contribute to supporting this site.
SUPPLIES:
Umbrella
Faux flowers – I love Spring branches for this season!
Ribbon – I used a May Arts ribbon
Birds nest
Floral Wire
Hook for door
I prefer the old-fashioned look of an umbrella with a hook handle. I found my green one at Target but there are several lovely umbrellas with handles on Amazon.
Tulips, daffodils, and any variety of flowering branches all make dramatic and colorful fills for this umbrella. I suggest selecting something that will have a nice contrast to your door and umbrella color for the most impact.
Ready to assemble?
Simply unsnap the closure on the end of your umbrella but keep it "closed." You just don't want it so tight at the end.
Tuck your flowers into the umbrella and tie with a ribbon to keep everything in place.
If you want to add an embellishment like the bird's nest I added here, use a bit of floral wire looped through the nest and wired to either the handle of the umbrella or to the stems of the blooms (if they're sturdy).
A faux nest of bird eggs also captures the essence of this season of rebirth and growth.
I used a heavy-duty command hook to hang mine. Attach the command hook to the door following the directions on the package. Then, simply loop some floral wire around the umbrella hook base and then loop that wire onto the command hook.
By the way, this door color is a favorite of mine. This was photographed at my old townhouse. The paint color is "Eucalyptus" by Benjamin Moore. I plan to use this color again when I get to the exterior painting phase here at the farm.
I hope you like this easy DIY. It's a distinctive and fun way to dress up your door this Spring!
Happy Celebrating!