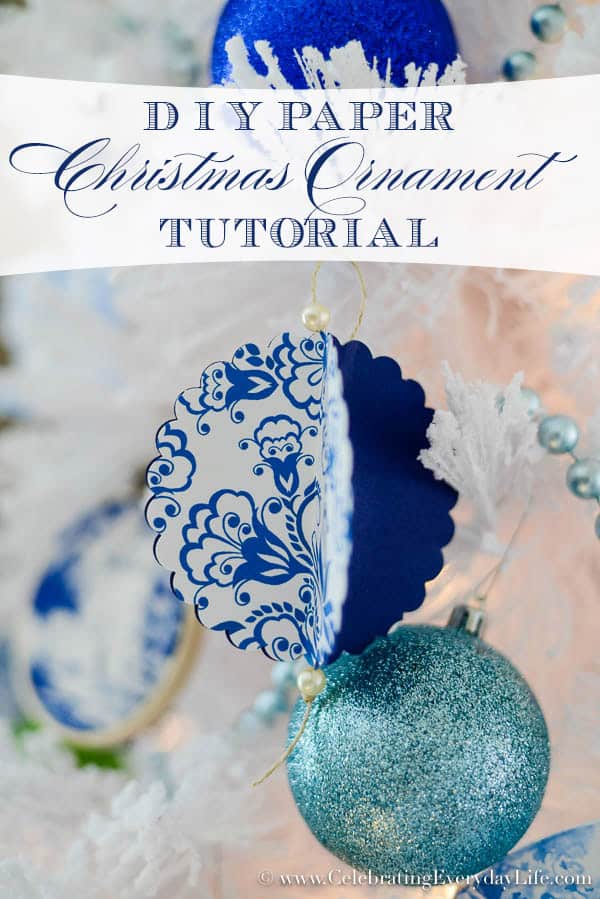 When decorating my blue & white Christmas tree this year, I didn't have a lot of money to spend on ornaments, and I didn't want it to look skimpy or boring. So, I had to be resourceful and come up with some decorations that worked with my color scheme and were affordable. I love the fabric hoops that you saw on the tree, and another ornament that I'm pretty excited about are these super-economical paper ornaments. Today I'm going to share with you my very quick and easy tutorial so you can get started right away making your very own!
Supplies
Here is a list of the supplies you will need to make these, please note some of these are affiliate links:
2 coordinating papers (I used a plain Navy Blue & this Seamless Blue Floral Pattern)
Scalloped Circle Extra-Giga Craft Punch

Natural Hemp Cord

Plastic Faux Pearl Craft Beads

Permanent Double-Sided Tape
I had all the supplies on hand except the blue patterned paper. I hopped over to Creative Market (one of my favorite spots for digital graphic design resources) and was delighted to find this Seamless Blue Floral Pattern. It had all the colors I needed and was only $3. I downloaded it and was able to print several sheets to use for my project. Yay!
Step 1
After gathering all your supplies your first step is to punch out the circles. With the giant scallop punch I was able to get 6 circles from a letter size piece of paper.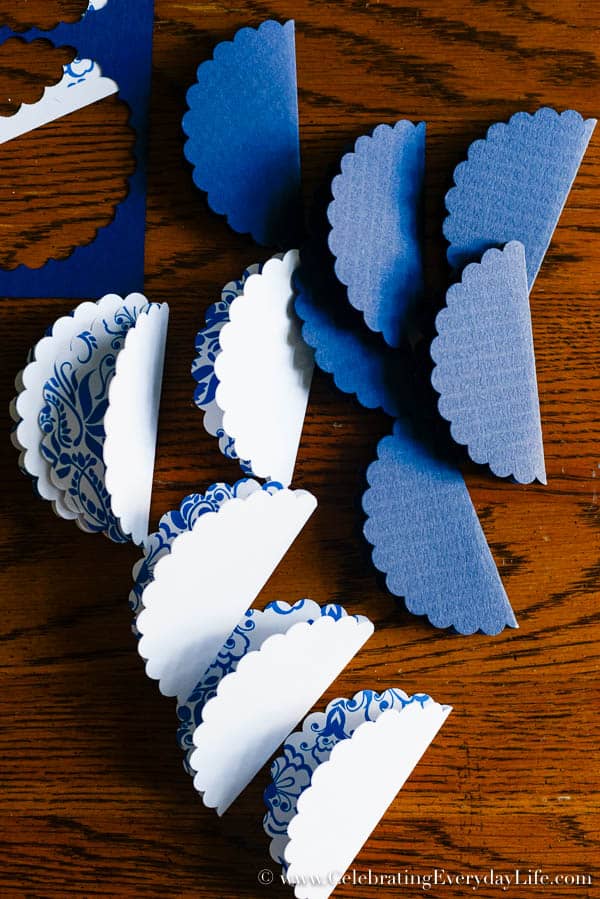 Step 2
Once you've got all your circles punched, you need to fold them in half, like they are tiny tacos.
Step 3
Next you want to put two pieces of PERMANENT double-sided tape on ONE side of your first folded circle. Then you will take an alternate colored circle, line up your edges, and place a folded card on top of that circle (you are stacking them). Add two pieces of tape to the folded circle that is now on top and repeat this step. You will keep repeating this step over and over to create the number of sections you want your ornament to have. For example, if you want it to have four sections (2 navy and 2 blue & white) then you will use 4 circles total. If you want six sections total you will use three of each color.
Step 4
Before you finally connect your sections together, you want to cut your twine and thread your beads onto it. I found it helpful to run a piece of thin wire through the bead first to clear the path and then I cut my jute twine at a slight angle to make a point. This made it easier to run it through the pearl. Tie one end of the jute and rest the pearl against it. Then leave a blank space the length of your circle with a bit extra to make your loop (which will be for hanging later).
Set this on the inside spine of your folded circles and attach with tape.
Step 5
Add two more pieces of tape to one side (just as you did in step three) and press that side of the circle against the other to complete the sections.
And there you have a sweet, totally custom made ornament ready to hang on your Christmas tree!
These come together so fast and the possibilities are truly endless considering all the millions of paper options out there! I hope you will give these a go. I'm sure I'll be making more of them this season – they are so easy you can sit with a tray on your lap while watching a Christmas movie and whip out dozens upon dozens of them.
Happy Celebrating!