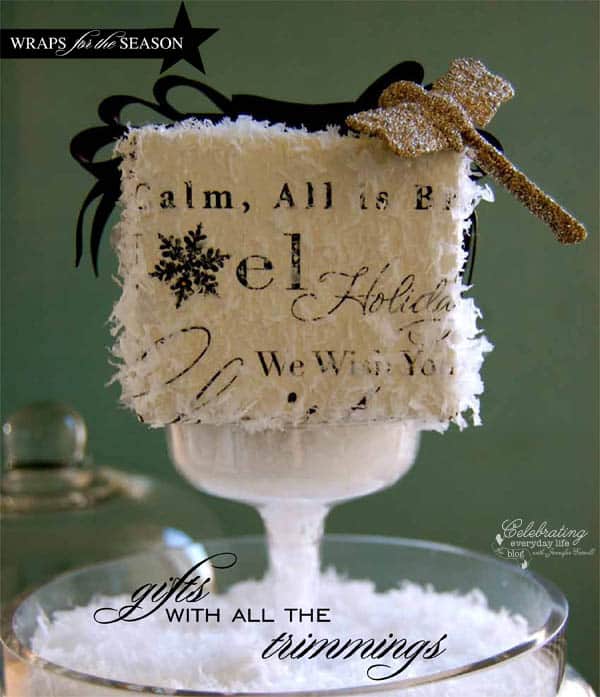 I really enjoy wrapping presents. Like, really, really enjoy it. Don't you just love when you receive a gift that is beautifully wrapped? You hardly want to open it because it's so lovely… Those are the kinds of presents I'm talking about. Gift wrapping that sparks the imagination… "what could be inside?" you wonder… You can hardly wait to open it because it's so beautiful… surely what's inside will be just as magical. But at the same time you hate to disturb the delightful packaging….
To inspire you today I'm sharing a Creative Gift Wrapping Idea: flocking your gift with faux snow! One of the reasons that I love this craft idea is because it makes the present look "frosted" and who doesn't love that?!
Here's what you need:
gift wrap
spray adhesive
faux snow (the shredded kind works well)
ribbon
small ornament
Assembly is easy:
1 :: Wrap your gift with a pretty, but simple paper. Although the "snow" looks fun on almost any kind of paper, ones with less patterns really accentuate the frosted look.
2 :: After your gift is wrapped, lightly spray the entire package with spray mount adhesive before sprinkling fake snow over all sides of the gift.
3 :: Add a beautiful bow (I used a black satin ribbon) and a shimmery ornament as an accessory.
Voila! You have the makings of a glamorous gift that is almost too pretty to open!
I'm linking up with Home Stories A to Z!
Happy Celebrating!